BEST TV
Levis '
Circles
' is the winner for me. Some deep insights into dance and dance-floor culture set a dirty track makes this an easy 90seconds. Given the news of late maybe the dance-floor is not a bad place for us all to be. The banging mix of dance styles shows the different ways we move. Let's celebrate that. Ripped denim, white denim (that's OK to kneel in!), double denim, dark denim, black denim, high-waist, cut offs, skinny leg, low rise, boot cuts they're all here and you can dance however the hell you want in the lot of them.
Runner-up: My phone is full of photos of some amazingly convenient places I've managed to park my car. In a folder titled, RockStar Parkz you'll find shots I've taken from inside the car (steering wheel in view) outside busy, popular places like supermarkets, ATMs, school drop offs and take-away restaurants. That's
Kwiff
. The best feeling available to a human being, more or less.
BEST OUTDOOR
Did I mention my phone is full of photos? Anyway, here's an idea that allows you only one. This is
Kirin's
way of talking about Purity. You only get one shot.
Runner-up: Petz '
Love Again
'. Please forget this is an idea for a tattoo shop helping to house shelter dogs and just see this as an idea solving two problems at once, regardless of their size. Also ignore the guy who wipes a tear from his eye.
BEST PRINT
The best thing I saw in print last week was the New Yorker's 'Blow hard'. It told a big story in a single frame. It's what print does better than any other media. It quickly said what it needed to say on a subject that so much had already been said about and it said it better than words ever could. So, our winner and runner up is
Smart Fourtwo Already Turned
. A very fast visual idea featuring zombies who have been a theme in this week's Bestads selections and so too Game of Thrones. Potentially related.
BEST INTERACTIVE
My favourite piece of work from this week's collection is in recognition of the persistence of the burrito-eaters behind it.
Tribeca +Pool
project is an ambitious concept that could have been forgotten many presentations ago. There's a 9-minute documentary detailing the idea and how a small group of believers chased it down. Their 'plus shaped' floating public pool in New York City could filter more than 600,000 gallons of dirty river water every day and make it clean enough to swim in. Chemical free. Not since the early 1900's has the river been clean enough to swim in. Ideas like this and persistence like that is what I like most about our industry. Yes, this is a story about a potential swimming pool that is potentially free but mainly this is about belief. Believing in something and not stopping until someone else does also and dragging them and it into production.
Runner-up: If you take the time to look through the six best Interactive entries this week you'll notice Durex created a buzz Ring for Valentine's Day and an online Casino raced a stolen Taxi against a stolen Police Car but having said that Toyota's safe driving app is good fun for a serious problem but I think (with full disclosure and all)
Hello in Elephant
is a very worthy runner up.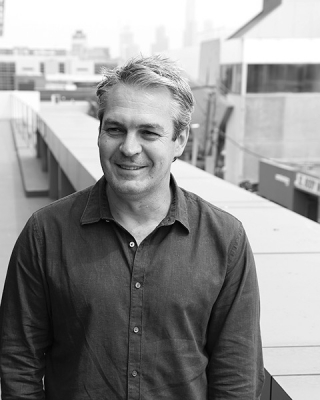 This week's guest judge is Michael Knox, chief creative officer at Grey, Hong Kong.
Prior to moving to Hong Kong, Michael was CCO Grey Group Australia and managing partner of Grey, Melbourne. Michael is a member of Grey's Global Creative Council, has judged numerous local and international award shows and has mentored some of the best talent in the business. A fact of which he's most proud.
His work includes highly effective behavioural change campaigns for Victoria's Transport Accident Commission and innovative education and awareness initiatives that continue to have impact long after they've launched like This Bike has MS, for Multiple Sclerosis Australia.