BEST TV
Winner:
Festival Mix Brasil, Everyone Is Gay
. A textbook example of how to take a truthful insight (everyone does things that some other people consider 'gay'), turn it into a solid proposition (if everyone's gay, Festival Mix Brasil is for everyone) and deliver it with simple, joyous confidence. Expect to see this at next summer's Cannes Festival, the gayest awards of them all. And I mean that in a good way.
Runner-up:
SickKids Foundation, Better Tomorrows
. 45 ads aired over 45 days, featuring young patients and their loved ones resiliently facing tough medical challenges, all nicely observed and written, all ending with the same compelling call to action: help make their tomorrow as good as your today. Damn. Who's peeling onions?
BEST PRINT
Winner:
Goodyear, Hug Mountain Terrain
. Arresting image plus logo. Perhaps the purest form of advertising? Certainly the best way to communicate to a target audience who are too busy having Top Gear fantasies to bother reading anything as mundane as an advert. And the visual - of a rubber tyre man hugging a mountain terrain woman - is delightfully insane.
Runner-up:
Diabetes Association of Sri Lanka, 1 Every 6 Seconds
. Ah, the visual pun, a.k.a. Things That Look Like Other Things. Where would print advertising be without them? So it's an ancient device, but in this case it's the quickest way of comparing sugar to cigarettes because, as luck would have it, they're both brown and white.
BEST OUTDOOR
Winner:
Old Book Donation, Old and New Books
. A simple visual showing that what's old to you is new to someone else. Charity ads, the category that keeps on giving.
Runner-up:
Samsung, Zombie Switch
. A simple TV showroom gag in which sales assistants quickly swap places with their twins who are made up to look like zombies. Cue customers' amusingly shocked reactions caught on hidden cameras. Done before, true, but done nicely here.
BEST INTERACTIVE
Winner:
Drug Driving, Tinnyvision
. How to get an important message about drug-driving to young stoners who are too baked to, like, pay attention to... wait... what? In this case, lure them in with funny snapchats from some guys getting stoned. Then deliver a shocking twist when the stoners hit a woman on a pedestrian crossing. Nicely done, and nice use of a newish medium.
Runner-up:
Universal Music, Move Like Lorde
. I'm a bit weary of brands making consumers do things for discounts. It's like making dogs do tricks for treats, but in this case it's fun and makes good use of Kinnect technology, so what the heck. Dance, doggies, dance!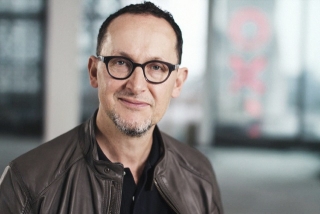 This week's guest judge is Gerry Human, chief creative officer at Ogilvy & Mather, London.
For over 20 years Gerry has helped create successful campaigns for iconic brands like Audi, Coca Cola, Dove, Expedia, Harley Davidson, Kronenbourg, SABMiller and Virgin Atlantic.
Hailing from South Africa, Gerry worked at TBWA Hunt Lascaris and Net#workBBDO before starting his own agency, HarrisonHuman, which was acquired by Ogilvy in 2003. He joined O&M London in January 2009.
He is the recipient of 78 Cannes Lions, including Gold in film, cyber, outdoor and radio. O&M London's campaign for Expedia was named "Most awarded print campaign in the world" by the 2013 Gunn report.
Gerry enjoys a chuckle and a cold beer, usually at the same time.