BEST TV
Winner:
Volkswagen, The Choice
. No need to say that Volkswagen has no trouble to reinvent itself. After seeing many Volkswagen commercials, they always surprised me with something new. Although, they are saying the same old thing, the resource used to show that the main character prefers the car is different. In this particular case I highlight the script, a key element to create the perfect atmosphere for the story to work.
Runner up:
Nike Golf, Ripple
. I like the commercials that tell a story, even though overcoming and emotional stories are nothing new in the sports category, I feel that this story is well done, with the nike touch, classic of his style.
BEST PRINT
Winner:
Carlsberg, Probably the best beer for the world
. In general, beer has always appealed to graphic resources to communicate, trying to make the product look refreshing and with body, so it is interesting to find an ad that using only text, can reinforce their image in the mind of consumers.
Runner up:
None, 8
. It is always interesting to see an ad that seeks to raise awareness with an interesting creative resource and is not only an emotional text with an obvious image.
BEST OUTDOOR
Winner:
McDonald's, McTollbooth
. Surprise in advertising is key to generate an impact in the target, and what better than looking for the perfect occasion to do it, as the crippling waiting in the line for a toll. Surely McDonald's gave them the best morning ever to each person who received a breakfast that day.
Runner up:
Adidas Korea Reebok, Reebok ZPump Fusion - Subway Pump Battle
. For a person that lives the same day everyday, to break their routine can be the best way to generate remembrance on the consumer, especially if you interact with the brand and there is a prize involved.
BEST INTERACTIVE
Winner:
Amnesty International, Mutant Font
. Any real campaign that promotes human rights deserves an award and especially if it's a creative one and easily accessible to everyone.
Runner up:
Steinlager Pure, Live Dive
. People, even though it's by streaming, enjoy when they have access to something that is happening in real time, because they feel part of the experience. Also, if it is set as a country event, where the name of your nation is involved, people commit themselves further.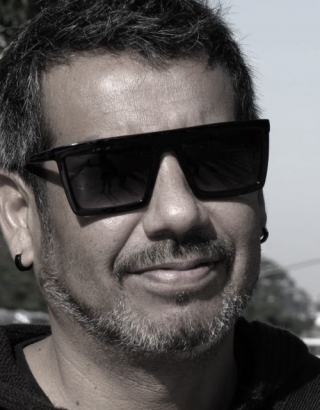 This week's guest judge is Eduardo Perez, creative director, Inbrax, Santiago, Chile.
Eduardo has a Designer Degree at the Universidad del Pacifico and several studies in marketing. Along his career he has collected some recognitions and awards in national and international competitions (including Effie).
Within an unrivaled experience of 15 years working for major Chilean agencies (Ogilvy, Porta, DYU, Proximity), he is one of the first Chilean creatives to participate in the famous Agulla & Baccetti live experience workshop in Argentina.
Eduardo is a retail communications expert, he has worked with clients such as: Entel, Ripley, Cruz Verde, Telefónica, Terra, Banefe, Honda Motors, Banmedica, LAN, VTR, El Mercurio, Sonda, Banco Paris, Santa Isabel, Sweeteners Daily, Socovesa and Corporate Cencosud, among others.
His mission in advertising is: "Love for the brands, his work, and for great ideas."