BEST TV
Winner:
Canal Digital, Scouts
. Not sure what Canal Digital's positioning really is in Sweden and someone might say this is quite a generic statement for the category. But you can't deny that the story grabs your attention and the combination of boy-scouts, black humour and an an invitation to a relaxed parenthood is quite refreshing these days.
Runner up: We are very sorry, but nothing can run up against a bunch of excited scouts happily carrying over their shoulders a dead body to the butcher.
BEST PRINT
Winner:
City of Buenos Aires. Don't act like a pedestrian
. We don't just find the execution ruthlessly simple and eye catching, but also enormously relevant to almost any big city where bikers sometimes seem to forget they are on a vehicle too as they happily ride, enjoying their frappuccinos and Radio Head blasting in their ears.
Runner Up:
Persil. Free the kids
. Perhaps you could question the tone and whether last thing parents want is to turn a page to find their favourite washing powder victimizing their kids while blaming them for their prison guard ethics. Still, it's a brave move for the brand trying revamp the "Dirt is Good" platform with such a through provoking approach and an execution you can't miss.
BEST OUTDOOR
You can tell Cannes is around the corner when more than usual good causes involving less fortunate children, Alzheimer-sufferers and environmental issues, seem to inspire the production of compelling case-videos or low budget TVCs featuring English actors, regardless if they ran in a non-English country.
Winner:
Mila. The Fish Pack
. It's a little gimmicky and not likely too be scaled up. But the design of the packaging is bold and it's grabbing your attention at the right time and in the right place. And best of all: it doesn't make you feel guilty for any big social cause. You can't ask any more to a frozen piece of cod.
Runner Up:
Door Step School. "The worlds' first streets..."
. We agree that any idea starting with "World's first..." should be banned until the end of the world. But as parents ourselves we can guarantee that any kid would find it tremendously cheeky and inspirational to see their names shining on a street sign.
BEST INTERACTIVE
Winner:
Pedigree. A dog's story
. It's always nice to see a simple piece of technology at the service of an equally simple idea: kids could benefit of learning a few tricks to safely interact with their furry friends. And this tool can teach it in a way that is fun. Happy times. We just hope that parents and schools keep in mind that quite often a real drooling pal could do the job equally well.
Runner up:
Samsung. Voices of life
. It's exciting to see brands carefully observing people's lives to find new and unexpected occasions where everyday technology has a meaningful role to play. Can't tell about the functionality details of this one, but even if it only brought some comfort to mums in such tough moments, then it's more than worth the attention.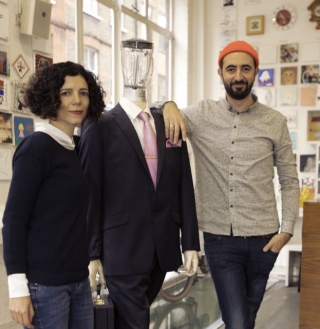 This week's guest judges are Carlos Alija and Laura Sampedro, creative directors at Wieden Kennedy, London, where they are responsible for the global accounts of Finish (Reckitt Benckiser) and Halls (Mondelez).
Before London, they did a two-year stint in Australia as joint executive creative directors at BMF Sydney, where they helped the agency's main client ALDI reach record sales through a series of award-winning campaigns. Prior to that, they made their mark on the Spanish and Latin American markets developing local and global work at Y&R, LOWE, TBWA, McCann Erickson, Publicis and BBDO. During almost six years at Senora Rushmore, one of WPP's most interesting creative boutiques, their contribution helped the agency achieve top ranking in creativity and effectiveness five years in a row. A career highlight for the pair is winning the global pitch for the International Olympic Committee during Beijing's 2008 games.
Their work has been recognized by many leading advertising awards including D&AD, Cannes Lions, The One Show, Clio Awards, British Arrows and Effies. During their sixteen years in the industry they have worked across many categories for brands including Coca-Cola, Renault, ING, San Miguel Brewers, Diageo, Telefonica, ALDI, Unilever and Pepsico by doing what they enjoy most: solving problems.