BEST TV
Pick:
Nike Unlimited Future
. The power of human potential is a pretty timeless theme and I have to say, I've always been a sucker for a great sport story. And Nike has always been one of the best at tapping into that. This spot is simple, without a lot of star power in it, but the message still comes through. And it's a good one.
Backup: I don't really have a strong backup. Although I will say that the
Amazon Fashion ad
really made me want to travel more. It meandered as a communication message for fashion and Amazon, but it had an appealing vibe that made me want to buy a plane ticket and have an adventure.
BEST PRINT
Pick:
LG
. I like visual communication that tells a compelling story or makes a clear point without relying on too much copy to explain it. This ad does that for me. A simple payoff line is all it needs and the visual is unexpected enough to stop me to find out what's it's all about. And germ free washing? That's kinda awesome.
Backup: There wasn't a strong backup for me, but I think the
Obesity ad
gets close. The idea of the fridge or kitchen being a murder scene is a good starting point, I just found the visual executional a little aloof. The potential to really grab me and make a powerful point is there, it just didn't land for me.
BEST OUTDOOR
Pick:
National Sea Rescue Institute
. I like ideas that solve a human problem beyond "why aren't people buying my brand of xxxx?" The power of marketing and communication to solve problems and in the process maybe even save lives is powerful. I like the simple zag this idea took to disrupt entrenched behavior and the splashy way they brought it to life.
Backup:
Scania
. This idea has the same element as the life jacket one - a solution to a real human problem. I like it for those same reasons. It's not quite as splashy or disruptive as the life jacket idea, but it's simple and based on a real human insight and need. And if it saved even one life, it's a huge success in my book.
BEST INTERACTIVE
Pick:
Google Art and Culture
. Having an art history background myself, I'm a big fan of ideas and initiatives that bring art and culture to more people, whoever they are and wherever they are.
Backup:
UNHCR
. This is a simple and powerful idea. And the refugee crisis around the world is certainly one of the most staggering human catastrophes of our time. The only reason this idea is a backup is that after first thinking "shit, that's a smart idea" I immediately then thought "shit, would this annoy people?." If the goal is to get people to learn more and help out, would this help or hinder? That question is what keeps this from being a straight up pick for me.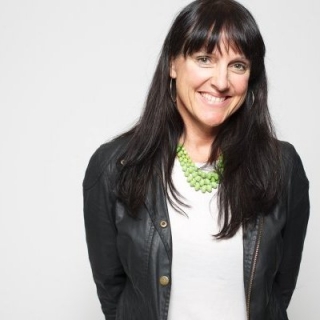 This week's guest judge is Karen Costello, EVP and executive creative director, Los Angeles, Deutsch.
As the 12th employee hired in Deutsch's Los Angeles office, Karen has helped grow the agency from 12 people to 600+, serving as executive creative director for Georgia-Pacific brands Angel Soft and Vanity Fair, Zillow and Target. In fact, she has led creative on Target since Deutsch won the business, making her the creative force behind many of the retailer's most heralded marketing initiatives:
- Most recently, Target pulled off the first-ever live music video with Gwen Stefani at the 2016 Grammy's
- Target's highly successful Star Wars campaign
- The creative for exclusive music partnerships with Justin Timberlake, Taylor Swift, Imagine Dragons and Adele
- The innovative Back To College campaign
Karen was the creative lead behind Angel Soft's "Happy Father's Day, Mom" video, which sparked national and international conversation in support of single moms, and "Related by Love" a story celebrating step parents, which have generated the most views ever for a Georgia-Pacific brand.
She also created the iconic Happy Cow campaign for California Milk and launched brands like Expedia and HTC.
Using creativity to effect positive change, Karen launched Deutsch Good, a new arm of the agency aimed at solving community problems both big and small with the power of creativity and volunteerism.