BEST TV
I have rewritten this review about ten times because I was trying to say something smart about the
Kenzo
video beyond: MEGABOSS! EPIC! SHITBALLS GOOD! But I don't really have anything to add to it, besides the obvious fact that it is awesome. So well done to everyone who worked on it.
Choosing a runner up after that is tough. The
Lamb
one is pretty good. It is a nice feel-good piece at a time when Australia seems quite divided. I wished they had filmed it on Cronulla beach, just to add some spice, but maybe they wanted to save that for the lamb. Sorry, shit joke.
BEST PRINT
I feel bad to say this but there is nothing in the print section that is particularly good. And that is a shame because a good poster is a very nice thing. Next time!
BEST OUTDOOR
Nothing jumped out at me like the Kenzo. But the idea of making ink from pollution (
Tiger Beer
) is probably the best there. It added a novel twist to the art that was created with it, something for the people to talk about while they drank their beers.
A runner-up? The love story between the two cranes in Croatia (
Jana Water
) had potential. I like the story, it had a nice human hook to it. But not sure that live-streaming was the best use of it.
BEST INTERACTIVE
Winner:
Gatorade Serena Match Point
is fun. Like the 8-bit vibes. The
Toronto graffiti instagram
is a good runner-up. Both are accessible, shareable and easy to use, and have an instant reward to them.
BEST RADIO
The dental ads from
Nova
are nicely written and the alliteration gives them the feeling of being stories that could only be read by a person who has all their teeth.
The dead air idea for
Sea Shepherd
is interesting. A classic use of the medium's quirks to help the message.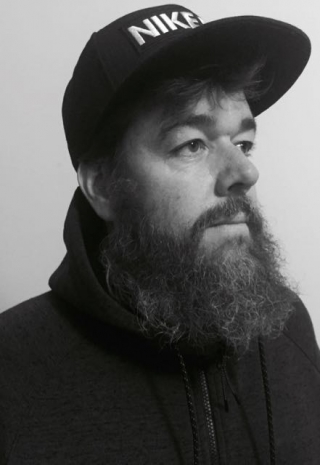 This week's guest judge is David J Smith, founder of BLOOD UTD, Melbourne, Australia.
David Smith makes sport ads. He didn't mean to only make sport ads, but the more he made them, the more people asked him to do them. And then all of sudden he was the sport guy, and all he did was sport ads. But that's okay because he really loves doing them. So much so, he has opened his own agency called BLOOD UTD, which makes, guess what, sport ads.
Prior to that he ran Nike and EA Sports for Wieden + Kennedy Amsterdam. Where he produced some of the most recognisable sport work in the world.
His work has covered everything from world cups to street football, from the NBA to the NRL, from filming ski bums to rugby freaks, from sprinters to sloggers, hooligans in Grimsby to ice hockey in Russia and high jump in Doha. Because of this, he has rarely had a dull day at the office, except that time they asked him to do a shampoo ad.
When he is not making sport ads, David writes about politics and social issues, runs badly, cycling infrequently, watches way too much footie, and not enough cricket.