BEST TV
Winner:
Samsung Ostrich
. The simplicity of the idea makes it a winner hands down. The craft is so visible and the emotional value proposition is just so right for the product. But hey then, you put a cute animal like an ostrich and then on top of that you make it fly? You had me at hello.
Runner-up:
Anchor Inside-Out
. Well I actually liked all the spots, I liked this particular spot for coming up with something so innovative. To use Harry Baker and his unique rhyming prose to talk about benefits of milk, mix it with stills, 3D and film definitely gave it an executional edge. Had to be runner up. I can watch it as many number of times and still wouldn't get bored.
BEST PRINT
I would say was a tad bit disappointed with the overall quality of print.
Winner:
Almirante: Freedom
. It made me smile. It is simple and says a story. The art is interesting.
Runner-up:
Biokill: Different ways to kill
. I loved reading this one. It was very well written. You can almost imagine the scene in your head and that is the beauty of this one. And to people who think, coming up with a cockroach kill ad is simple, I must say give it a shot.
BEST OUTDOOR
Winner:
New York Lottery: Cash Court
. This idea felt like fun. Just like lottery. I would have loved to interact with it and am sure most would. Clear message. Gets home the point.
Runner-up:
Cancer Research UK: Breath Test
and
Harlequin: Make A Date With A Cowboy
. The breath test is not new but just the way it was done felt both correct and interactive.
And the cowboy, oh boy that was hilarious. Just one small issue there was that the final message felt a bit incomplete but nonetheless hilarious.
BEST INTERACTIVE
Winner:
The Ministry of Internal Affairs of the Republic of Belarus: People You May Know
. What I loved about this one was the clever use of the medium. Something we interact with everyday is used and turned into something more meaningful. Simple. Clean. No nonsense.
Runner-up:
Claro - America Movil: Rio 2016 Giant Moments
. The sheer bigness of the campaign makes it real, believable and massive. The use of fans, sportsmen and everyone present to bring out the spirit of sports was fantastic.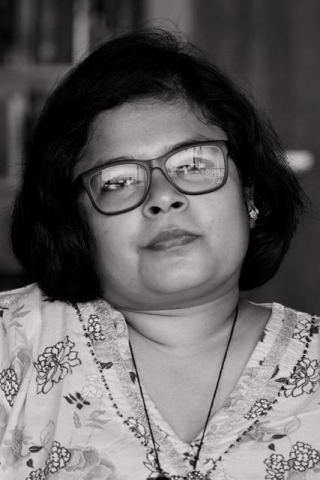 This week's guest judge is Anupama Ramaswamy, executive creative director, Dentsu Impact, India.
Studying plant life in college to solving business problems using her MBA knowledge. A movie buff fluent in many languages. A traveller who loves to see many new places.
But at the heart of Anupama Ramaswamy (or Anu as she is affectionately called) is the art director.
Driven by a passion for advertising, Anu has made a formidable mark in the Indian scenario with the strength of her ideas, power of her campaigns and her sheer commitment towards work.
Today, she is one of the most awarded individuals in India having struck gold at Cannes, Clio, Adfest and winning at the New York Festivals, Spikes, Abbys, as well as becoming a One Show Judge.
Currently an executive creative director at Dentsu Impact Delhi, she is leading teams on prestigious accounts like Maruti Suzuki, Max Hopsitals, Unciharm, Hindustan Times etc.
Prior to that she has worked in a number of agencies like Cheil India, JWT, Draft FCB, Rediffusion Y&R, Euro RSCG and Lowe.
As senior creative director at JWT Delhi, Anu led the agency to its first Cannes and Clio Gold in its 100 year history. In the same year, the network picked up Agency of the Year at AdFest.
Her campaign for Fujifilm contributed to this pile of metal and was ranked one of the top
20 most awarded print campaigns in the world, according to the Gunn Report.
In addition, some of her work on Samsung helped it become the No 1 youth brand in the country.
When she is not busy in office she likes to relax with her family, meet up with friends or prepare a divine mutton roast.