BEST TV
Winner:
Royal Mail: Heist
. Intense is not a word you generally associate with Royal Mail but this uncomfortably real heist is exactly that. A bold move for a company that once had Postman Pat as a spokesman. It also gave me a chuckle at the thought of saying some of my more ridiculous passwords out loud to an armed assailant.
Runner up:
Nike: The Roger Effect
. I'm highly susceptible to bursts of sporting enthusiasm especially around the Australian Open season so this Nike ad hit the spot with me. A simple yet beautiful execution that taps into the strong emotional response of being a spectator.
BEST PRINT
Winner:
Absolut Vodka Kiss With Pride
. Sometimes we can take the simplest things for granted like kissing your loved one in public. This print campaign is a powerful reminder that for some this simple act of affection is still a powerful act of defiance. It's a nice continuation of Absolut's long history of support for the LGBTQ community.
Runner Up:
Land Rover: Snake
. Even though I wished there was more stuffed African animals in this scene the simple execution still made me laugh.
BEST OUTDOOR
Winner:
VisitFlanders: The Mud Soldier
. Normally you pray, beg and plead to all the gods and deities for good weather when unveiling an outdoor installation. This is a clever use of the environment to create a haunting twist on the more familiar commemorative war statue. That melted face will stay with me for a while.
Runner up:
Volkswagen: The Blind Photographer And The New Arteon
. At first I was a little skeptical of this campaign, wary of the tenuous link between the artist and car. However, the resulting work of blind photographer Pete Eckart turned out to be some of the most arresting car photography I've seen of late. Let's hope more automobile photography follows in his bright footsteps.
BEST INTERACTIVE
Winner:
BBC: We Will Wait
. I'm fascinated how VR experiences are evolving traditional storytelling. We are familiar with harrowing stories of refugees but being immersed first hand into their struggles makes projects like We Will Wait all the more compelling.
Runner up:
Tesco Safety bags
. It's frightening how saturated in chemicals our fruit and vege has become. If farming bodies are deaf to consumers requests for less toxic produce, innovative ideas and supermarket chains like Tesco can only be applauded.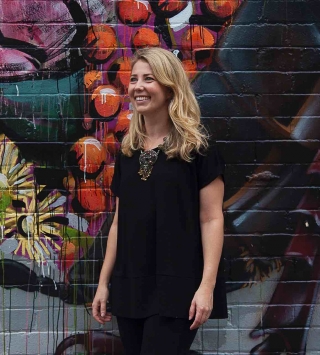 This week's guest judge is Corinne Goode, creative director, BBDO San Francisco.
Corinne has spent the last 10 years working and residing exclusively in beautiful bay cities. Her career started at BMF in her hometown of Sydney, Australia. It was here she transformed into a lady beer baron working across a number of Lion's beer brands. Her most notable spot for Toohey's Extra Dry involved letting dozens of live deer loose onto the streets of Auckland city so she was happy to cross that off her bucket list. Drawn back to New Zealand, she made the move to DDB to continue wreaking havoc on the streets of Auckland in the name of advertising. This time she won gold at One Show, AWARD and a Spikes Grand Prix for her efforts on Sky TV.
Corinne's work has earned heavy metal at international award shows including Cannes, D&AD, New York Festival, One Show, AWARD and Adfest. Her career so far includes creating Australia's most complained about ad of 2013 and winning New Zealand's most loved ad of 2015. Ying/yang.
Corinne currently lives in San Francisco after joining the ranks of BBDO earlier this year to work on Mattel.