BEST TV
Winner -
Libresse: #bloodnormal
- AMV BBDO, London. It's surprising that advertising world didn't already do it, but it's really bold and should create the debate.
Runner-up -
Carlton Draught: The 46ers
- Clemenger BBDO Melbourne.
BEST PRINT
No winner. Nothing stands out this week.
BEST OUTDOOR
Winner -
Burger King: Bullying Jr
- DAVID Miami. A brand such as BK has a huge influence and it's good that they use it to heighten awareness of their clients. I feel the execution could had been better. The experience and hidden camera style is a little bit old for me. But I am such a big fan of David Agency work...
BEST INTERACTIVE
Winner -
Save the Children Denmark & Ministry of Foreign Affairs Denmark: The Most Bizarre Wedding Tradition
- Robert/Boisen & Like-Minded. They use the internet language to make the point on something we tend not to pay attention. Clever way to grab the public's attention.
Runner-up -
Bouygues Telecom: The Real Tour de France
- BETC Paris. Fresh content, fresh thinking and French :)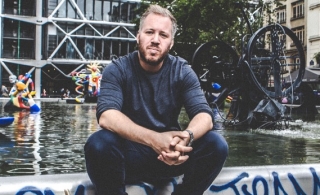 This week's guest judge is Baptiste Clinet, executive creative director at Herezie, Paris.
After graduating in advertising Baptiste started his career at Fred & Farid where he had the opportunity to produce global campaigns for Diesel, Orangina Schweppes, Adidas Originals and Wrangler. Four years later he left with his creative partners, Nicolas Lautier and Florian Bodet, for Ogilvy & Mather, Paris.
At Ogilvy Baptiste was the executive creative director of Ogilvy & Mather Advertising Paris. He oversees the agency's multicultural and award-winning creative department and Ogilvy's iconic brands such as: The Coca-Cola Company, Perrier, Scrabble, Jean Paul Gaultier, Nestle, Netflix, Allianz...
With over 130 international awards underneath his belt, including 32 Lions from the prestigious Cannes Lions Festival in the past 6 years, Clinet love fresh, unique, innovative ideas.
From digital to activation to tv to design, his depth of creative thinking shows his commitment to the creative idea, in whichever communications format it's intended for. Baptiste as been president of the french D&AD jury for Direct and film jury at the english D&AD. He recently as been rank the 8th most awarded ECD in the world in 2015.
Since November 2016 Clinet is the executive creative director of Herezie, in less than 6 month he has helped the agency win 3 lions.