BEST TV
Winner -
New Zealand Police
. There is something so charming about seeing an uptight government body, like the police, not take themselves too seriously. And in the process turn something that is normally dull and mundane into something I actually want to talk about, God forbid even share. My next challenge would be for you to make a recruitment video for Parking Inspectors.
Runner up -
Santa's Number
. Okay, okay! Here's your holiday spot. 'Tis the season after all. This cute spot by Nos takes a small yet beautiful moment between father and son, and turns it into holiday magic for everyone. We actually called the number but we had the wrong area code. Or Santa just doesn't want to speak to us.
BEST PRINT
Winner -
Lack Friday
. What do you do when you're always cheaper than your competitors? Make fun of them.
Runner up -
Otos Ent Clinic
. I don't want to look at it, but I can't seem to turn away. Super clear, and very arresting.
BEST OUTDOOR
Winner -
Thailand: Home is not a boxing ring
. I don't know how many people actually saw this, but it's a really powerful insight. Ring Girls have always been sexualized at events that promote violence, so why not show the dark side of what really happens and turn them into a powerful message about domestic abuse.
Runner up -
Burger King: A day without a whopper
. The Good: Telling your customers to buy from a competitor to help the less fortunate. The Not-So-Good: It's just a litttttlllleeee too close to Whopper Freakout.
BEST INTERACTIVE
Winner -
Re:Scam
. This was probably our favorite thing from the entire week. It's so refreshing to see AI used in such a funny and human way. It reminds me of the book Dot Con: The Art of Scamming the Scammer by James Veitch.
Runner up -
Subway
. Damn. That's a lot of sandwiches. Good job.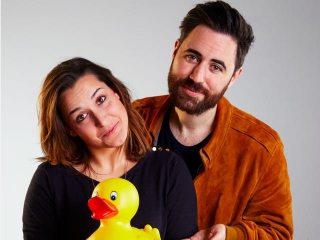 This week's guest judges are Laura Petruccelli and Rohan Cooke, associate creative directors at Goodby Silverstein and Partners in San Francisco.
This Aussie duo has worked together since their very first day of University at RMIT in Melbourne. Cute.
From there, Grey pulled up a seat for them where they created award-winning work for the Transport Accident Commission. Since then they've jumped ship, or rather oceans, and landed a job at Goodby Silverstein and Partners in San Francisco. Nearly three years later, Laura and Rohan have created the world's first product for Instagram #SonicSquareShakes and helped raise awareness of sexual assault on campus with the Unacceptable Acceptance Letters campaign. Both of these campaigns won recently at Cannes and reflected their love of ideas that hit hard on social and cultural insight. They believe that an idea can't go wrong if the insight is right. That's when you're not just creating an ad - you're contributing to culture.
Laura and Rohan were named Ad Age's Creatives of the year in 2017. They hope to continue doing work that shifts the definition of advertising and its role in today's weird and wonderful world.
Oh, and they've managed to maintain their accents... STRAYA'!