BEST TV
Winner: Channel 4 '
Two Tribes
' by 4Creative. Simple is hard. Funny is hard. This one makes it look easy. You have to master a lot of disciplines to make a few seconds come together effortlessly. This film takes on a pretty heavy and controversial subject and manages to be disarmingly simple, funny, clever and beautiful. Once you watch it again and again it keeps getting better. A quality not many films have.
Runner up: Speight's '
The Dance
' by DDB New Zealand. A beautiful film. It managed to escape the silly joke of men dancing and display the genuine seriousness in the seemingly silly. It had me leaning in slowly until I couldn't help but get choked up at the end. Love the restraint of the dialog and the decision to let the shots stand and breath. This one is classic story telling done well.
BEST PRINT
Winner: REPRO Foundation '
Apple
' by Mercado McCann. I came into the business when print kicked ass. Yes, those days are over and we've moved on to more contemporary ways of communication. But I can't help but notice that the art of print is getting lost. This ad is in the tradition of the classic ads that fool you into a first impression and let you discover the whole story with a closer look. I would have loved to lose the hand on the left side. It's an uncompromising pureness that make these kinds of ads great.
No runner up.
BEST OUTDOOR
Winner: Access Israel '
People Not Symbols
' by Leo Burnett Israel. At first I was skeptical if this was a scam but as the case continued, I was relieved that simple low tech ideas can still have great impact. Bringing humanity to where it got lost and creating empathy where there is none with such simple tools is impressive. Well done.
Runner up: Volvo Cars '
The Undercover Sales Casting
' by We Believers. Not sure what this is. Client recruitment? Making of? Commercial? Which is what I like, it blurs the lines. Using a casting call to generate content is not only smart but it makes it human and genuine. Something that is pretty much missing in the whole car category altogether.
BEST INTERACTIVE
Winner: Lifefaker.com '
Why Do You Use Lifefaker.com?
' by AMV BBDO, London. Wow. What a cruel and entertaining mirror for the times we live in. The mental health effects of social media brought to you in an eye-opening way. It's like a train wreck, you can't take your eyes off of it. Although we know how terribly true the misery is, we all got sucked into. You can't stop smiling at the sadness. Brilliant.
Runner up: Waste Free Oceans '
The Ocean Plastic Book
' by Jung von Matt/Neckar. I grew up in Stuttgart-a little town in the south of Germany. Mercedes and Porsche are just a few brands that call this pretty little town their home. Well it was nice to see that an agency from my old home town made the shortlist. So, yes, I am a little biased, but this is not about favorites. To educate about our ocean's pollution with our ocean pollution. To take trash and turn it into a beautiful book that educates about trash is ingenious and beautiful.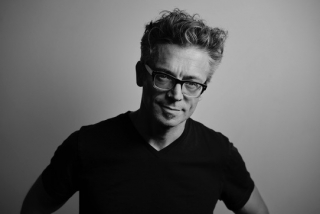 This week's guest judge is Toygar Bazarkaya, chief creative officer at We Are Unlimited, Chicago.
As chief creative officer of We Are Unlimited, Toygar works together with the agency's team of social, data, retail, cultural and media experts to understand human beings more deeply and fuel the creative process. In his role, he leads the agency's creative work for McDonald's.
Prior to Unlimited, Toygar was CCO at Havas where he strengthened the creative work on brands like Reckitt Benckiser, Liberty, TDA and Dos Equis. He also worked hand-in-hand with media, data analytics and the AI capabilities of the IBM team. In 1997 he began gaining international experience in New York, Sao Paulo, Boston and Dusseldorf. Before returning to New York as executive creative director at BBDO, he was the chief creative officer of BBDO Germany, where he brought the agency back into the creative rankings. In 2007, Toygar helped BBDO Germany become the country's most awarded network at Cannes.
In 2015 he was a member of the Cannes jury, and in 2017 was the foreman at D&AD for the craft category and the president of the TV/Cinema/Online/Film category at the London International Awards. He has developed a passion to push the boundaries, in the process leading over a dozen of them to win international awards at the One Show, D&AD, Clios, LIA and Cannes Lions in ten different categories. In 2016, Toygar was named to Adweek's Creative 100 list.