BEST TV
Winner:
Should I Be Scared for The Atlantic/HBO
. A fitting companion to last year's Michael K Williams spot. Charming in a different way. Same strong writing and performance(s). I love the last line. Digs into a fascinating truth about the human psyche and lets it hang. The magazine's journalism leaves room for contemplation, as do these films. I only wish they hadn't resorted to cussing. Seems unnecessary and feels dissonant with the Atlantic brand. But maybe that's me being old-fashioned.
Runner up: It's not a fair fight is it? Giving a handful of ads to review to a parent and two of them are about children dying or being sexual abused. The work is bound to benefit from the emotional reaction it provokes. That said,
Stop The Silence for Shelter House
feels like a strong piece of work regardless. Using the actual drawings from children who've suffered abuse, slowly unveiling the horror as they're sketched in front of our eyes, the ad keeps you focused and watching even though the subject matter inspires revulsion. You want to look away but it feels disrespectful. Then the line at the end reinforces how comparatively insignificant and ephemeral your experience has just been. The only thing I'd change is the music, which feels manipulative and trite. The ad will stay with me for a long time but I'll remember it with a different soundtrack.
BEST PRINT
Winner: I thought visual metaphors had fallen out of fashion but judging by this week's haul I seem to have been mistaken. I've never been a huge fan. They've always struck me as a little too inside - divorced from the concerns of the actual customer. Will any of these ads make me think/feel/act differently after seeing them? Likely not. So I guess I'll just default to which was the clearest. Which one helped aid my comprehension.
Air Asia
made a calendar out of umbrellas on the beach. The umbrellas in place of weekend had the most junk around them. Weekends are a shitty time to travel to the beaches of Thailand. Got it.
Runner up:
Fundacion Banco Des Bosques
armed a hunter with a beaver to demonstrate that the introduction of new species can kill indigenous ones. Though without reading the line you could be convinced they were telling me that a beaver could beat a fox in a fight. Which doesn't sound credible until you think about how strong and heavy a beaver's tail is.
BEST OUTDOOR
Winner:
Vent Inspection Ad by The National Fire Service of Poland
is an incredibly simple idea. It doesn't just raise awareness, it acts as a tool to check to make sure your extraction vent is functioning as it should be. To add more effusive words of praise would run counter to the philosophy of the ad itself.
Runner up:
KFC-scented bath bombs
is my runner up. The whole "inappropriate cologne/clothing range/extension product for a fast food brand" has been done to death and I was ready to dismiss this as yet another on the growing pile. Except when you put this bomb in the bath it looks and behaves like a piece of chicken dropped in a deep fryer. Which is actually brilliant. So nil points for the idea, but thumbs up for the execution.
BEST INTERACTIVE
Winner: I'd go with
the Humanity Test for UN Women
. It takes the form of one of those online verification tests, asking me to select a series of images to prove that I'm not a bot. After picking all the images of brides and leaving the images of young girls, my results tell me I was wrong and that the young girls were actually the brides, having been forced into marriage below legal age. Not a lot of bells and whistles to it, but it the message is simple and clear, you don't need much more.
Runner up:
InstaWhopper for Burger King
would be my runner up. It's probably not going to reel in many new customers but if I was predisposed to liking Burger King this would be a fun couple minutes worth of distraction.
BEST RADIO
Winner:
Barry the Disclaimer Guy for Ice Break
is a note-perfect bit of radio. Great writing, delivery, and a smart idea to boot, playing around with a classic ad trope to make its point about a caffeinated beverage.
Runner up:
Behind the Numbers for Parents of Road Victims
uses police data to identify when somebody has died in a road accident and airs ads in real time when it happens. Seems like a clever location-specific way to send chills down drivers' spines and get them thinking about their own performance behind the wheel.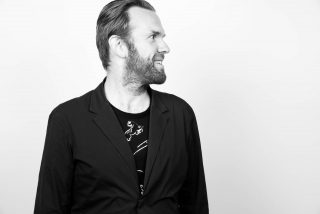 This week's guest judge is David Kolbusz, chief creative officer at Droga5, London.
David has been the chief creative officer of Droga5 London for a couple years now, toiling away on established brands like Uniqlo, Danone, launching films like Baywatch, and helping start brands from scratch like sports betting app Kwiff.
He arrived form Wieden + Kennedy New York where he was the executive creative director. During his time there he helped raise the creative profile of the agency, doing brand-building work for the likes of GAP, Delta Airlines, Southern Comfort, Nike Brand Jordan, and Squarespace.
Prior to WKNY, he was the deputy executive creative director at BBH London where he helped oversee the creative department and ran the Axe/Lynx Global account along with The Guardian, creating The Three Little Pigs work which was the UK's most awarded campaign in 2012.
Along with stints at Goodby, Silverstein & Partners San Francisco, Mother London, and TBWA, he combines a global scope with strategic rigour and a passion for making brands famous.