BEST TV
TV Favourite:
Brady Center to Prevent Gun Violence
. I won't lie. I let some of my personal beliefs get in the way when picking this one. But then again, isn't that the whole point of what we do? To touch someone through a story or a joke or an antidote so they are for you rather than against you? Yes, some of these "tricks" have been done before-the kid delivering the hard-cold facts; but in this case, it has a purpose. And to me, that is everything.
TV Runner-up: This one was tough but I am going to go with
The Great British Bake Off
. Again, the way in which the message was delivered (a montage of people singing a song, or in this case, a montage of personified baked goods) has been done before, but there was something-dare I say cute-about this execution. Maybe it's all the Pinterest fails and respect I have for people who make beautiful things, but this commercial got their message across loud and clear, and made me feel part of something bigger than my burnt bunt cake attempt last weekend.
BEST PRINT
Print Favourite:
Sanofi
. Seriously, I spent a long time looking at this ad. There are so many little art direction details in thrown in here that made me smile. While I know this is a serious subject, I couldn't help but thinking the team tried to have some fun with this. Which shows. And they engaged me for well over 5 minutes, which I believe is a win. Take a hard look at all the people affected by the cough, no one is immune (pun intended), not even the Gone with the Wind poster. Good one, team! Well played.
Print Runner-up:
Revista Mamae Bebe
. Because I had to pick a runner up and not a second favourite, this one is getting that title (but to me, these 2 Best of Print Ads are tied). The concept here is amazing, as is the use of media. It used print in a way we use social media. It also understands it's importance in the bigger scheme of things. It's just a magazine. There are far more important things than what's on the page. The marriage of these 2 components (message and media) makes this one a gem proving yet again print is a powerful medium.
BEST OUTDOOR
Outdoor Favourite:
Missing Persons Advocacy Network
. So ingenious. Reminds me of the Missing Persons on the back of milk cartons (did I just date myself?). This not only gets the attention of the drinker, but the passerbys, the baristas and anyone else with a set of eyes.
It grabs your attention and makes you want to get involved without asking you to do something, go to some site or stage a coup. This is really utilizing the idea that so many people drink coffee that it's bound to raise awareness.
Outdoor Runner-up:
Bloody Puddles
. A great use of outdoor space in a non-traditional way. Simple message, purposeful and unique. And OUTDOOR. Which is the category. Imagine that! Outdoor being out door.
BEST INTERACTIVE
Interactive favourite:
Octomonk
. Kids are going to be on their phones no matter what. And this app meets them where they are. And you know the old saying... if you can't beat 'em, join 'em. So yeah, I like it.
Interactive Runner-up:
Airbnb
*. I add the asterisk because I am fully aware of the issues involved around this idea. I'm not sure whom to believe, or if I even like the thought of offering up something as sacred as The Great Wall on Airbnb... BUT, with that being said... what makes Airbnb so unique is the experiences you get when you travel. What you get with Airbnb, you cannot get from a hotel and if one is concepting against Airbnb's purpose, then one would eventually come up with this idea. So, troubles and logistics and even personal feelings about potentially exploiting The Great Wall aside, I do like this idea.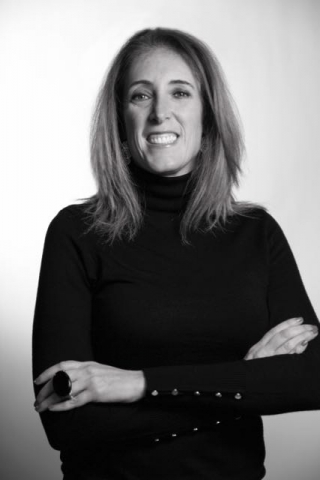 This week's guest judge is Robyn Stern, Associate Creative Director, Saatchi & Saatchi, Los Angeles.
A graduate in Visual Communication from the University of Delaware, Robyn has been in the advertising field for over 15 years.
Robyn started her career in NYC as an Art Director and has worked with some of the brightest minds in advertising. She is what many consider a hybrid creative. She has been an Art Director, a Copywriter and a Content Strategist. Robyn has worked in Print, TV, Digital, Social and Experiential for a variety of clients.
Her client portfolio includes IBM, Coors Brewing Company, AmEx, Cisco Systems, Toyota, AT&T, Sprint, Kraft Food & Beverages, Purina and more.
Outside of work, Robyn is an active mountain climber and snowboarder. When she is not on a mountain, you can find her playing with her dog or at her desk writing her first TV pilot.