BEST TV
Winner: IKEA '
Lamp 2
'. Many of us remember CPB's Unboring work and the original, iconic Lamp spot for IKEA. It's only fitting that 16 some-odd years later, the story continues. What makes this new spot unique and notable is its message; reusing and not wasting. Not only is it timely and current, repurposing a memorable piece of advertising in order to drive that home is a smart way to do it. Additionally, the stylistic and emotional choices made throughout, reflect many of the Spike Jonze original. From the way the little girl carries her new Lamp up the stairs to the Lamp's POV looking back or looking at her, Rethink's team was able to create both a perfect sequel and beautiful homage.
Runner Up: Strictly Come Dancing '
Time to Dust off Your Dancing Shoes
'. Overall, a really nice piece of film that tells a very simple story using an optimistic music track, all without uttering a single word. A lot of spots that rely heavily on animation or FX tend to over-index on them. Here, we find just enough that the story comes through nicely. And even though it's just over a minute long, it doesn't feel like it. You'll find yourself rewatching it to see how some of the moments were actually pulled off.
BEST PRINT
Winner: TG4 '
Rugby Stage
'. These days, print tends to be more thoughtless than anything - where the brief's directive is to explain quickly. So, it's refreshing to see something that visually explores and executes a bit more deeply. Comparing sport to theater isn't anything new. The game reflecting on its own performance, however, is both intriguing and clever. Combine that with dramatic lighting, less-dramatic retouching and an introspective expression reminiscent of Hamlet holding Yorick's skull, and you get an overall intensity that makes you stop and study.
Runner Up: Power Horse '
Sloth
'. There are a number of nice elements is this ad that help it to cut through - the perspective of the illustration, the illustration style itself and the lighting. But, its best attribute is the minimal copy in the bottom corner; Make Your Slow Go. A super-simple line that's easily campaignable, with lots of different executions in it.
BEST OUTDOOR
Winner: Madame Tussauds Tokyo '
Peace Barber
'. Everything about this submission is unusual. In a good way. Because, it all cleverly comes together to establish something unique and memorable. Advertising needs to work harder than ever to break through and capture attention. Frontage Inc. has done a smart job capitalizing on current, cultural events through an experience designed for social sharing. Providing haircuts is simply icing.
Runner Up: Perth Zoo '
Zoorasic Park T-Rex
'. As pure outdoor, this execution is both notable and memorable. Even though the scale seems a bit on the giant side, its placement is perfect - reminiscent of the classic flashlight scene in the first Jurassic Park.
BEST INTERACTIVE
Winner: Agent Green '
Screaming Trees
'. A significant issue with a thoughtfully-executed solution. Many NGOs tend to expose negligence, corruption and overall system failures. While extremely important as a counterbalance to power, there are often-times a lack of tangible solutions. Agent Green and Havas have done a brilliant job in using innovation as a means of creating ongoing accountability.
Runner Up: Ekstra Bladet '
Unmasking a Racist Agenda
'. This is an example of an agency and client putting on their thinking caps and going deep to find a solution. It's one thing to devise an activation that shines a bright light on injustice. It's quite another to use a prejudiced organization's own destructive initiative against them. The brilliance in this work by Hjaltelin Stahl and Ekstra Bladet is that they found and cleverly amplified a loophole in order to create good from a law being used to create division.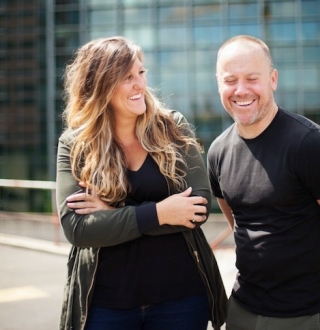 This week's guest judges are Jim Wood and Carren O'Keefe, co-ECDs/partners at AnalogFolk, an independent digital creative agency that has grown from one East London studio in 2008 to over 300 people across offices in London, Sydney, New York, Portland, Hong Kong and Shanghai.
Jim is based in AF's New York office and Carren in AF's Portland office. They oversee and manage a team of 25 creatives across both offices with a mission to use digital to make the analog world better - through new technologies, product innovations and user-focused experiences.
Together, they have helped triple AnalogFolk's US operations by creating award-winning work for brands including Nike, Facebook, CLIF and LUNA Bar, Blink Fitness and L'Oreal, among others.
This year, Jim and Carren were chosen as two of 27 senior agency leaders charting a new course for the industry in Adweek's Creative 100 list and their Equal Pay Day work for LUNA Bar was named Campaign US' Inclusive & Creative Top 20.
Prior to AnalogFolk, Jim and Carren worked together at AKQA where they built campaigns and experiences for brands such as Nike, Google, Calvin Klein, Mondelez, XBox and Anheuser-Busch.