BEST TV
Winner: MADC Stars '
Meet Grant
'. It's hard to land a parody in a way that doesn't feel like a cheap shot. But this is a parody with purpose, because it's out there to prove you can't beat the original. The message hits the target audience (us) by wrapping itself up in the skin of campaigns we all love but with just enough of a cheeky and entertaining tone to sidestep any blowback. And a healthy dose of industry truth gives it added legs. This does what it's meant to do, and does it well.
Runner-up: Over & Above Africa '
A Guardian
'. Beautiful. And powerful. Extra points for the craft being rooted in how the charity works. This is simply great film.
BEST PRINT
Special mention goes to
Starbucks
for simplicity, but overall this week's print is missing something either in insight or execution. Some nice stuff in here but not enough to call out a winner.
BEST OUTDOOR
McDonald's '
McDoors
'. Some ideas are so obvious that when you see them, the jealousy slams you in the face like a non-existent door. These guys proved their 'always open' point with the simplest action possible. Then they spread the message beyond point of sale by turning the now irrelevant doors into arresting billboards around the city. The job obviously had very little budget, possibly none, but they did a hell of a lot with what little they had. Best of all, this doesn't look one bit like advertising.
Runner-up: New Zealand Police '
The Police car, that's speaking our language
'. This makes sense. Do more of this. When large organisations like banks or governments apply a little humanity to the way they work, it makes sense for everyone they deal with, both inside and outside their organisations. This piece turns the business into the medium, changes something often overlooked or assumed set in stone, bridges a cultural divide, and does it all in such a simple way. Just do more of this.
BEST INTERACTIVE
Winner: Vote.org '
The Whatever Party
'. I'm a sucker for apathy as comedy, and this delivers. Plus, it's built on a solid insight that could get some real attention. I liked a few campaigns in this category this week but this has the most legs by far. Slogans like "Inaction, in action." seal it for me.
Runner-up: Jana Water '
Deepest Instagram Profile
'. Simple, beautiful, and made for the media. It's a clear expression of the brand's key message.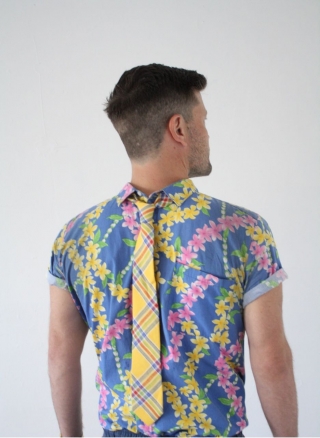 This week's judge is Max McKeon, an Aussie ex-pat currently working as Creative Director at Colenso BBDO.
Prior to joining Colenso, Max worked at Saatchi & Saatchi NY on the highly successful "It's a Tide Ad" Super Bowl campaign and NDSS C21 Restaurant, which picked up gold at The One Show and Cannes as well as a D&AD Impact pencil.