BEST TV
Winner: Waitrose & Partners:
Fast Forward
. Saying what we all think through a mouth full of Stollen, Waitrose & Partners takes a cheeky jab at the John Lewis Christmas craze. A clever partnership resulting in a humorous piece of adception.
Runner up: AT&T:
Surprise
. Can this please be made into a real film? I've lost count of the times I've wished an early and tragic demise to the main character of a sickly sweet rom-com. I was happy with a natural death but am more delighted with a zombie bloodbath! The concept of a genre mashup isn't ground breaking but I still enjoyed this engaging piece of film from AT&T.
BEST PRINT
Winner: Alzheimer's Foundation:
The Hardest Crossword
. I bet the title of this crossword had cruciverablists cracking their knuckles with challenge-accepted glee. What I'm sure quickly followed was a sobering pause at the reality faced by many Alzheimer sufferers. The crossword clues provided a powerful list of actions we take for granted and memories that make us unique. Particular shout to the heartbreak of 47 down.
Runner Up: Volkswagen Amarok:
Motherboard 1
. Some nice craft in play bringing this rural circuit board landscape to life. Shame that detail didn't extend to the copy.
BEST OUTDOOR
Winner: SPAM Brand:
SPAM Recipeoke
. My sister and I still sing a recipe jingle from a Maggi advert that aired in the 1980s. We famously bust this special duet out at family gatherings and during long car trips. With an obvious soft spot for advertising earworms I enjoyed SPAM's take on sung recipes. I'm sure these tunes will provide good product recall as they become vaulted inside people's brains.
No runner up unfortunately.
BEST INTERACTIVE
Winner: Surf Life Saving Queensland:
Life-Fi
. The language of free wi-fi is universal. Let's hope this clever digital portal catches international guests before they plunge into the surf. For the sake of crowed beaches I also hope the signal travels beyond the flag corridor.
Runner Up: Snickers:
Hungerithm
. Sure, we might have campaign fatigue after seeing Hungerithm clean up at every major award show, but It doesn't stop it still being a brilliant piece of work.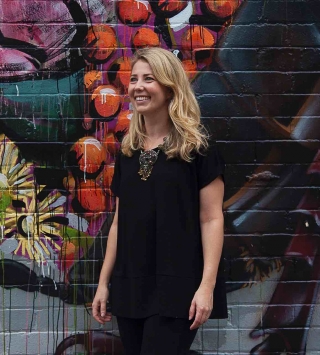 This week's guest judge is Corinne Goode, creative director at BBDO San Francisco.
Corinne has made a habit of working and residing exclusively in beautiful bay cities. Originally from Sydney, she worked at BMF on Lion and the Commonwealth Bank before jumping the ditch to DDB Auckland, New Zealand. It was here she won gold at One Show, AWARD and a Spikes Grand Prix for her efforts on Sky TV. Corinne's work has earned metal at international award shows including Cannes, D&AD, New York Festival, One Show and AWARD. Her most memorable achievements to date include creating Australia's most complained about ad of 2013 and winning New Zealand's most loved ad of 2015. Ying/yang. Corinne was drawn to yet another famous bay in early 2017, where she joined the ranks of BBDO San Francisco as creative director on Mattel.