BEST TV
Winner:
Diesel
. Right, I'm making this my winner. This is Diesel firing at their best. They have such an annoying knack of it. Time and time again they create something so culturally of the moment that it feels like it must have been done before. This is another example of it. It's spot on, fresh, fun, relevant and so fantastically on brand for Diesel.
Runner-up:
DB Export
. It was a close call between this and
Northgate Market
. Which has a smart, innovative media buy. But DB Export gets the nod because it's craft wins out. It's brilliantly written, performed and directed. 'The song' may well be a well-trodden troupe. But this one's made special because it's not the usual bloke and beer scenario. It's a couple in love singing about one another. Which is really refreshing for beer. And the product is brilliantly integral to the whole piece. Funny stuff.
BEST PRINT
Winner:
Refuge
. When I first read this, I could kind of feel where it was going. However, when it finally got there it wasn't a bit disappointing. The idea of a partner "turning on you" has been executed very, very well.
Runner-up:
RBH
. I feel bad about an advert for an ad agency in need of a copywriter being runner up here. Is it for real? Is an agency allowed to enter this competition? Regardless, it's the next best of the bunch. It's a little too similar to those pictogram rounds you get at pub quizzes for my liking. Which has nothing to do with the fact that I can't do them.
BEST OUTDOOR
Winner:
One Love Foundation
. Forgetting the fact that a box of chocolates is for some reason in the outdoor category, this one's definitely my pick. It's a lovely thought. The cliche of all Valentines gifts given a complete makeover. Chocolates that taste like good and bad experiences in relationships. The care and attention on the design seems flawless. I haven't tasted the chocolates so I couldn't possibly comment.
Runner-up:
SABB
. This one has a touch of the old "Lurzers Archive" syndrome. Can I mention them here!? Whilst it may bear all the hallmarks of not being completely legit. It is Monday and I am feeling generous. It's simple, striking, elegantly done and to the point.
BEST INTERACTIVE
Winner:
Old Spice
. Advertising is desperately avoided at all costs by all normal folk. Only these guys can make an endless commercial and get away with it. No, not just get away with it. Carry it out with aplomb. They've made it thoroughly watchable and enjoyable, over and over again. It is executed in that unique and thoroughly ownable Old Spice tone. Feeling fresh, anarchic and relevant all at once. And all firmly grounded in good product logic. Excellent.
Runner-up:
Snickers
. I know nothing about NBA. l've no idea who the Raptors are. And I haven't a clue if Delon Wright is any good. That aside, what I do know is that if you wear a bad suit - you need calling out for it. Snickers have reacted to an act of bad fashion, in a way that's typically brilliant of this long-lasting platform.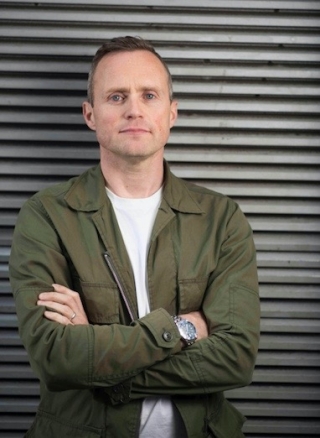 This week's guest judge is Andy Jex, chief creative officer at TBWA London.
"You're from Enfield. You should be putting up the adverts, not writing them" said Andy's Mum many moons ago.
Eventually advertising found a place for Andy. That place was DDB during one of its many golden eras. He played absolutely no role in the agency's greatness, but still managed to create work he and his VW, Walkers and Marmite clients still love to this day.
Soon after Fallon London set up and made Andy and his partner their first creatives. Whilst there he created populist work for the BBC, Skoda, Sony and Timex. This time he played a slightly more central role in creating a golden era for Fallon.
Later he moved on to Mother where he continued his passion for generating fame and success for brands. Most proudly he did the "dehydrated-noodle-double" when he managed to create iconic work for both Pot Noodle AND Supernoodles.
His next step across London was to become ECD of Saatchi & Saatchi. Where he launched the new brand EE after the merger of Orange and T-Mobile and Creative Directed the Wall's "Dog in a Box" series. In his final year he led the agency to become the UK's second most awarded at Cannes.
Since October 2017 he has been the CCO and part of a new leadership team for TBWALondon.
Along his travels he's collected many awards but the one he's most proud of is this recognition from his Mum: "I hate adverts. Apart from the adverts Andy does".