BEST TV
Winner:
New York Times
. The "Truth Is Hard" campaign continues to be gripping and unnerving. As with its predecessors, this execution is concisely written, well shot and skillfully edited. As viewers, we're along for the harrowing ride as The New York Times doggedly tracks down the remaining traces of ISIS. On the way, we learn how journalistic leads - that are painstakingly followed and occasionally dangerous - often turn into dead ends. And, then, in the end, we're there when the reporters hit a motherload of material. One of the end-supers deftly sums up what we just witnessed: "The truth doesn't write itself."
Runner-up:
Elevator
. Over a series of weeks, a woman and a man - who share an obvious, mutual attraction - meet on an office elevator and silently wonder to themselves if they'll have the guts to say hi. As you watch, you share some of protagonists' anxiety. And you root for them. This charming, well scripted film keeps your attention for much longer than branded content has any right to. Speaking of, what's this for anyways? Relax, it's fashion advertising (for Bianco Footwear). To their credit, I guess they did manage to squeeze in a couple shots of shoes.
BEST PRINT
Winner:
Corona Paint
. This clever print ad has a nice, little reward for readers who solve the visual, wait-what-am-I-looking-at? / Where's Waldo puzzle. Upon a bit of inspection, you discover that all of the apartments have an air conditioner except one: that is, the unit whose residents are smart enough to use Corona Thermal Insulation Paint, which we learn, "reduces the temperature by up to 4 degrees." You gotta applaud any agency for convincing their client to dedicate 1/60th of the page to a product demo.
Runner-up:
Toyota
. It's hard to argue a visual solution as clean and simple as this. So I'll spare you a wordy description.
BEST OUTDOOR
Winner:
McDonald's
. Oh no, I'm losing my eyesight! Wait, the fuzzy photography is intentional. This piece is part of a campaign in which McDonald's menu items are captured in a highly fuzzy, out of focus style. I'll leave it to juries in darkened rooms in tropical locales to debate if this is medal worthy. But I do say hat's off to the utter simplicity of the layout, sans logo, too! And it definitely succeeds in making people do a doubletake. Which is an accomplishment in itself.
Runner-up:
Spinal Injuries Association
. This OOH ad puts bystanders in the shoes of someone with a spinal injury - by showing the tediousness involved in performing the simple of task of making tea. What makes this execution so clever is that it incorporates never-before-used technology that allows bystanders to make a donation that will fast-forward the action. Sadly, speeding up the process is something that sufferers of spinal injuries cannot do, without the help of donations towards research. (One complaint: the video created to document this nice concept is seriously lacking; the line, "To accelerate their rehabilitation, donate" can barely be made out - and, unlike the McDonald's billboard, it's a problem here; also, it's not clear that those people standing in front of the screen are making a donation and thereby causing the action to fast forward.) That said, a very strong idea.
BEST INTERACTIVE
Winner:
Skittles
. For procrastinating holiday shoppers, this Last-Minute Gift Shop indeed opened at the very last minute: 11:59pm on Christmas Eve. In addition to being successful, the pop-up shop managed to hit the dumb/fun bullseye consumers expect from Skittles. (By the way, although I don't ride a motorcycle, that helmet looks delicious.)
Runner-up: (tie)
Unesco
and
YellaWood
. On the International Day For The Elimination of Race Discrimination, two chess champions broke a key rule: white goes first. An incredibly simple, yet powerful idea. And, since there's still a few minutes left before April Fool's Day ends, I'd be remiss not to mention YellaWood lumber. An Instagram ad that makes you laugh in :08? C'mon that deserves some kudos.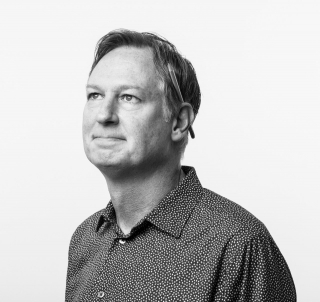 This week's guest judge is Tom Kraemer, a senior vice president, senior creative director at BBDO, New York.
A kid from a Minneapolis suburb who began his career crafting paragraphs about refrigerators for Best Buy Sunday circulars, Tom has been incredibly lucky to work for six One Club Hall of Fame members: Ed McCabe, Jeff Goodby, Rich Silverstein, Lee Clow, John Hegarty and - for the past dozen years - David Lubars. Not to mention future HoF'er Greg Hahn.
Rather than rely on a singular style, Tom has created brand messaging in a broad range of tones and mediums. Before creating ads for brands such as FedEx, Axe, Levi's, eBay, Milky Way, Visa and Guinness ("Wheelchair Basketball"), Tom helped create the Apple iPod Silhouette campaign.
Tom has received every major industry award, including One Show, D&AD, Andy's, Clio's, ADC, Radio Mercury as well as Cannes Lions across five categories.
Recent work includes Macy's "Space Station," Sandy Hook Promise "Tomorrow's News" and the forthcoming revolutionary, world-changing - and, highly ridiculous - product innovation called Twix Meltdown, a device that peels off the caramel and chocolate of a Twix bar straight into your hot coffee.
Tom lives in Manhattan with his wife and son.