BEST TV
Winner:
Twinings
. The Twinings ad is a good, old fashioned, quirky 30 second spot. In an age where everything seems to need more "engagement time", it's refreshing to see a proper 30 second, funny spot. Complete with the sharp dialogue at the end, "...it's just a little plague."
Runner-up:
Refuge
. A sad, yet believable film, made with honesty and heart.
BEST PRINT
Winner: Entourage '
Give a helping Hand
'. This is a nicely executed, simple campaign. The art is tight and the message is clear.
Runner up:
Colgate
. This one too is a simple idea, but I think it lost something as the campaign progressed. It's a great insight and I can see much more coming from it than just a print campaign.
BEST OUTDOOR
Winner:
The Fair Button
. Not sure if it's technically outdoor, but nevertheless it's a wonderful idea. We've all received briefs to create the next 'Aids ribbon' and in a really unassuming way, that's what the Fair Button could end up doing. It would be really interesting to see how this idea can be amplified and made bigger from here.
Runner Up:
Festival de Cinema de Menorca
. A traditional poster that is smart and funny. The art could have been more elegantly handled though.
BEST INTERACTIVE
Winner: Cerveza Aguila '
Abuse Disclaimer case study
'. I love how they took a blind spot and made it into a compelling rallying point. By taking a mandatory announcement and making it a personal experience the team here, made the message stick. Also the case study is really well put together.
Runner Up: ShineMSD '
Instrument of Hope
'. This one is a lovely idea too and it was tough to decide on which one should win. Communication around school shootings immediately gets everyone's attention and the idea is itself a beautiful example of turning something hateful and destructive into something beautiful and fulfilling.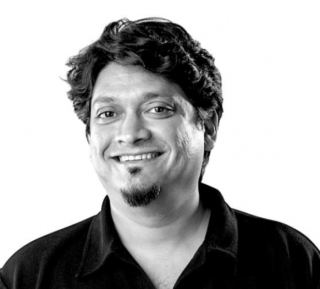 This week's guest judge is Russell Barrett, chief creative officer and managing partner at BBH India.
As chief creative officer and managing partner of BBH India, Russell has led BBH to become one of India's leading creative hot shops.
Under Russell's leadership, BBH India has grown from a 20-member office in 2010 to almost a 100 people across Mumbai and Delhi in 2019. He has helped BBH win a slew of awards and an enviable roster of businesses that include Google Chrome, Audi, Uber, Tinder, Axe, BookMyShow, RedBull, Beck's, Abbott and UNIQLO to name a few.
He also spearheaded the agency's new agile production offering along with playing an instrumental part in its foray into entertainment, content and social.
Over the past 22 years, Russell has won every advertising-related creative award in India and several international ones including Cannes Lions, One Show Pencils, Andys, Spikes, D&ADs and London Internationals. He has been part of the jury at Cannes Film Lions, Ad Stars and several local shows.
Russell has been ranked No. 2 in India by Campaign Brief Asia (2008-2009 and 2009-2010). Russell came in at No. 9 in the top 10 Copywriters in the world list - 2009 (Campaign UK).
He has previously worked at Ogilvy, Leo Burnett, Bates and Rediffusion DY&R.
Russell played field hockey for several years and represented his school, college, city and state at the sub junior and junior national level.