BEST TV
Winner: If you're selling entertainment, then you need to entertain and "
Train
" for AT&T does just that. I'm a big fan of styles colliding and this spot mashes good production and a simple concept to create a spot that brings the message to life in an enjoyable way.
Runner up goes to Pet Refuge's "
Love can Hurt
." Interesting insight, nicely shot, good choice of music and made me look at the impact of domestic violence in a different way. It's moving and I want to see more initiatives like this around the world.
BEST PRINT
A clear winner with Ikea's "
The Simpsons
". Don't think I've ever felt jealous and nostalgic at the same time, but this campaign managed to achieve it. They took iconic living rooms and made an iconic campaign. Really nicely executed. Great fit for the brand. Well done.
Runner up goes to
COA Surfboards
. Good headline, clean visual and a really nice initiative. Good to see inmates can still connect to the ocean despite being behind bars. I'd love to see the 200 other artworks on display in an online gallery.
BEST OUTDOOR
My pick for Best Outdoor goes to BVG's "
Mind the gap
". I think it's a great idea that not only raises awareness around the subject of the gender gap (which is embarrassingly still an issue), but walks the walk by correcting their own policies. It demonstrates the issue in a positive way and lays the foundation for other companies to do the same. Let's hope more get on board.
Runner up goes to Penny Reality's "
TV Recruiting
". Think it's a good strategy to use a reality show to target job-seekers, or people who haven't got anything else to do. Not the most entertaining idea, but appears to be an innovative way of speaking to the right people.
BEST INTERACTIVE
This week's winner is Tramontina's "
What does music taste like?
". They took a simple question and found 44 million possible answers. I had to watch this case study a few times to fully appreciate what they did. It's brilliant and I'm hungry. A serious amount of work went into this and it shows. Very few campaigns truly use data to define the work, but this achieves it with 5 Michelin Stars. It's music and food in perfect harmony. Excited to see how far this idea goes.
Runner up goes to the Philippine Department of Tourism's "
Be Part of the font
". Travellers are becoming far more conscious about eco-tourism, so this is a really smart and fun way to show off what the Philippines has to offer. It's a vibrant campaign that pays homage to the country and the many tourists that have visited over the years. Love how it turns every visitor into a virtual ambassador for the country. It's not often you reward a campaign for having zero impact, but this is a good exception. Beautifully crafted and makes me want to visit.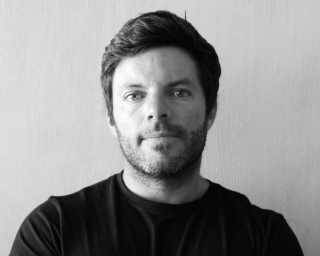 This week's guest judge is Alex Goldberg, associate creative director at Ogilvy Cape Town and he just likes to make stuff. While his business card says one thing, Alex doesn't believe any creative should fall under one title. He writes, illustrates, sculpts, shoots, collaborates and does whatever it takes to bring an idea to life.
Through this ethos he has gone on to win metal and wooden things at Cannes, D&AD, One Show, London International Awards, and several South African awards shows.
His career has taken him all over the world and he's had the privilege of working with some incredibly talented people, on some of the world's most iconic brands like Volkswagen, KFC, OMO (Unilever) and Guinness.
While he loves to work on iconic names, Alex relishes the challenge of putting a no-name product on the radar as he did when he launched "We The Brave", for the Elton John AIDS Foundation, with the first ad on South African TV to ever feature a gay kiss, proudly enraging homophobes along the way.
Alex likes to make work with purpose, that pokes the bear, and makes the world a little less boring.
When he's not wrestling with that ever-elusive next big idea, he's instructing Brazilian Jiu Jitsu, attempting to explain to his parents what a hashtag is, and occasionally writing in the third person.
@TrollusMaximus