BEST TV
Winner: Nike,
The Great Chase
. This is our kind of spot. It's cinematic, funny, and built around a genuine cultural insight - the Chinese custom of declining gifts before accepting. Sure it's hyperbolic, but that's where the fun comes from. No doubt it will be well received by the Chinese community. It was with us.
Runner-up: Vue,
Get Lost
. It's not the first time we've seen a brand go up against the scourge of social media, and it won't be the last. But this spot gave us a strong urge to skive off judging for a trip to the local cinema. And for that, it gets our vote.
BEST PRINT
Winner: P&O Ferries,
Brexit Reassurance
. We couldn't go past the this dig at the Brexit saga. Simple tactical print that cruise goers will love.
Runner-up: Pantone,
Create Your Own World
. The combination of beautiful natural elements and twisted color in these surreal images is surprisingly arresting. Should appeal to the designers out there.
BEST OUTDOOR
Winner: KitKat,
Model Making
. To our knowledge no one has ever thought to put an ad inside a model-making kit. But then again, we're not model geeks. They seemed to love it though.
Runner-up: Rio Carioca Beer,
The Summer of the Cans
. Who doesn't love an urban legend? This campaign gets our thumbs up for its irreverent harking back to a time when Brazilian beaches were littered with cans of Narco-grade weed.
BEST INTERACTIVE
Winner: Fiat,
Panda Yeti
. Kudos to Fiat for gamifying insta stories. A clever way to keep followers engaged with the brand for longer than the usual half second.
Runner-up: Scapegrace Gin,
How to influence your welcome
. It was a toss up between this and the
Star Wars snap lens
. As hard as it is to select an idea that makes influencers lives easier, we thought this was fun and effective.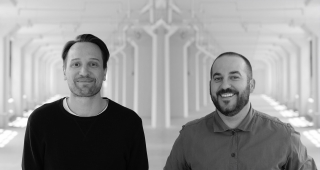 This week's guest judges are Toby Kennedy and Jordy Molloy, creative directors at adam&evenyc.
Throughout their careers, the pair have collected awards at major shows including Cannes, D&AD, One Show, Webbys, Spikes, New York Festivals, Cannes Young Lions, AICP and AWARD.
Since relocating to the U.S. from Australia in 2015, they have shared in Anomaly's 2017 Ad Age Agency of the Year success and adam&eve's 2018 Cannes Agency of the Year gong.
Their work has been featured by Fast Company, CNN, Huff Post, The New York Times, Variety, and The Mirror.
Recent work includes Samsung's 'Ad Within An Ad Within An Ad' starring Ryan Reynolds - listed amongst Inc's top 6 stunts of 2019 - and Tik Tok's 'You Made 2019' end-of-year campaign.