BEST TV
Winner: RUHR:
Don't miss this chance again
. I haven't seen it done that way before. You could apply this thinking to a lot of things recently. Like shopping for toilet rolls. But it's also the lens I've tried to judge this week's work on. The first winner is this story of a hapless businessman. It's considered, it's funny, and it's clever. Unlike said toilet roll shoppers.
Runner-Up: NRL:
Still, Simply The Best
. Having spent a few years out in Australia, I appreciate the love of a beautiful game played by some not-so-beautiful individuals. This spot, however, is pretty good-looking. A nod to some iconic moments from the past three decades, it's guaranteed to raise not only a knowing smile but also the odd neck hair.
BEST PRINT
Winner: Women's Aid:
When it's a pattern, it's abuse
. It shouldn't work. An ad so visually delicate and hypnotic representing such a dark and inexcusable act - domestic violence. Yet it does. This work conceals a hidden message of abuse within a beautiful pattern, which is fitting given it ran in fashion magazine Vanity Fair.
Runner-Up: Baloto Revancha:
Luckations - Elton John
. A nice idea to be found here (see what I did there?) However, the Elton John reference threw me a little. I think the fact that these numbers can lead you to [insert dream] is enough.
BEST OUTDOOR
Winner:
People Opposing Women Abuse: RSA
. South Africa; a country where a woman is killed every 4 hours, 114 women raped, and 360 physically and sexually abused, every day. In advertising, we're often guilty of coming up with ideas that don't work in the real world. This did. With the nations domestic violence act amended to help protect victims.
Runner Up: Abstain.
BEST INTERACTIVE
Winner: BBDO:
BBDO Your Home
. Brands looking to cash-in on a heavy global crisis like the one we find ourselves in is a big no, no. However, encouraging staff to generate an email signature logo of their own 'home' BBDO office adds a much-needed sigh of light relief. Yes, yes.
Runner-Up: BPAY:
Grit
. To say it's been a tough year for Australia is an understatement. Often the only thing to get you through these times is grit. Thankfully, this fundraising campaign to help drought-affected farmers has it by the bucketload.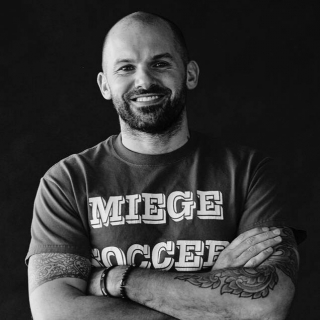 This week's guest judge is Adam Bodfish, executive creative director, McCann Central, the UK's largest integrated agency.
Over the past 15 years, he's worked with some of the world's biggest and best names and agencies in the business, including Leo Burnett Sydney, JWT London, and now McCanns.
He's picked up at the usual suspects such as Cannes, Effies, LIA, One Show, AWARD Awards, Kinsale, Campaign and Spikes to name but a few. And worked on a wide variety of global brands - pretty much the ones you're now thinking of.
When he's not fighting for good ideas in the creative department, you'll find him honing his fighting skills in Brazilian Jiu-Jitsu. He's also a fan of surfing, movie scores, writing poetry, writing scripts, and good rum. Just not necessarily in that order.