BEST TV
Winner: Porta '
#stayathomebabies
'. If someone had told me yesterday that one could successfully link the lockdown to a hard selling, 100% commercial campaign, using a very humorous tone of voice, I would have said 'I don't think so'. This doesn't seem the time for commercial campaigns, but for brand citizenship and corporate social involvement, and humour can feel very out-of-touch and inconsiderate. And then today I see this ad. Well done.
Runner up: Fridays For Future '
Our House is on Fire
'. Great example for the use of juxtaposition in advertising. An instant classic. The contrast is so striking that it hooks you to the screen.
BEST PRINT
Winner: IKEA '
Meatballs at home
'. I couldn't be with my parents this Easter; so, my mum sent me a photo of her handwritten 'secret' recipe for the traditional Easter cheesecake (Pasca) so I can cook it to remind me of home. That's exactly what this simple, yet so meaningful ad does to the IKEA extended family. Nice execution in the distinctive IKEA style. Might try the recipe.
Runner up: Robin Wood '
Every Serving Comes With a Price
'. Impressive craft, great way to bring the message to life, hard to unsee - might ruin steaks for me for at least a couple of weeks.
Also liked the
Conceptual Boredom
photo project. Cool stuff.
BEST OUTDOOR
Winner: Fortum '
The Handle With Care
'. Clear winner of this category. Love it when our industry's creativity goes beyond communications and is used for inventions, physical objects, devises with a concrete positive impact in the world. In the middle of a pandemic that's spreading mainly through our hands and touching, it doesn't get better than a hands-free door handle. And furthermore, a sustainable, recycled plastic one.
Runner up: United Nations '
I want a home
'. Probably the best time to make the public aware of the homeless people situation by pointing out how privileged we all are and what a 'first world problem' the lockdown boredom is.
BEST INTERACTIVE
Winner: Airbnb '
The Country Pub Project
'. A campaign that's not just about saying something, but also about doing something. A clear plus in my book.
Runner up: PSA '
Lockdown
'. This one feels a bit familiar, but I don't really care if it's not the very first project of this kind. It has value because it is a moving example for the resilience of the human spirit in these exceptional times, and it brings together community, creativity, collaboration, and culture.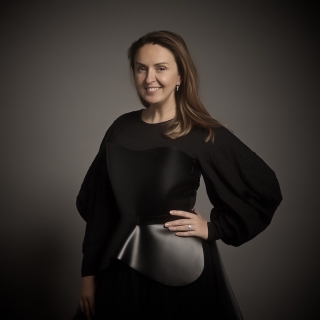 This week's guest judge is Gabriela Lungu, global creative director at Geometry in the U.K.
Gabriela is in charge of all Diageo brands (such as Baileys, Guinness or Tanqueray). She is also the founder of WINGS Creative Leadership Lab that helps companies elevate their creativity through training and workshops.
She has been working for more than 20 years in the creative sector for top firms in advertising, PR and social, in different countries, cultures, and environments.
She is a multi-award-winning creative director, and a creative entrepreneur, building an agency from scratch, growing it to become one of the most awarded agencies of its kind, and then selling it to Publicis Groupe. She was UK & EMEA CCO for Weber Shandwick, and creative partner for Airbnb at TBWA/London, to mention just some of her most recent roles.
Gabriela is often invited as a speaker at major international and local industry events (such as Cannes Lions or the Festival of Marketing), and to judge A-list competitions; she was jury chair for Clio Awards and Dubai Lynx and has been part of the juries of Cannes Lions, D&AD, EFFIE UK, Campaign Big Awards, Ad Stars etc.