BEST TV
Winner: Nike '
Better
'. Once again a memorable Nike ad. Love this spot with a super simple and powerful thought and a lovely crafted visual multicultural treatment. I chose this because in the arms race for attention today we don't see enough of ideas like these that just have effortless confidence and a simple unifying idea that could go anywhere. Loved the narrative, the music and the modern interplay of visual styles and casting. Congrats folks.
Runner Up: Montblanc '
Spike Lee - What Moves You, Makes You
'. I didn't want to like this spot sorry. This could have been one of those awful celebrity endorsement ads you often see that had no idea but the matching of Lee and a fountain pen brand was a good partnership when you think back to the fact that Spike Lee wrote his first draft of 'Do the Right Thing' by hand. I am obviously a fan of the great Spike Lee and having spent a lot of time in Brooklyn it was hard not to like this endorsement spot (plus I know my friends in Brooklyn would give me a hard time if I didn't!).
BEST PRINT
Winner: Defence Force Recruiting '
Big Jump For Men
'. This is a really smart ad. I am betting when this brief landed on the creatives desk they google 'Cryptologic Linguists'? I know I did and that's why I love this. A small ad with a lot of punch. I think the everyday behaviour of how we all use tech for translation services is a nice twist on what was a tough brief. They could have so easily gone down some other direction but I am glad they did something more intelligent. Well done!
Runner Up: McDonald's '
Happy Moving Day - Big Mac
'. Classic and lovely stuff. Art Directions dream gig I am sure? I am loving it.
BEST OUTDOOR
Winner: KFC '
Unalike
'. This has a fresh (excuse the pun) guerrilla type feel to it. It's fun and you get it quickly. It has stand-out, feels modern and makes my hungry. Who says product demonstration has to be boring? I am hoping they took the idea online and made them gifs or something out of this idea. Tasty stuff KFC and I don't even like KFC chicken but I like your work.
Runner Up: Starwax '
If You Are An Influencer In The Septic Tank Category, Please Contact Us Urgently
'. I don't actually know why I pick this one but I just laughed when I read the headline and that's good enough for me. Oh, by the way, I think your photo of the billboard and the empty cafe chairs is brilliant.
BEST INTERACTIVE
Winner: TietoEVRY '
The Polite Type
'. Too often in digital we see shiny things built to just win awards and create buzz. I am fan of more meaningful ideas that embrace technology to change real change but the tech doesn't get in the way. This is one of those - a simple and powerful idea that flips the script with some clever code. Anything that can help nurture inclusiveness is a winner in my book.
Runner Up: Ad Council / CDC '
You Will See Me
'. Sure, it might not be a beautifully crafted site but in these strange times it's a message worth me supporting. I think the core message here is so important. I hope it gets more American's thinking about their actions.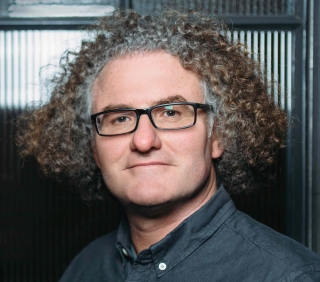 This week's guest judge is Wayne Deakin, executive creative director, HUGE EMEA.
Wayne has over 20 years of industry experience and held creative leadership positions in Australia, Europe and the US.
Originally from Australia, Wayne is a failed Pro Surfer who then stumbled into advertising after winning a place at AWARD School. After working at famous agencies in Oz, he worked his way around the world and also found time to earn a Master's in Cognitive Sciences along the way. Previous to coming to London he was a Creative Director at Jung Von Matt. He then helped to build Jam before moving to joint-ECD across the Engine Group agencies.
More recently he was ECD of AKQA London and helped the agency win several industry titles and be named the UK's most internationally awarded digital agency.
Wayne has created numerous innovations and marketing world firsts. He has won over 500 major awards and his work has been highlighted as best-in-class by award shows and publications around the world.
He is focused on creating ideas that move businesses forward by providing meaningful and original connected experiences for their customers. He is also co-chair of BIMA Creative Council and an active creative mentor in the industry.