BEST TV
Twelve gauge. Check. Bourbon. Check. Six months army c-rations. Check. I'm closing the hatch of the bunker and descending down the ladder into proper safety as it's the BestAds review and the South Americans are proclaiming the end of days. Let's dive in, shall we?
You've got to admire the French. It's 2020, and according to their Playboy ad we're all still living in a gaudy seventies porno. If only that were true. But it's not. I've no idea what '
Make the Cover
' smells like, but if the ad's any indication it's presumably a delicate combination of hairspray, fried eggs and post-coital sweat.
Keeping the sweat and nudity going, Hugh Jackman apparently misunderstood the instruction to '
only wear R.M Williams
' to mean walking around naked save for his new boots. If he'd been walking through the Australian bush naked, it would've at least had something to do with the brand (with the extra frisson of danger from our snakes, spiders and three-inch thorns). Instead, the entire thing is set in an office and keeps the gag going for far too long and ends with Jackman wiping his bum on a seat to such an extent that he presumably ruins it and is asked to keep the thing. Maybe I've swigged too much bourbon but I didn't find it as hysterical as they did on the set.
Volvo
starts in black and white, which is always a portent of doom in advertising. I was ready to give this one both barrels of the shotty but it's actually quite good. Hysterical Twitter style maniacs bang on about how safety belts are the devil's work and an affront to civil liberties and freedom. Then we hear how the belts saves the lives of the people in the ad. It's not the cleverest spot on here, but it's completely on-brand for Volvo and surprisingly moving. (Although that might be the bourbon.)
As usual, an Australian beer ad shows how you can take a ten-page list of client mandatories and work with them instead of against them. It's another silly, well-made spot that shows that Aussie beer ads aren't quite dead yet. Huzzah.
So,
Carlton Dry
takes it this month and Hugh should get some disinfectant wipes and clean all that mess up.
BEST PRINT
Writing a brand manifesto.
It's not hard.
You just have to break
Sentences.
Because you're you.
And you're special.
See that? It's positive
Affirmation.
And only your brand understands it.
So get out there.
Live life.
Write a fucking manifesto.
With a full bleed image.
Something aspirational.
And make sure.
Really sure.
That nobody knows how it relates.
To your brand.
Or whoever
Citrix
are.
Maybe mouthwash.
Or medication.
For piles or something.
VoteEarlyDay
want everyone to get out and vote because they're sick of it. I think most of the world is sick of that crazy orange balloon, so I fucking hope they do. I'm not quite sure what all the torn-up ballot papers are all about but hey, those nutty Republicans will try anything at the moment.
Raymi Beer
,
Viajes Exito
and
Briuta
are leaping onto the Covid-19 advertising bandwagon with gay abandon. I didn't really get the beer one, the tourism ad assumed that everyone stands motionless in front of their shutters and Briuta missed the word 'an' from their headline so none of them get the grand prize this week.
Which leads us to the usual scares from those nutty South Americans. Everything's finished, we're all fucked and we need two double page spread colours for an unknown clothing company (
Alaska
?) to tell us. (I couldn't find them on Google.) Personally, I don't care as I'm in a bunker with bourbon but I can't help feeling that global warming could be an opportunity for the world's greatest communicators to try and end the thing instead of using it for award show prizes.
So Briuta COULD have made it this week, but for, you know, that huge typo.
BEST OUTDOOR
My favourite outdoor this week (although it's not going to win) is for
Loto Santiago
. It's an empty pizza motorcycle with a Loto logo on it. And that's it. The guy won Loto and left his job because he won Loto. I would have paid big money to be in the room when they presented that. What's the idea? Well, if you're in a low paying job and you win Loto... Yes? Well,
you can leave that job
.
Muqing
have a stunning campaign for combs. It is genuinely stunning in the way that great Chinese ads are. It's been crafted to hell. It's beautiful to look at but it's for combs.
Combs.
I can't argue with
Fanta
. Halloween's coming and they've made the Fanta lid into a Pumpkin. It'll stand out on social as, like all great little social ads, it's a moving print ad. Sweet.
The
Responsible Gambling Council
have created an installation that shows how excited you get playing games and how that relates to the dopamine hit you get from gambling. I'm not entirely sure if that's going to stop Canadians attempting to win life-changing sums of money but it's technically well put together and I'm sure juries will like it as they've already put together the case study video.
Converse
have hired an artist to use CO2 absorbing paint in his rainforest mural to draw attention to plight of rainforests. Firstly, the mural wasn't particularly rainforesty and what does it have to do with Converse trainers? Don't get me wrong, I think CO2 absorbing paint should replace all paint and I fucking love the Daintree, but it's that connection that wasn't quite there for me. But big points for the paint. I would have made that fact the headline, but that's just silly old me.
Budweiser
have made logo covered pet beds for dogs so you can 'reclaim your throne' during the NBA. As the guy in the ad had a three cushioned sofa, he had plenty of room for the dog instead of kicking him off and sitting right in the middle.
So, hesitantly,
Muqing
get the golden comb this month as the work is stunning but it's still suspiciously for combs.
BEST INTERACTIVE
The best ideas write themselves, and donating your home page for someone who hasn't got one is great. Nice one team Gav and
Whitelion
.
'
Rise above the Disorder
' have filled multiplayer games with licensed therapists to talk about their anxiety issues whilst blasting them in the face with heavy weapons.
Erm. Let's move on to a rather odd idea from those nutty South Americans who seem to believe that when we use Zoom, our background living rooms seem to look like some sort of thirties slum. It's a classic
case study video
that creates a problem that nobody really needed to solve it with an answer nobody will really use. You don't need to download a fake living room from a catalogue. Just move the overflowing laundry basket and kick all the mess out of shot. That's what I do. That's what everyone on earth does.
Tencent China
have created an AR portal for the Moon Festival so people around the world can point at the moon and create some sort of Great Wall poster with the moon in the background. It all looks very high tech and the case study is filled with usual extraordinary numbers. It's ok.
As I don't speak or read Norwegian, all I can tell from the
ST1 animation
is that some words were on a toilet, then they were kicked off and replaced by some other words and then a phone came in.
Hyundai
didn't make a case study video, so I'm probably missing the vast majority of their execution. All I know is that I think you can place a Hyundai in your driveway in AR. I don't have a driveway but I did download the app and, unfortunately, couldn't place a Hyundai in my bunker.
So for sheer simplicity,
Whitelion
gets the magnum of cheap Rose and a set of the exclusive 'BestAds' branded Covid masks.
It's getting dark. The bourbon is nearly empty and I can hear the claws of the recently infected on my bunker hatch. I fire two blasts as the hatch opens. I'm out of ammo. As a last resort, I douse myself in Playboy's '
Make The Cover
.' The screams subside, replaced only by the sound of the terrified and the repelled.
I am safe.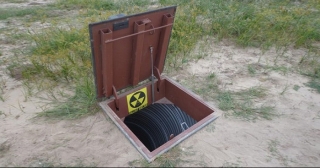 This week's guest judge is Andy Flemming, group creative director at M&C Saatchi, Sydney.
My son left England in 1992, where he'd worked for absolutely no money at various big London companies who really should have paid him. Really. At the very least he could have got a trade. You know, something with his hands.
After we bankrolled his trip to Sydney, he worked at Chiat/Day/Mojo and wrote some lovely commercials including one with the funny band from that film.
Rather than coming home, he worked in Hong Kong and Singapore for a few years before moving to George Patterson Melbourne, then Sydney, then became creative director at either Saatchi and Saatchi, or M&C Saatchi. One of those.
He did that really nice spot with that funny man from The Office, a big football one and some others that I've forgotten. Oh, a lovely poem with that woman from the Sixth Sense film. The JR poster was nice. We always loved Dallas. The show. Not the place. That was where they shot Kennedy.
He won lots of awards. Can, DAD, OneShoe and others he can't be bothered to tell us about. He never calls. And we know he's on Skype. His name comes up.
They seem to like him where he works. That's important because of Brexit.
He judges stuff, lectures and wrote us a lovely email about the weather. The weather here is awful. Just awful. Anyway. Got to run. We're taking the dog out for a wee.