Our fave pieces this week channelled insights across time, space and the moment we all find ourselves in. A big old vitamixed smoothie of feels, awe and smarts.
BEST TV
#1: Heineken's '
A Lockdown Love Story
'. A charming in-the-now story of connection, packed with nice insightful moments. Loved its breeziness, optimism and performances. And we intimately understand the appeal of beers together. Feeling the love on this one.
#2: PONANT's '
The North Pole, The South Pole, and You
'. Visuals and craft you couldn't look away from. Ice volcanoes. Sold the magic. We want to go; who wouldn't?
BEST PRINT
#1: Gitanos' '
Stage
'. Nicely plays with visual scale to sell the beauty and drama of sound. It put us right in the moment (literally). Simple visuals plus considered craft equals smiles and a win from us.
No runner-up here.
BEST OUTDOOR
Some interesting pieces this week, but nothing that got us leaning in or our spines tingling.
BEST INTERACTIVE
#1: Anne Frank House's '
Bookcase for Tolerance
'. Effortlessly connects stories old and new. It's both a lovely tribute to history, and a way for a new generation to tell their own stories. A great fusion of tech and storytelling we'll be exploring deeper.
#2. AAMI '
Rest Towns
'. Smartly integrated. Employs well-placed media to direct people to real-world solutions. You get a baseball cap tip from Steve.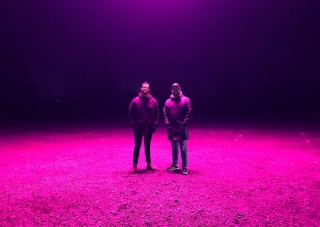 This week's guest judges are Steve Hansen and JP Twaalfhoven, creative directors at Clemenger BBDO Wellington.
Working tightly together for over half their careers at Clemenger BBDO Wellington, Steve and JP have crafted some of New Zealand's most impactful and effective behaviour-change ideas; from Belted Survivors to The Conscious Crossing and Unite Against COVID-19.
Their work has earned New Zealand's Best in Show (three times), Hardest Challenge Gold Effies (twice) and been seen, shared and awarded across the globe; from spots on the WARC 100 and The Good Report, to the cover of Lurzer's Archive, and in Poster House Gallery New York's living archive.
Their approach is hands-on, neck-deep, stuck-in.