BEST TV
Winner: IKEA '
Second best furniture
'. A brilliantly executed minimalist tactical campaign with a significant underlying message: The best thing for children is the presence of their parents. The best furniture for a child is you. It's a clever insight that provides the brand with a research result that cannot be denied.
Runner-up: Foodora '
Because I want to
'. An impressive, grandiose, cinematic execution with an excellent choice for the lead role, reminiscent of Richard Branson giving a TED talk and Amelie Poulain, who finds joy in life's small pleasures. Slightly lengthy execution, but the message became clear in the "Because I want to" moment at the 20-second mark.
BEST PRINT
Winner: Canon '
Capture Beauty Anytime Anywhere
'. An incredible execution that is worth taking the time to explore the details. A visual masterpiece. How many pictures can you find in one image?
Runner-up: Allianz Pet Insurance '
Pawscription
'. The copy of the advertisements could have been enough to convey the intended message. These simple print ads could have been further simplified, but the beautifully handled images bring joy. Is anything else needed to sell pet insurance?
BEST OUTDOOR
Winner: A.L.M.A. / Racing Club '
The Name Confusion
'. An astonishing multi-media campaign that brilliantly highlights the main symptom of Alzheimer's disease, which is confusion on both sides. This campaign should be done in a similar way across different sports around the world.
Runner-up: Nestle '
Taste The A.I
'. An interesting approach that combines a mix of historical nostalgia with flavors, brought to the present day through artificial intelligence. Fortunately, we still get to enjoy authentic desserts.
BEST INTERACTIVE
FIFA23 '
El Alebrije
'. A beautifully translated challenge into a victory while also showcasing the Alebrijes culture with pixel art. To understand this work, one had to familiarize themselves with Alebrijes culture. Anything can be an advertisement.
Dell Technologies / Intel '
I Will Always Be Me
'. No sweat and tears were spared in this entirety. It's a stunning piece of work.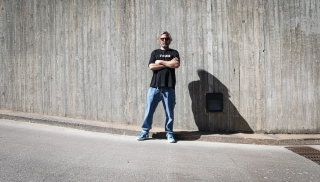 This week's guest judge is Ale Lauraeus, owner and creative director, Studio Lauraeus, Finland.
Ale has worked with marketing and branding since ads were carved on stone plates - in other words, from approximately 1994 onwards. After founding and working as a partner at the agency '358' for a almost 15 years, he left the agency to continue his father's work at Studio Lauraeus.
Ale is ranked 1st in the bestadsontv.com creative ranking 2023 so far.
Ale believes that anything can be marketing - and often is.
Written by Antti Tahtinen, ALL CAPS.