To celebrate the launch of the Samsung Galaxy S8, Jung von Matt/Limmat teamed up with Swiss newspaper 20 minutes to create 'The Newspaper Design Edition.'
VIEW THE CONCEPT
VIEW THE CONCEPT
VIEW THE CONCEPT
VIEW THE CONCEPT
VIEW THE CONCEPT FILM
No stranger to sustainability, DB Export has just released a series of newspaper ads printed on radio via Colenso BBDO and Franklin Rd. The long-running "Drink DB Export, Save the Entire World" platform was built on giving the simple act of having a beer a higher purpose. This latest iteration consists of three 'full-page radio' executions, each describing a traditional newspaper ad scene in tongue-in-cheek detail.
PLAY THE WORKSITE SPOT
PLAY THE BBQ SPOT
PLAY THE BEACH SPOT
Anyone who's ever attended an award show knows they can become long evenings, filled with countless categories. Audiences often find themselves in need of some extra entertainment. So to solve this, Special Group, Sydney and Nakatomi created 'Tipsy'. Tipsy is a free event-based tipping app that lets you pick winners in each award category for the chance to win cash prizes. Users enter their selections at the start of the night, then follow the results throughout via a live leaderboard. It's a companion app that gamifies any live event – award shows in any industry, broadcasts and more. And it means that even people who aren't in attendance at an event can still be part of the fun by playing along.
VIEW THE CONCEPT
It doesn't matter if that 75" TV doesn't fit anywhere in your house, if there isn't enough space for that extra fridge in you kitchen or if you don't even know how to properly use a laptop. Because if it's free, you need it.
ePRICE.it knows that and that's why they created the BLACK HOUR: a contest in which, every day for 60 minutes, visitors will be able to win products such as TV, Electronics & other home appliances. Agency: TBWA, Italy
VIEW THE LAPTOP SPOT
VIEW THE LED TV SPOT
VIEW THE FRIDGE SPOT
In their 25th anniversary celebration, the iconic Coca-Cola Polar Bears are back in Coca-Cola's latest Christmas campaign. Classic Holiday situations inspire the new campaign called "Christmas Rules", which was created via DAVID São Paulo.
VIEW THE SPOT
Ray-Ban look for ourselves in what we want to become. We wander, step after step, attracted by places we have not seen yet, by people we have not met yet. We don't know what we'll find but, no matter the direction, what has brought us there is what has been by our side the entire time. Our choices are the result of our experiences, of the roots from which we've grown and of the bonds we've built. And we know that it is precisely belonging to something that can set us free. Agency: DLV BBDO Milan.
VIEW THE SPOT
'Breaking Ballet' is a series of bite-size ballets inspired by today's big stories for Joburg Ballet. Agency: TBWA Hunt Lascaris Durban.
VIEW THE SPOT
The United Nations declared November 25th International Day for the Elimination of Violence Against Women. 70% of women murdered as a result of gender violence crimes in Spain are mothers. In many cases, these crimes are committed in the presence of their children. The families that take charge of the guardianship of these children often have to face complex legal procedures related to the custody and the children's economic interests, even against the murderers of their mothers. To raise awareness about this social epidemic, TBWASpain has created "Talking Walls" - an exhibition that shows a reality that, until now, has gone unheard: the nightmare that the sons, daughters and families of the murdered women live after this horrible crime.
VIEW THE FIRST SPOT
VIEW THE SECOND SPOT
The Count and Countess have returned in this 'One Sip' spot to persuade our King to try their drink of choice, as a friend and gracious host the King obliges only to be annoyed by his guests and their tasting suggestions. This creative follows the previous two spots, "Bud Lights for Everyone" and "A Royal Affair," which launched at the start of the NFL and College Football seasons and introduced new characters in the "Dilly Dilly" realm - Count and Countess Pamplemousse. Agency: Wieden + Kennedy, New York.
VIEW THE SPOT
WPP agencies Grey, Town Productions, Kantar TNS, Lightspeed, Finsbury, BCW, The Social Partners and MediaCom have worked in partnership with the UN Department of Public Information (DPI), the United Nations Office at Geneva, the United Nations Framework Convention on Climate Change (UNFCCC) and Facebook to develop the multifaceted campaign, with support from Circle AI, Whalar, ITB and Getty Images.
VIEW THE SPOT
Dave is supporting CALM's mission to create a more positive and open culture when it comes to mental health. The year-long 'Be the mate you'd want' campaign centres around the idea that small gestures from a friend can be a lifeline for someone who is going through a tough time. Agency: UKTV Creative
VIEW THE TV SPOT
VIEW THE DAVE AD
Giant Spoon, New York welcomes you to Westworld, a luxury destination fans of the show can go to live out their wildest fantasies. HBO gave thousands of fans the opportunity to do just that in real life. With 90,000 square feet, 444 pages of script and 66 actors guests where driven and flown into 'Westworld'.
VIEW OUTDOOR
Volkswagen and McDonald's The Netherlands developed the Volkswagen e-Golf McDrive Edition, in cooperation with their agencies TBWANEBOKO and ACHTUNG! mcgarrybowen. McDonald's has unveiled the world's one and only customized electric car which has been designed for the perfect McDrive experience. This fully electric Volkswagen e-Golf McDrive Edition is equipped with all the special features to deliver the ultimate McDrive experience.
VIEW OUTDOOR
Neon, New York has released this interactive PSA for Theravance Biopharma. 'The 48th Hour' drives users to follow the CDC Guidelines and warns of some of the dangers.
VIEW THE CONCEPT
A TV campaign for Honda Civic.
The car for people who appreciate the drive
Agency: McCann, Tel-Aviv
VIEW THE FATHER SPOT
VIEW THE MOTHER SPOT
North Sydney Council's new road safety campaign is a comedy music video asking us all to "Take A Look Around". The campaign, created by Engine Room Productions, has provoked strong feelings from the public. But hey, so did Phil Collins in his heyday. Stay safe everybody.
VIEW THE SPOT
In the Company of Huskies have created this spot for ALIV
VIEW THE SPOT
This new short film 'The End of the Line' explores the art of a wire-walking and pairs it with themes of existential interaction between humans and the natural world. The beautiful film was directed by Familia director SASHINSKI. On the video, he says: "Something about slacklining or wire-walking has always intrigued me. What compels people to hoist themselves up hundreds of feet into the air to walk a cross a wire? What is it they think about when they're up there?
VIEW THE SPOT
Kenya has among the highest rates of child school drop-outs in Africa due to early pregnancy caused about by sexual violence against children. Agency: JWT
VIEW THE AD
With one of the largest sunroofs in its class, the 2019 Kia Sorento allows you to have a wider view of the world. Agency: Innocean Worldwide, Canada
VIEW THE FIRST AD
VIEW THE SECOND AD
VIEW THE THIRD AD
VIEW THE FOURTH AD
Delicious cereal mix Snackout can be with you now everywhere, at any time of the day. It's the same incredible flavor as always, more practical, to make your days lighter. Agency: Bravo/BBG
VIEW THE FIRST AD
VIEW THE SECOND AD
VIEW THE THIRD AD
It's Hanukkah time! Roladin the leading Bakery & Patisserie in Israel launch the 2018 Sufganiyot Collection with a new campaign. Sufganiyot is a Jewish doughnut and it's a traditional food/dessert eaten at Hanukkah the "Jewish Christmas."
Agency: M&C Saatchi, Tel-Aviv
VIEW PINK OUTDOOR
VIEW PURPLE OUTDOOR
VIEW YELLOW OUTDOOR
VIEW BLACK OUTDOOR
VIEW BROWN OUTDOOR
When you're driving, Looking up from your phone allows you to see more of what's in front of you. A strikingly simple outdoor campaign that demonstrates this fact clearly. Agency: J Walter Thompson, Perth
VIEW GIRL OUTDOOR
VIEW CYCLIST OUTDOOR
VIEW TRAFFIC LIGHT OUTDOOR
Escalators are boring by design. The only time we notice them is if they break down. Thanks to KONE's 24/7 Connected Services, broken down escalators are a thing of the past. By connecting their escalators to the cloud and monitoring their performance, KONE makes maintenance predictive, tailored and intelligent. It makes escalators run almost endlessly, without interruptions. But how do you market an innovation that makes a boring subject even more uneventful? By building a never-ending escalator ride in virtual reality, of course. Hasan & Partners, created probably the most uneventful VR-experience ever made.
The hyper realistic ride is only accompanied by the monotone voice of the escalator, which informs the user about its performance.
Goes to show, that even the most boring subject can become an international sensation when put in the right context.
VIEW OUTDOOR
A book is a marvelous Christmas present.
Agency: Make it simple, Helsinki
VIEW OUTDOOR
Panettone is a Holiday tradition, always present in moments when families get together. That's why Samba Rock Marketing, Miami decided to get people closer to their loved ones this Thanksgiving, by surprising them at the heart of Times Square!
VIEW OUTDOOR
Just recently launched is this brand new, hand crafted spot for worldwide mattress company, Casper created by our directorial tandem, Paloma. Paloma consists of Lucas Borras, a seasoned animation director and Alicja Jasina, an up and coming female animation director and this collaboration is what makes their work truly special as we try to combat the challenges of nurturing young talent and the lack of female directors in the industry. They both come together to create incredibly beautiful and seamless spots. NERD and Paloma are super proud of the Casper TVC as it is such an involved art form. Each frame was hand drawn which means that in every second, there was an intricate workload involved. Agency: Red Antler
VIEW THE SPOT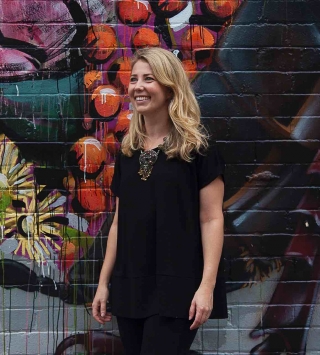 This week's guest judge is Corinne Goode, creative director at BBDO San Francisco.
Winner: Waitrose & Partners:
Fast Forward
. Saying what we all think through a mouth full of Stollen, Waitrose & Partners takes a cheeky jab at the John Lewis Christmas craze. A clever partnership resulting in a humorous piece of adception.
READ MORE
Dublin Bus has always been committed to ensuring that their customers get the best value for money on their services. Unfortunately, proper use of their greatest savings tool, the Leap Card, can be quite confusing.vSo, to educate the people of Dublin on the many ways they can use their Leap Card to save money, Dublin Bus teamed up with Ireland's greatest saver, former Ireland International goalkeeper Shay Given. Agency: Rothco / Accenture Interactive
VIEW THE SPOT
Have you ever made something wonderful but were too afraid to share it? Join Sofia and Apple in this Christmas spot. The campaign was developed by Apple's bespoke creative agency, TBWAMedia Arts Lab, and animation house Buck Productions
VIEW THE SHARE YOUR GIFTS SPOT
VIEW THE MAKING OF SPOT
Nimble Content welcomes director Melanie Chung to their roster with a heartwarming spot for the BC Children's Hospital. Will Creative in Vancouver wrote Help Kids Get Back to Being Kids, the story of a young girl planning a surprise gift to cheer up her older brother who is in the hospital. Melanie takes great care to ensure the viewer sees the story through the girl's POV.
VIEW THE SPOT
You may recall, this past summer, AT&T debuted a series of cinema ads which blended movie genres in completely unexpected ways. The 90-second films, created by BBDO, were designed to reinforce the range of services AT&T offers to give movie lovers more of what matters most in customizable entertainment offerings. For example, 'Surprise' featured a mashup of romance and horror genres, while 'Bus' melded suspense with a musical.
VIEW THE SURPRISE SPOT
VIEW THE BUS SPOT
All the big names have now launched their big budget Christmas ads, to much fanfare. But now, the least expensive Christmas ad of 2018 has just been launched for St. Mungo's, the homeless charity. It cost just £6,000. 'Potential' was created by AMV BBDO and Rattling Stick. The spot highlights the charity's work in ending homelessness and rebuilding people's lives. This is a critical time of year for homeless people, hence the drive to fundraise for the people most in need at Christmas time. The film was made over two days on the streets of London by first-time director Josh Carpenter. It shows homeless people dressed for the jobs they could do in the future.
VIEW THE SPOT
SOS Villages d'Enfants launches a global communication campaign for the international day of children's rights, to remind their mission to give a real family life to the children. Produced by Troublemakers.tv with the agency Animals, "Le Mur" is a lm that introduces a little boy living by proxy. Living alone, he relates to daily life of his neighbours that have the chance of having a real family life. This Im is intensely moving because of its sobriety, it shows how important it is for a child to grow up in a caring and protective family environment for his education and his future as an adult.
VIEW THE SPOT
Jumbo, one of the main retailers in Portugal, wanted to show that making someone happy this Christmas, doesn't cost much. Even a one tooth beaver can do it.
Agency: McCann, Lisbon
VIEW THE SPOT
DDB, Chicago have created these spots for Fiat
VIEW THE HEATED SEATS SPOT
VIEW THE CLIMBING OUT SPOT
VIEW THE DRUM KIT SPOT
This campaign targeted school leavers across social media during the build up to and throughout the notorious 'Schoolies Week' celebrations.Image and appearance is important to this audience so the message is simple. Violence is ugly and it makes you ugly too. We use the universal swipe left gesture to communicate that others find you unattractive if you initiate or encourage these ugly acts of violence.
Agency: AT Creative
VIEW THE COMPILE SPOT
VIEW THE DICK HEAD SPOT
VIEW THE CAT FIGHT SPOT
The launch campaign for the new BMW 8 Series Coupé was developed through a collaboration between BMW Group Switzerland and Serviceplan Suisse. The short film was shown in a cinema as part of the 14th Zurich Film Festival. From 21 November 2018, it will also be on show in other Swiss cinemas, as well as on social media channels. An additional short documentary film offers even greater insight into Michael Fehr's thoughts before, during and after his spectacular journey.
VIEW THE SPOT
Do you know the Burger King King Deal menu for €4.95? It's a generous menu with burger, fries and a drink for only €4.95. So at this price it's great for you, but not that much for Burger King. That's the reason why Buzzman, Paris, tried to present it in a "not that good" way, deliberately brutal, in order to make you want to try it, but not too much either.
VIEW THE SPOT
What if a backpack could change the world? UNICEF, with the help of Republic of Everyone, has launched a campaign to raise awareness of the importance of education for kids, on this World Children's Day, 20 November 2018. Around Australia, statues of children wear the blue UNICEF backpack with the message, #PackForTheFuture, to raise awareness of the need to equip every child, everywhere with the education they deserve.
VIEW OUTDOOR
« First
« Previous
Next »
Last »
2 of 8
Gold
sponsors
Silver
sponsors
Search
blog
Members
Past guest
reviewers
Latest
news
Blog
categories
Blog
archives
RSS
feed

Visit Campaign Brief for Australian creative
advertising news