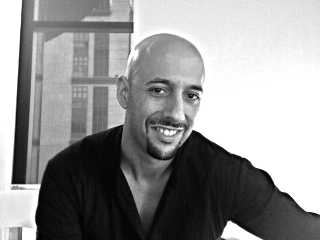 This week's guest judge is Adrian Miller, ECD of Saatchi & Saatchi Malaysia. Before joining Saatchi's 16 months ago, Miller was ECD of Lowe Kuala Lumpur, a role he took up in 2004. Over the next 2+ years the agency went from strength to strength, fast and furiously becoming one of the top creative agencies in Malaysia as well as in the Lowe network. Miller was appointed to the Lowe Worldwide creative board as a result. He was responsible for producing the 4th most awarded print in the world (according to The Gunn Report) for Land Rover Owner's Club in 2006. For the last 16 months Miller has been the Executive Creative Director of Saatchi & Saatchi Kuala Lumpur where he continues to push the creative envelope on regional accounts like Guinness, Toyota, Lexus and Tiger Beer. Miller has won multiple gold, silver and bronze Lions at Cannes, including a Gold and two Silver and Bronzes this year. He has also won gold at The One Show New York, gold (best of category) at the Media Advertising Awards, gold at London International as well as numerous metals at Clio and Adfest. At the 2007 Kancil Awards, Saatchi & Saatchi Kuala Lumpur was awarded the prestigious title of agency of the year. Also this year he was ranked No.1 creative in Malaysia in the Campaign Brief Asia Rankings.
BEST TV
Binge Drinking Binge Boy
is my pick for the week. Watching someone beat them selves up is always good for a few laughs. Jokes aside, the spot is hard hitting (couldn't help myself there), well executed with a nice line that sums it all up rather neatly. The
Vauxhall Zafira
and the
Nike Football
spot came in a distant second and third. I'm not sure in which order. But the old 'imagine if the world were like this product' idea feels like a lazy strategy for Vauxhall.
BEST PRINT
To be honest, none of the print did it for me. I realize some of it did well at Cannes, but I just find ads like
Tide Detergent lipstick
a tad gimmicky.
Oral B
looks like the toothbrush will drill my teeth into bloody stumps and
Cascade 'Apartment'
feels a little too dramatic for a pot cleaner. I almost expect Jesus to descend from the heavens with a bottle and cloth in hand uttering, "thou shalt cleanse thy pots like this". The illustrations are great though.
BEST OUTDOOR
There are two winners here for me. The first is
Glide Dental Floss pig
. I can't imagine this ambient piece going down well in Saudi Arabia but obviously a huge attention grabber in New York. The other winner is
Breeze Excel
. It's so simple and smart that it's almost irritating. Will it actually work? Who cares. I'm sold.