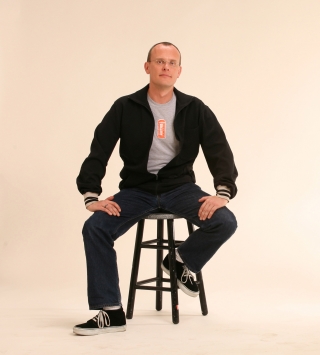 This week's guest judge is Tom Eslinger, worldwide digital creative director of Saatchi & Saatchi.
Tom works across Saatchi & Saatchi's worldwide digital capability and is based in London. He has worked across the S&S network, with both a worldwide focus across network clients for integrated creative, strategy and operations, and an EMEA focus with respect to UK and European clients to develop integrated digital initiatives and programs.
The North Dakota native has been a Creative Director for Saatchi & Saatchi since joining in Wellington, New Zealand in 1998. He was appointed in 2002 to the Worldwide Creative Board of Saatchi & Saatchi and leads the creative growth of Saatchi & Saatchi's worldwide digital team, adding new teams and capabilities and forging worldwide partnerships with best-in-breed creative partners. Before joining the network, Tom was a lecturer and part of the faculty which established Wanganui School of Design in New Zealand, one of the first creative-centred interactive Degree programmes in the world.
Tom is a multiple Cannes Lion winner across outdoor, cyber, media, direct and promo for web and mobile work, and has judged, run Juries and been awarded internationally.Tom fell in love with type in college and has designed fonts for nearly 20 years, with work appearing in RayGunmagazine, The End of Print and CSA Archive/Design. His fonts have also spelled stuff in designs for Swatch, Sega, Toyota, Levi's and Burton Snowboards.
In 2007, Tom was the President of the Cyber Lions jury at the Cannes International Advertising Awards. This was Tom's third Cannes jury appearance, serving on the 2002 Cyber and 2006 Titanium juries.
Veronica
: This is a fun ad, especially like the reference to bowling, a particular favourite past time in my home town in North Dakota...
BEST TV
Veronica
: This is a fun ad, especially like the reference to bowling, a particular favourite past time in my home town in North Dakota. Would have liked to see a 'nu country' tune on the soundtrack - we bumpkins don't actually listen to all that much pickin' - but overall this one made me smile.
Runner-up is
ANZ
. Being an ANZ customer who has always had great service, this feels like the right ad for them. I've always thought of ANZ as my 'local bank' and wasn't too clear about what city or country they were supposed to be running around in, until Jack said 'maaaaatttte'.
BEST PRINT
Shirt
: I saw this when it was being developed and thought "That would make a great interactive ad." Which I always think is a compliment - if something looks this good in a 2D form, imagine what it would look like if it moved and glowed.
Runner-up is
Guinness
: I loves me some typography, and obviously, so does Steve Davies. Nice, clean, simple, cool.
BEST OUTDOOR
TV3: Transformers
: I must confess up front: comic geek - which may bias my view of the Transformers billboard. Not sure how much time lapsed as this was happening, but if it is where I think it was in Auckland, it would have been fun to pass this on the way home.
Runner-up is
Chicagonow.com
: I thought this was very cool and feels like a nice way to drive some action through social media by creating work that starts conversations and participation. The big question is 'why would you drive to see the Cubs when the trains are RIGHT THERE!?!'