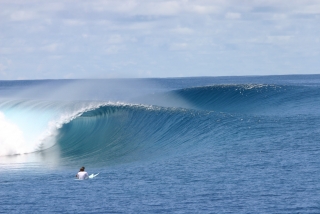 This week's guest reviewer is John Merrifield, Creative at large, TBWA Asia Pacific.
Having failed to enable his surfing to finance an enviable lifestyle, John emerged in Singapore, where an initial foray into adland was highlighted by six years at Batey Ads.
His debut as CD followed, a stint at Saatchi's Jakarta that was aborted prematurely when tanks rumbled past the office. Dave Droga made him ECD of Saatchi's Hong Kong and within two years the office had won their first Kam Fan (Grand Prix).
Persuaded to open a new Saatchi's in Tokyo, he created an environment that was a radical departure for agencies in Japan. Its art gallery established a number of new artists, while the agency itself received the ultimate accolade: it was taken to the public prosecutor's office in July 2002. (It's not often entire shops get arrested.)
John joined TBWA Japan as Chief Creative Officer on April 1, 2003. Within five months, his 'Vertical Football' billboard for adidas had earned worldwide acclaim. A year later, the adidas 'Impossible Sprint' took the spectacle of the Olympic games to death-defying heights in both Hong Kong and Osaka.
He took on his current position as 'Creative at large' of TBWA Asia Pacific in September 2006. His remit includes everything from attracting top talent and spearheading regional and global pitches, to hot-housing with the network's young bloods and inculcating a culture of creative innovation. He continues to work intimately with TBWA's showcase clients, adidas chief among them.
Judges have awarded John multiple gold lions at Cannes, multiple gold pencils at The One Show, the grand clio and multiple golds at the Clios, best of show (twice) plus multiple gold, silver and bronze lotuses at AdFest, multiple gold and silver spikes at the Asian Advertising Awards, multiple pencils including gold at AWARD, the ADC prize (gold) in Tokyo, multiple acceptances in D&AD, Communication Arts and The Work book, as well as gold, silver and bronze awards in lesser shows around the world. He was named Asia's Creative of the Year 2004. He topped the Campaign Brief 2004 Creative Rankings in Asia/Pacific. He was named Chairman of the Print, Innovative and Integrated jury for the 2006 Clios. He was a member of the 2007 D&AD jury and has been asked to pass judgment on the work of others in Asia, America and Europe.
He would give it all back for more time in the water.
***
The
Rethink Scholarship
is a nifty little video promo. I like it. But I'm not sure they bought air time. It feels a little unfair to judge it as a television spot....
BEST TV
I don't buy into the thinking of "the best of a bad lot". Near enough is not enough. It's either distinctive and memorable - a worthy and deserving best - or it's not.
There's no point rewarding effort. We all work hard. And we all know how difficult it is to deliver world class work. I'd rather move on than be coerced into rewarding something that doesn't really deserve it.
None of the television really deserves it.
The Rethink Scholarship is a nifty little video promo. I like it. But I'm not sure they bought air time. It feels a little unfair to judge it as a television spot.
Peugeot is a television spot, it's just not a particularly good one. Their payoff is "motion & emotion". There's plenty of the former, none of the latter.
Wrangler is as self-indulgent as it gets (lighten up garcons, it's a pair of jeans)and it reminds me that I should've been more persuasive in arguing against the same campaign for last year's print Cannes Grand Prix. I wanted the Miller High Life work. I was in a minority of one.
The Star spot is perhaps the 283rd homage to the Nike ad of a decade ago. You know the one. A variety of basketball stars create a percussive soundtrack through syncopated dribbling and squeaky sneakers.
The Sony Vaio spot is the first one I've seen where the end logo starts the film. Turns out to be the wrong end logo.
Finally, you'd think that adidas + Star Wars + Snoop Dogg + Beckham + Daft Punk would equal a pretty amazing effort. You'd be wrong. But the shoes are wicked cool.
BEST PRINT
Again, nothing stood out enough to be considered the best. Most, in fact, had that familiar whiff about them. Designed more for award juries than people who actually buy things.
The Fujipix ad looking for a smile at a funeral (I can imagine many Japanese marketers giving the thumbs up to that one). The don't drink and fly ad for The Pilot Tavern. The salmon in a tin that's actually an oil drum for Skeena Wild. The chemical elements as scrabble pieces for the Environmental Recycling Insititute. The Birthday candles that you don't blow out for Amnesty International.
And what must be the swiftest ad ever to go from helping the world to being judged by it, the tear in the map earthquake work for AMI Haiti. (Frankly this last one is the most insidious as I can't help but think that the desire to aid humanity runs a distant second to the desire to aid award shelves in reception.)
So far, perfect score: two categories, zero bests.
BEST OUTDOOR
Shield Security is a brilliant bit of audience targeting. It's a shame the company's remit is confined to the Netherlands. They need to be recruiting for airports in the States. Every one of them. A very clever piece of work. Full marks.
The Metropolitan Police is a bit of classic outdoor as is Kiwi Shine. The upside-down crosses is this week's best use of tree and I'm sure those who shoot flying foxes in NSW will have fun putting a few holes in the new woodwork.
The World Press Photo work was a nice attempt to bring attention to world press photos, though it took perhaps a few too many steps to connect the dots.
It did generate some nice publicity, though, which is kind of the whole point.
For me, however, the best was the
Coca-Cola Happiness Machine
. I know it may not have been the first to combine humans and vending machines (think Uniqlo, think Flossie.com) but in this case I don't think it matters. Its potency is established as you watch each customer gather more and more bottles from their original dime. The human stuff later on is a bonus.
And even if it was done just once, in one obscure college campus it's still great. It's joyful. And it delivers the brand promise in an interesting and memorable way.
It's a worthy best.
Shame the same couldn't be said of the other categories.