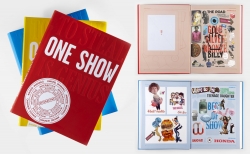 The 2010 One Show Annual - To Steal is Genius This year's annual created by Anomaly, New York acknowledges that award shows are a great place to steal from. Winning entries in advertising, design and interactive were deconstructed as sticker pages - headlines, images, products, interfaces and client logos were broken into a disparate kit of parts so everyone can make their very own One Show winners for years to come.
VIEW THE AD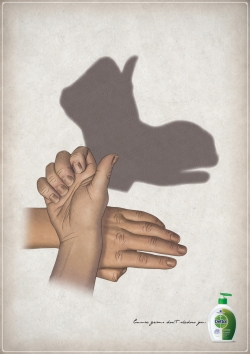 Euro RSCG , Dubai says when your hands touch dirty objects, the germs follow you. With Dettol hand wash you ensure germs don't shadow you. Simple.
VIEW THE OLD SHOE AD
VIEW THE RUBBISH BAG AD
VIEW THE TOILET AD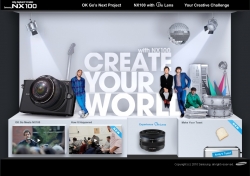 We put the ultimate creative tool in the hands of the ultimate creatives. See what happens in this original series, as the indie-band-turned-international-sensation OK Go makes their next project with Samsung NX100.Site created by CHEIL, Seoul
VIEW INTERACTIVE DETAILS
New Zealanders love their Skyline garages and make everything inside them, including ads. Spot from Barnes,Catmur & Friends, Auckland
VIEW THE SPOT
Let's Take Our Marks, Get Set, And Go Prove What We're Made Of.
While Most Of The Fitness Running Conversation Today Focuses On Running As A Path To Stress Relief, Or A Way To Carve Out "Me Time", Arnold Boston Wanted To Remind The World That Running Is More Than Just Self Help. It's An Athletic Endeavor. And If We're Not Out There Each Day Getting Faster, Going Longer Stepping Up To A Line And Pushing Each Other To Improve We're Really Not Getting It Right.
VIEW THE SPOT
Gunnery Sgt Cleaver is still on a mission to get the team at SKY 'Match Fit' for Rugby World Cup 2011. In this 3rd installment from DDB New Zealand cameramen get in some shooting practice.
VIEW THE SPOT
As a display of might this Valentine's Day, Artline via George Patterson Y&R, Sydney, decided to arm star Mills & Boon author Melanie Milburne with one of their pens, to help people romantically supercharge their Valentine's Day card messages.
VIEW OUTDOOR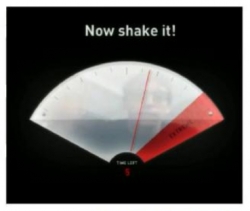 Every now and then your party needs a little push to get started again.How can Xide help these parties?Well, by creating a Mood Booster that challenge your friends in a mood boosting contest.
This feature puts every party into a great mood. All night long.Site from Akestam Holst, Stockholm
VIEW INTERACTIVE DETAILS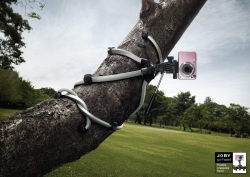 FP7 Bahrain show the flexibility of Joby Tripods.
VIEW THE PARK AD
VIEW THE RAIL AD
VIEW THE PLAYGROUND AD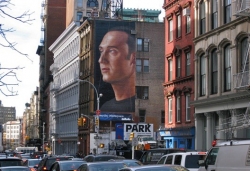 BBDO New York, on behalf of our client Gillette, is in the process of staging the world's biggest shave on the world's biggest stage – New York City. BBDO produced a painted billboard in the heart of SoHo that features MLB all-star Derek Jeter. It is being repainted daily to reflect various stages of men's grooming e.g., Jeter with rarely seen stubble, then with shave prep, and finally with his famously clean-shaven face. The three-day cycle began on Wednesday, February 16 and will be repeated through Sunday, March 6. The world's biggest shave requires ten gallons of paint, as Derek Jeter's face is about 20 feet wide. It's part of Gillette's ongoing efforts to demonstrate the outstanding performance of Gillette's grooming regimen (or as the copy says, "Everyday masterpiece").
VIEW OUTDOOR
VIEW THE VIDEO
Getting your children off drugs, is a lot harder than talking to them ahead of time.TV spot from Prolam Y&R Santiago
VIEW THE SPOT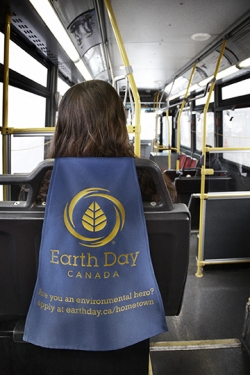 Ambient capes on the back of bus seats created by DDB, Toronto directed people to the Earth Day Canada website where they could apply to win $10,000 for their environmental achievements.
VIEW OUTDOOR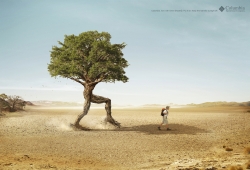 When you put on Columbia's Omni-Shade technology, you keep the harmful sunlight off says Prolam Y&R Santiago
VIEW THE AD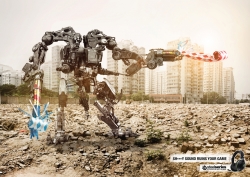 What's the point of playing sensational new computer games, ever more sophisticated and ever more exhilarating, if all you have is a weedy little set of headphones? There's none, really. The entire gaming experience falls flat. And your performance suffers as well as demonstrated in these print ads from BBDO, Denmark
VIEW THE ROBOT AD
VIEW THE TANK AD
VIEW THE DRAGON AD
High speed accident victims tell us their wishes for their lives in these George Patterson Y&R, Sydney print executions of the RTA's "Don't rush" campaign.
VIEW THE JAMES AD
VIEW THE LYN AD
DTS Digital Entertainment engaged One Plus Two , Los Angeles to create a visually arresting and engaging video directed by Ross Ching of A Common Thread for this year's Consumer Electronics Show (CES), which convened last month in Las Vegas.
VIEW THE SPOT
Telling your husband and kids that your parents are moving in doesn't have to be awkward. Thanks to Sprint's unlimited text, web and calling-to-any mobile plan, you can send word on your phone via email or text without ruffling any feathers. You can even tweet the news! O Positive's David Shane re-teams with Goodby and Sprint for this hilariously understated commercial.
VIEW THE SPOT
BSUR, the Amsterdam-based advertising agency, today unveils an online film to launch the new concept car for MINI. The concept car, named the Rocketman, will be officially unveiled at the Geneva Motor Show on the 1st March.
VIEW THE SPOT
THEY, the Amsterdam based communications agency launches their latest campaign for Vodafone. The campaign, launching this week in the Dutch market, communicates Vodafone's new roaming package.
VIEW THE SPOT
You have until December 31st to take advantage of our scrappage bonus. Afterwards it will be too late. A message delivered to TV by H, Paris .
VIEW THE CAR WASH SPOT
VIEW THE DRIVE IN SPOT
VIEW THE BAR SPOT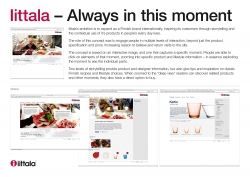 Iittala's ambition is to expand as a Finnish brand internationally, inspiring its customers through storytelling and the contextual use of it's products in people's every day lives.
The role of this concept designed by 358, Helsinki was to engage people in multiple levels of interaction, beyond just the product specification and price. Increasing reason to believe and return visits to the site.
The concept is based on an interactive image, and one that captures a specific moment. People are able to click on elements of that moment, zooming into specific product and lifestyle information in essence exploding the moment to see the individual parts.
VIEW INTERACTIVE DETAILS
Contemporary art often receives comments such as "My son could have done that".hasan&partners, Helsinki created a campaign for Kiasma, the museum of contemporary art in Helsinki, where the son gets his chance. Make a better one yourself, then campaign invited people to create their own pieces of art and upload those in the web gallery. After public voting, one of the pieces received a place in the exhibition for Kiasma's permanent collection.
VIEW THE SPOT
A new spot for Blundstone boots from AJF Partnership, Melbourne that shows the boots are tough on the outside, but soft on the inside.
VIEW THE SPOT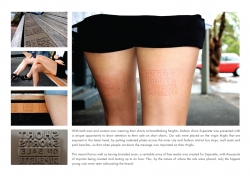 With both men and women now wearing their shorts at breathtaking heights, fashion chain Superette was presented with a unique opportunity to draw attention to their sale on short shorts. DDB Auckland ads were placed on the virgin thighs that are exposed in this latest trend, by putting indented plates across the inner city and fashion district bus stops, mall seats and park benches, so that when people sat down the message was imprinted on their thighs.
VIEW THE CONCEPT
A Munn Rabot, New York TV campaign demonstrating the above-and-beyond care NewYork-Presbyterian Hospital provides it's patients.
VIEW THE SPOT
The Furnace Sydney reminds Peugeot owners of the importance of only fitting genuine parts in their cars
VIEW THE FRENCH HORN AD
VIEW THE HAIR DRYER AD
VIEW THE WATERING CAN AD
The Heir has arrived in this spot from Shalmor Avnon Amichay/Y&R Interactive, Tel Aviv
VIEW THE SPOT
Set in beautiful wine country, the Paso Wine Man explains the origins of the Zinfandel grape in this Juice, Paso Robles CA.
VIEW THE SPOT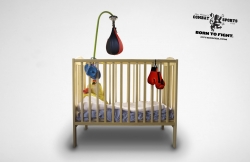 Firehouse, Dallas posters made for a gym specializing in Mixed Martial Arts.
VIEW THE CRIB AD
VIEW THE CAGE AD
VIEW THE PACIFIER AD
This work from ageisobar, Sao Paulo depicts the painstaking work of a Brazilian artist to make a point about the growing water scarcity crisis.
VIEW OUTDOOR
Gol Airlines needed to communicate a new service. Now passengers can make earlier check-in via iPhone or cellphone. An ad that gives you a flying experience on the web. You had to type in your cellphone number on the banner. Then you received a call and a voice gave you the flight instructions. To control Gol's airplane, you use the numbers on your cellphone that worked as a remote control. You could fly over the company destinations making maneuvers like dives and loops while you checked tickets special rates.Site by AlmapBBDO, Sao Paulo
VIEW INTERACTIVE DETAILS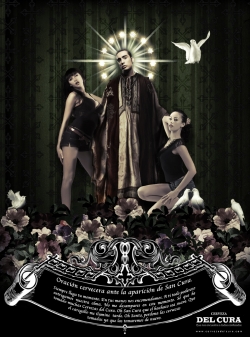 An Inbrax, Santiago poster in Spanish. Translation, Headline: Beer prayer before the appearance of Saint Priest.Copy: There comes your time. In your hands we commend. All powerful we give you our souls. Do not forsake me now. I know I've taken many beers "Cerveza Cure". Oh Saint Priest give me a soft headache. Let the sun shine late. Oh Holy, sorry for beers taken as well for coming beers.Beer "Cerveza del Cura"
Confessed to find us.
VIEW SAINT OUTDOOR
VIEW LIFEGUARD OUTDOOR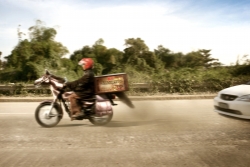 To launch the Wendy's Steakhouse Baconator, a Western-themed campaign was deployed by Aspac/Law, Manila ..and so were these delivery bikes straight out of the wild, wild west!
VIEW OUTDOOR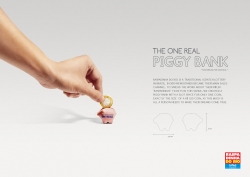 Raspadinha do Rio is a traditional scratch lottery in Brazil. In 2010 newsstands became their main sales channel. To spread the word about their R$1,00 "Raspadinha" tickets in this venue, Artplan, Rio de Janeiro created a piggy bank with a slot space for only one coin, exactly the size of a R$1,00 Coin, as this much is all a person needs to make their dreams come true.
VIEW OUTDOOR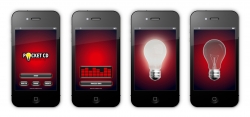 Creatives always have the same problem: is an idea really good, or should it land in the trash can? Stop relying on your gut feeling, speak your idea into the Pocket CD, and get an instant idea evaluation. You record your idea into your iPhone and then hold the phone over your head. After a few seconds of "processing" you either get a bright lit light bulb (a good idea) or an unlit lightbulb (a bad idea).Site from Spillmann/Felser/Leo Burnett,Zurich
VIEW INTERACTIVE DETAILS
The Brazilian NGO Casa do Zezinho has a music room, but it's lacking musical instruments. The AlmapBBDO, Sao Paulo task: raise 16 violins, 6 cellos and 1 acoustic guitar.
VIEW INTERACTIVE DETAILS
In a world moving at a fast pace and where the everyday life is hectic and intense, finding time for oneself has become a real luxury. It is along this line of thought that Peugeot and its advertising agency BETC Euro RSCG, Paris has set out to create a car where the moments spent in the vehicle go beyond mere transportation, and instead becomes quality moments and a time to unwind and reflect.
VIEW THE SPOT
Young & Rubicam New York joined forces with MTV EXIT (End Exploitation and Trafficking) and music collective Black Iris featuring Best Coast's lead Bethany Cosentino to produce a powerful new music video that raises awareness of human trafficking.
VIEW THE SPOT
At Cuir Center, we never launch a sofa if we are not sure they will fit to your life and BETC Euro RSCG show you how we promote our story
VIEW THE SPOT
It's body balance.... ahhhhhh from BBH, Mumbai
VIEW THE SPOT
« First « Previous
Next »
Last »
1 of 7
Gold
sponsors
Silver
sponsors
Search
blog
Members
Past guest
reviewers
Latest
news
Blog
categories
Blog
archives
RSS
feed

Visit Campaign Brief for Australian creative
advertising news