Wieden + Kennedy recycles Nike ads to create a better world.
VIEW THE SPOT
BBH (Bartle Bogle Hegarty) Asia Pacific has launched a regional campaign for Mentos with both a new television commercial and a new tagline - 'Be Momentos'. The commercial, which will launch over several markets starting with South Korea & The Philippines, will be the first commercial BBH Asia Pacific has released for Mentos since it was officially named Mentos' Agency of Record late last year.
VIEW THE SPOT
Three of a campaign of Skittles online executions from BBDO Toronto.
VIEW THE WAR SPOT
VIEW THE CAT SPOT
VIEW THE GIRL SPOT
IKEA is asking who's messier in the home, men or women, in a new integrated advertising campaign created by Mother London. Launching on 1st April, the campaign kicks off with a TV advert shot in front of a live audience, featuring four stand-up comics, two men and two women, debating who the messier sex is. IKEA's strategy is based on the fact that domestic clutter leads to arguments around whose fault it is, which leads to an unhappy home. IKEA wants to prove that many of these arguments could be avoided if only people had better storage. The advert shows that IKEA has the storage solutions to solve any problem, be it a lack of space, poor organisation or just plain clutter.
VIEW THE SPOT
Dead As We Know It New York team up with singer Orville Davis to create a ballad for Hangar One Vodka.
VIEW THE SPOT
A web film from Raft, Manchester showcasing the cleaning power of a Dirt Devil vacuum cleaner.
VIEW THE SPOT
London digital production company Disqo has developed a fantastic stylised video montage and banners of the new Citroen DS3 styled by Orla Kiely to run online. Disqo was briefed by Euro RSCG London to create the content to promote the new DS3 designed by the highly respected print and fashion designer. Kiely has designed an exclusive collection with four unique designs.
VIEW THE SPOT
Sex is no accident says this MTV campaign from Grey Düsseldorf.
VIEW THE BACKSEAT AD
VIEW THE BUSH AD
VIEW THE TOILET AD
Autumn-Winter 2011 Collection promoted by the Mood Agency Sao Paulo
VIEW THE AD
You've lost your touch with nature. You've forgotten what it's like to spend a day in the mountains, at the seaside or in the forest. Now they're calling for you and it's your chance to get there in the Skoda Yeti.Print from Frank, Bucharest.
VIEW THE SEA AD
VIEW THE MOUNTAIN AD
VIEW THE FOREST AD
John West has always endured the worst to bring you the best.In this new Grey Melbourne campaign for John West Salmon we recognise those that will go to any lengths to get the best
VIEW OUTDOOR
A new spot for Lexus via Saatchi & Saatchi, Sydney.
VIEW THE SPOT
Dr. LeWinn's anti-ageing skincare will be launching a new TV campaign via creative agency Ward 6, Sydney airing from this Sunday April 3.
VIEW THE SPOT
Launch spot for ESPN2 channel on Foxtel and Austar in Australia via GCO Productions.
VIEW THE SPOT
A campaign from Ogilvy Paris to highlight the overfishing of Bluefin Tuna.
VIEW THE TUNAPANDA AD
VIEW THE TUNAGORILLA AD
VIEW THE TUNARHINO AD
Exit Films via R/GA London traveled to Hong Kong to capture the story of a man who endeavors to bring nature back to the thriving city of Hong Kong
VIEW THE SPOT
The Lamptan Setronic lightblub offers massive savings as it operates on less power as demonstrated in this new tvc from Ogilvy & Mather Bangkok.
VIEW THE SPOT
Focusing on the new smart fortwo vehicle that recently arrived at smart center dealerships worldwide, each A Big Idea BBDO, Berlin campaign spot uses a simple style to feature engaging animated characters coming to life on live-action city walls. At the end of each one, the location-based stop-motion background cinematography reveals a smart fortwo.
VIEW THE CURIOUS SPOT
VIEW THE INDIVIDUALIST SPOT
US Sydney was tasked to promote Jean M Auel's much-awaited 6th book in the best-selling Earth's Children series. 'The Land of Painted Caves', like the others in the series, is set 30,000 years in the past in prehistoric Europe. Leading up to the launch the agency created point of sale stands in Dymocks book stores offering free boxes of matches as take-home reminders of the book release. Of course, in remaining true to the book they had to make sure the matches were historically accurate to that period of time.
VIEW THE CONCEPT
A collection of modern day pathologies, closely linked with our inactive lives in these print ads created by Frank, Bucharest
VIEW THE ARMCHAIR AD
VIEW THE COMPUTER AD
VIEW THE DESK AD
DDB Dubai's simple demonstration of how easy it is to remove stains with Clorox for Colors, represented by showing stains made out of interlocking plastic bricks.
VIEW THE INK AD
VIEW THE KETCHUP AD
VIEW THE COFFEE AD
Grey Tokyo goes to very cold waters in this print ad for Washin Opticians
VIEW THE ICEBERG AD
VIEW THE EAGLE AD
VIEW THE LEOPARD AD
VIEW THE OWL AD
Life. It's not always that great, is it? This campaign by DDB, Stockholm for Papercut Shop (Swedens equivalent to Amazon.com for quality/independent/alternative film, books and magazines and also a shop in Stockholm/Sweden) focused on this fact.
VIEW OUTDOOR
The largest trunk in its class according to Frank, Bucharest .
VIEW OUTDOOR
In short: It´s a sale on speed. Faster than ever. Also, it's a once in a lifetime opportunity. For real. Forget about time limited offers of the golden days. Welcome to the DDB Stockholm designed THE PAPERCUT Speed Shopping STRESS Hell. The future of shopping panic.
VIEW INTERACTIVE DETAILS
National Geographic Channel and Deeplocal,Pittsburgh the team behind GAP's Project Reindeer, have teamed up to create Mission Expedition where viewers can go on a photo safari using telepresence cameras to explore miniature sets. See more about the project, the artifacts, and behind the scenes.
VIEW INTERACTIVE DETAILS
Fischer+bus, Lisbon, with irony, show someone falling asleep while working at office and the following mess caused by it, fortunately not compared to the huge mess falling asleep while driving can make on someone's life.
VIEW THE SPOT
A video showing how this magazine concept for Tide detergent works. Agency: Leo Burnett India
VIEW THE IDEA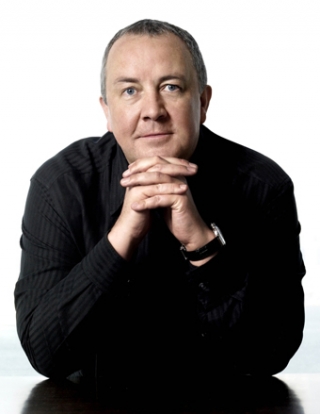 This week's guest judge is Mark Tutssel, chief creative officer of Leo Burnett Worldwide.
The one piece of work that held my attention was an animated spot for
Aides
. Based on what looks like Walt Disney's 'Steamboat Willie'. (Maybe it's a homage to him? Protect your Willie). The title card at the beginning and the style of the animation echo this Disney classic. It follows the sexual exploits and nine lives of the pussy cat, Smutely, as he plays away with a turtle, bunny rabbit, blowfish, dolphin, a bondage pig, three seals, red cocks and an elephant with jumbo nuts...
READ MORE
Thirsty Camel bottleshops launch a new campaign tomorrow, created by Twenty20 Communications, mischievously encouraging the public to take part in a little casual 'HUMPing'.
The cheeky campaign features 'HUMP' stickers sneakily posted over city street signs, directing people to 'express HUMP' and 'casual HUMP', with the challenge to 'Think Camel'.
VIEW THE SPOT
By being judged Australia's best small car for three years in a row, the Hyundai i30 has literally withstood the test of time. A new spot via Innocean Worldwide, Sydney.
VIEW THE SPOT
Toyota Australia has released 'Glass Organs', a new corporate spot created by Saatchi & Saatchi, Sydney highlighting the safety features of its range of cars, directed by Noah Marshall via The Sweet Shop.
VIEW THE SPOT
The SONY TX5 Viewfinder campaign received 2 Silver for Film Craft Lotus at the ADFEST 2011 held in Phuket recently. A 3 part short film series created by Leo Burnett, Hong Kong features 3 special characters Afromidnite, Panora and Bubbles. All designed to individually promote the features of the camera. Directed by Rajay Singh of Directors Think Tank, Malaysia, a film set in different locations, textures and times of day seen through the eyes of these characters, combined with creative voice over further enhancing the film.
VIEW THE AFROMINITE SPOT
VIEW THE PANDORA SPOT
VIEW THE ORDINARY PEOPLE SPOT
New Acura TL advertising reflects research that the Model Year 2012 Acura TL is viewed as a very refined yet aggressive performance sedan. So, through simple, yet beautiful special effects, RP&A Santa Monica made over two first class athletes, football player Calvin Johnson and skier Ashleigh McIvor, into their most elegant selves to represent the aggression and elegance inherent in this luxury sedan.
VIEW THE FOOTBALL PLAYER SPOT
VIEW THE SKIER SPOT
A group of friends is about to parachute. But one of them had a better idea; he brought a Skol cooler on the plane. Suddenly, the airplane shakes and the cooler falls off. The friends do not think twice and jump after it. Only, they hadn't put their parachutes on yet.TVC from F/Nazca Saatchi & Saatchi, Sao Paulo
VIEW THE SPOT
In-venue posters go up, to keep conversation down.The Ellington is a sophisticated 'New York-style' Jazz Club in Perth, where patrons enjoy international and local players in an intimate, dedicated jazz setting. While most folks are happy to listen intently to the fine musicianship, there are the occasional few who need reminding that their conversation level could be hindering other people's enjoyment. The club's management wanted an alternative to giving the excessive tongue-waggers a tongue-lashing so The Brand Agency (Perth) created this in-venue poster campaign.
VIEW MUSIC OUTDOOR
VIEW SOLO OUTDOOR
VIEW TABLE 4 OUTDOOR
Carlsberg Sweden is on a mission to unbottle the courage that brews in all of us. Not just any courage but the kind you need in social situations.
VIEW INTERACTIVE DETAILS
Autarky Project, or how wanting to party can turn into a campaign of self-promotion.When they discovered that DDB Paris would not be able to send creative people to the Cannes Advertising Festival this year, seven of them decided to organize it differently. Determined not to be stopped by the economic climate, they set out to find a solution.Their idea is based on a simple observation: DDB Paris his numerous clients in varied sectors of activities.By asking all these clients to support them by offering them products and services for free, the seven creatives would be able to go to Cannes and live there from the 19th to the 25th of June without spending a Euro.
VIEW INTERACTIVE DETAILS
Only 50 tigers are living in China as many use their parts for medicinal or strength-providing powers. This campaign from Ogilvy Bejing let people hear from the tigers themselves,and let citizens show their support.
VIEW INTERACTIVE DETAILS
Daybreak is the title of a spot for Sherwin Williams from McKinney, Durham, NC
VIEW THE SPOT
« First « Previous
Next »
Last »
1 of 8
Gold
sponsors
Silver
sponsors
Search
blog
Members
Past guest
reviewers
Latest
news
Blog
categories
Blog
archives
RSS
feed

Visit Campaign Brief for Australian creative
advertising news