"Gambling Takes Everything From You". A new print campaign from Revolution Brasil.
VIEW THE FIRST AD
VIEW THE SECOND AD
VIEW THE THIRD AD
The internet can't keep a secret so Propeg, Brazil created this ad to warn people to keep your privacy offline.
VIEW THE AD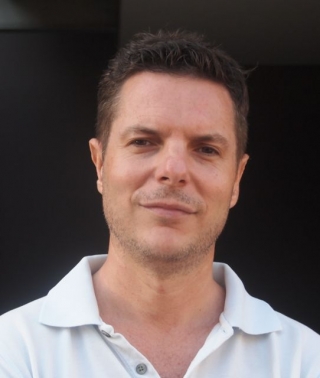 This week's guest judge is Simon Veksner, creative director at DDB, Sydney.
The best TV ad this week is for
Nike
. I know, I know, I know. They've won it before. But what can I do? This ad had the best idea, the best script, the best performances... and definitely the best gag involving the tossing of a caber. Watch it.
READ MORE
PARKnSHOP brings to life its value through its legendary icon Mrs. Wong with a new TV commercial via DDB Hong Kong reinforcing PARKnSHOP's 100% dedication. The idea of Mrs. Wong's Academy highlights the iconic character of Mrs. Wong - her high standards, stringent processes and values, which also symbolize the values of PARKnSHOP. PARKnSHOP staff are educated and trained at the academy so to continue Mrs. Wong's legacy - that is to provide the best quality at the best value to PARKnSHOP customers. In this TVC, our lecturer teaches the class that the best way to see the real deal in people is by looking into their eyes. The theory is put to test. A handsome charmer walks in front of a group of busy female customers, and yet the women don't even bat an eyelid. However, when an the icon of "price watch" is presented over the eyes; the women get excited in delight, communicating what great value "price watch" brings.
VIEW THE SPOT
Every year 65,000 children in Israel are abused by their parents.
Studies show that 70% of these children enter adulthood without any appropriate treatment and become abusive parents themselves.
ELI The Israel Association For Child Protection, created a unique campaign to raise awareness of this terrifying phenomenon.An enormous Conceptual Art Display consisting of 1,000 toy dolls was setup in Rabin Square in Tel Aviv. Upon a closer look, one could tell that these dolls were not 'ordinary' they looked as if they had been abused by children.
A message next to the display read: 'Abused Children Might Turn Into Abusive Parents. Together We Can Stop This Cycle of Violence'.
The event created by agency Yariv Twig drew a lot of attention curiosity from within Rabin Square and attracted media from around the globe.
VIEW OUTDOOR
For over 50 years, the Massey Lectures Series has been an annual feast of big ideas from some of the most renowned thinkers of our times, including Lawrence Hill, Neil Turok, Margaret Atwood, and Margaret Somerville. The Massey Lectures iPad app lets people experience the depth and breadth of the preeminent public lecture series in a totally new way, immersing themselves within nearly 200 hours of content. Each selected Massey Lectures e-book, coupled with the corresponding five-hour audio lecture series, is illuminated with vibrant, contextual content, author interviews, and much more. .Agency Critical Mass
VIEW THE CONCEPT
Eric & Gilles, Belgium organised a scratch poster whereby passersby could scratch and reveal the projects the National Lottery supports
VIEW OUTDOOR
Saatchi & Saatchi Dubai print for Ariel Washing Powder
VIEW THE CHOCOLATE AD
VIEW THE KETCHUP AD
VIEW THE MUSTARD AD
Inbrax, Santiago print for Faber Castell Plastiline
VIEW THE CHEETAH AD
VIEW THE USAIN AD
VIEW THE HORNET AD
Festival season represents the most exciting time in the South Australian calendar. And with so many iconic events showcasing art, performance, sport and music right here on our doorstep, it's only fitting that a local icon would get behind each and every one. Agency: Showpony, Adelaide
VIEW THE AD
From South African agency Jupiter Drawing Room a spot for WeChat
VIEW THE SPOT
Models beware. Fashion-minded Gilt customers are on the hunt for your designer duds, and they'll leave you standing in your skivvies. The new campaign from Berlin Cameron United depicts a playful game of chase in which Gilt members chase down models throughout a city for their high-end fashion looks.
VIEW THE SPOT
Innovation can be a scary thing for golfers. They tend to find something that works and stick with it. But rejecting better equipment simply because it's new is dumb. We'd still be hitting wooden balls with crooked sticks on theshores of Scotland. So instead of trying to explain the superiority Wieden Kennedy Portland took this approach.
VIEW THE FIRST SPOT
VIEW THE SECOND SPOT
An animated spot from Red Brick Road London
VIEW THE SPOT
The magic that happens at family dinners all over Ireland is captured by Birds Eye in this new Television commercial from Havas Dublin for Birds Eye Fish Fingers and Peas 'Family Banter'. A fully integrated campaign brings great food and family conversation to life via the Birds Eye brand on TV and through digital platforms where viewers can search for Birds Eye meal ideas.
VIEW THE SPOT
Cancer treatment in India is beyond the financial reach of most common people. While HDFC Mutual Funds doesn't know much about cancer they do know money. The solution seemed obvious, leverage HDFC Mutual Fund's investment expertise to raise money for this cause. Thus was born the HDFC Debt Fund for Cancer Cure Fund, a capital protected, closed ended debt fund that let's investors pledge either half, or all, of their returns towards funding the treatment of underprivileged cancer patients through the Indian Cancer Society.
But the question remained, how do you get savvy investors emotionally invested in the issue so that their money follows? Publicis India found the answer in a tragic truth. Far too many people in India commit suicide by cancer. It's not that they wish to, but when you have little money you have just two choices. Do you bet your family's savings on your treatment, which may or may not work? Or, do you leave it for what it was intended, securing the future of your family? Nobody should have to face this cruel choice. This film ran in theatres that are in rich neighbourhoods of major cities.
VIEW THE SPOT
Customers will go to Homepro mainly for 2 reasons - Building a new house or Fixing it. So in order to increase traffic to the store, BBDO/Proximity Thailand created the idea "Take care home daily" to trigger consumers to take care of their house everyday with the wide varieties of products that Homepro offers. The story portrays a slice of Thai family life and how the idea "Take care of their home daily" can effect their life.
VIEW THE FIRST SPOT
VIEW THE SECOND SPOT
VIEW THE THIRD SPOT
Holidays in instalments via Urbi et Orbi Travel Agency.
VIEW THE FIRST AD
VIEW THE SECOND AD
You're not you when you're hungry. Print campaign via FHV BBDO Amsterdam.
VIEW THE FIRST AD
VIEW THE SECOND AD
VIEW THE THIRD AD
Production company Eeksaurus and JWT Kolkata teams up to celebrate India's freedom from polio in this new ad campaign for Rotary International.
VIEW THE SPOT
If you smoke indoors you create second-hand smoke. For hours afterwards the invisible toxins move from room to room. And because children breathe faster than adults, they breathe more of those toxins. Even if you smoke with a window open, in another part of the house, it's not enough to protect your children from the damage. So, we're not telling people to stop smoking but if they are going to smoke to take it right outside.
VIEW THE SPOT
Bem Ser a health clinic launched a chewable postcard through Dim&Canzian Sao Paulo that helps people to stop smoking. Check this out
VIEW OUTDOOR
Phone companies devote a lot of marketing to tell their customers what the next big thing is. But HTC doesn't make its phones for everyone, just those who demand more. Agency: Deutsch LA.
VIEW THE BLAH BLAH SPOT
VIEW THE WAIT SPOT
Grey London has unveiled its first work since being appointed to the Vodafone UK roster. The campaign highlights the dependability of Vodafone's network and centres around its support of the emergency services in the UK.
VIEW THE SPOT
Early detection rates in the Emirates are alarmingly low. The problem? It's difficult to talk to women about breast cancer in public. So JWT, Dubai surprised passengers with 'seatbelt lump' sleeves placed to sit exactly above the breast area. Feeling the lump revealed the message. This dramatized how it's never this easy to detect breast cancer.
VIEW OUTDOOR
Republik launches NZ's inaugural Big Egg Hunt with a humorous demonstration of how the big eggs arrived.
VIEW THE SPOT
Johnson & Johnson gave away the Grandparents Frame, a digital picture frame that is connected to the Grandparents Frame app. The app enables parents to instantly send pictures of special moments of the grandchildren to the grandparents' home. It allows the grandparents to witness these moments of their loved ones and connects three generations. .Agency Impact BBDO Dubai
VIEW THE SPOT
A new TV spot from iris Worldwide to support the launch of The Weather Channel's new Radius app, developed in collaboration with 'earth artist' Andres Amador.
VIEW THE SPOT
To promote Volvo's innovative feature, City Safety an auto-brake technology that assists in avoiding traffic accident, we created a unique interactive tablet ad.
The ad from McCann Digital Israel asks users to place their finger on the screen.
No matter where they placed their finger, the car stops right before hitting it delivering our message.
VIEW THE CONCEPT
Sometimes a hiphop star and word play can be the answer. 358 Helsinki client Arla wanted to launch their product Arla Protein a quark with 20 grams of protein with a bang. The hiphop-musician and judge in the popular Voice of Finland tv-show, Elastinen, was chosen as the face of the campaign. The copy Ela taysilla is a word play on his nickname "Ela" and the sentence "live fully.' The campaign has been a pr and sale success. Elastinen's numerous Instagram and Facebook followers also enthusiastically took part in spreading the word.
Arla is a global dairy company selling dairy products.
VIEW OUTDOOR
A print campaign from Artplan Sao Paulo to remind people the importance of reading. The ads give alternative ends to classical stories in order to show how much one can loose by interrupting his story.
VIEW THE CINDERELLA AD
VIEW THE GEPETO AD
VIEW THE EXCALIBUR AD
BBDO Minneapolis spot for Berkshire Hathaway
VIEW THE SPOT
courtesy of Arrow and Karsh Hagan: "New thinking. New materials. New standards. New everything. But what happens once it all becomes obsolete? At Arrow, we believe it's time to turn another page. Even long after the technology's story is closed."
VIEW THE SPOT
Johnson and Johnson's OTC worming brand, Combantrin, takes a light approach to an itchy situation. The spot, created by JWT Sydney and directed by Jesse James McElroy, aims to keep Australia's favourite Threadworm treatment top of mind for mums in the upcoming back to school period.
VIEW THE SPOT
Task: To attract young people, interested in music and technology, to the brand in the internet and give them a chance to win tickets for Global Gathering Music Festival
Idea: Controlling sound from the speakers, players had to move Chezz beer cap to a prize zone (an improvised stage). We established a clear relation of the brand to music, so that a product (Chezz cap) became the central figure of the whole ad.
Agency: Grape Ukraine.
VIEW THE CONCEPT
Just when you thought it couldn't get any bigger, along comes JANDL.Bratislava More on www.biggestsmallagency.com
VIEW THE COPYWRITER SPOT
VIEW THE ART DIRECTOR SPOT
VIEW THE ACCOUNT MANAGER SPOT
Every note matters in the new TVC for Virgin Records created by Nuria Puertos Ahuir.
VIEW THE SPOT
A new restaurant called MEXICO opened in Ellerslie which borders the wealthy upper-class suburb of Remuera. Sugar & Partners New Zealand placed Adshels down Remuera Road, to suggest Remuera residents might want to treat their new neighbours with caution. Much like the Americans do.
VIEW OUTDOOR
PLAY THE 101 SPOT
PLAY THE 102 SPOT
With the waterproof cameras that are available at Photo Dose, a shop for premium photo equipment, you can take perfect pictures not only above but even under water, because of its water resistance. Together with photographer Kim Keever Jung von Matt/Elbe, Hamburg show in our campaign stunning photos of beautiful landscapes with mountains, forests and valleys. The twist: One has to have a closer look to see that these beautiful landscapes were shot entirely under water!
VIEW THE FIRST AD
VIEW THE SECOND AD
VIEW THE THIRD AD
VIEW THE FOURTH AD
TBWAMoscow, The Russian Chess Federation, with the support of Anatoly Karpov and the Federal Penitentiary Service of Ryazan have come out in support of prisoners already on the road to rehabilitation and hosted a chess tournament between several prisons. The finalists have been given a chance for early release.
VIEW THE WINDOW SPOT
VIEW THE BREAD SPOT
« First « Previous
Next »
Last »
1 of 8
Gold
sponsors
Silver
sponsors
Search
blog
Members
Past guest
reviewers
Latest
news
Blog
categories
Blog
archives
RSS
feed

Visit Campaign Brief for Australian creative
advertising news