THE BRIEF:
The UAE has innumerable ice cream vendors scattered across every part of the country, catering to ever-changing trends, flavours and tastes, to entice customers. Our task was to remind people about the one thing that has remained unchanged throughout the years, the incredible value of McDonald's simple yet delicious 1 dirham ice cream cone.
THE INSPIRATION:
FP7/McCann, Dubai, looked to equate the McDonald's ice cream cone with something that's just as iconic and that has similarly remained unchanged over the years and found their inspiration in the UAE 1 dirham coin.
VIEW THE AD
FlyGTA, Toronto's ultra-short haul carrier, has collaborated with Toronto street artists Runt, Jimmy Chiale and Uber5000 to design their air sickness bags. Dubbed Sick Art (#sickart), the limited series will feature three distinct designs, one from each of the artists. The bags will be in FlyGTA's aircraft starting from March 1st and will be available until they run out, which everyone hopes will not be too soon. In addition, framed air sickness bags will be on permanent display in the FlyGTA lounge at Toronto's Billy Bishop Airport. The idea was developed and produced by Toronto creative and branding boutique LP/AD.
VIEW RUNT OUTDOOR
VIEW UBER5000 OUTDOOR
VIEW JIMMY OUTDOOR
McDonald's, Lebanon's leading fast food retailer, wanted to promote its new Chicken Wraps. But towards the end of the year, budgets were typically low and competition was high. So, FP7/McCann, Beirut, used radio, a cost-effective mass-media channel in Lebanon. Conventional radio wouldn't be enough. They needed to disrupt the radio ads that people heard in their cars, at homes, or in their offices, making them pay attention to McDonald's Chicken Wraps. We chose a popular music genre in Lebanon: Rap music.
And created "The Chicken Raps" to promote the Chicken Wraps ;)
PLAY THE SOUL SPOT
PLAY THE OLD SCHOOL SPOT
PLAY THE DEAD SPOT
"You Are The One" is a story of a family and their car. The main character is Emma, a girl living in San Francisco, USA, and her Civic that has been together with her since birth. It is a heartwarming story filled with the beauty within people's minds and the wonderful relationship between people and cars. Agency: Hakuhodo, Tokyo
VIEW THE SPOT
Witness Nissan Navara drivers find surprising new ways to get through various moments of their days thanks to their pickup trucks. From a lazy way to fish, to creatively unload a ton of cargo, turn a construction site into a golf course, even confront a bull and more. Under the claim "Whatever Your Day Looks Like" the campaign illustrates the different lifestyles and work environments where the vehicle is at home. Pursuing a tailor-made approach to the markets and our audience of small business owners who go through days that are never alike and often have to wear different hats, as the product itself. Agency: DigitasLBi, Paris.
VIEW THE SPOT
Men's grooming company Harry's has released this "A Man Like You" spot via GSD&M Austin, TX.
VIEW THE SPOT
Cleveland to Chicago in just under 30 minutes powered by sunlight and magnets. It's not just a dream. It's how Hyperloop Transportation Technologies is making this a reality.
VIEW THE SPOT
In a world divided more and more by prejudices, Pele reminds us how a common passion can unite us all, no matter our nationality. With over 70 different nationalities gracing the field in this season's UEFA Champions League, Mastercard launches "22 Languages", a campaign that reminds us how a common passion can help unite people who think they have all the best reasons to hate each other. As an Official Sponsor of the UEFA Champions League, Mastercard invited 22 football aficionados from around the world - complete strangers to each other - to play a football match. Agency: McCann New York/McCann Worldgroup Europe
VIEW THE SPOT
Inspired by the Western-Genre, the company "Das Handwerk" tells us the story of a fulfilling working day, in a commercial that's airing nationwide from 16th February. The commercial gives us a cinematic answer to the key question: "And? What did you achieve today?", a question that addresses the issue of professional fulfilment. The commercial director Tore Frandsen offers a cinematic companion to the identical key-question of this year's image campaign, in which Das Handwerk calls for discussion on the standards of professional fulfilment. Agency: Heimat, Berlin
VIEW THE SPOT
Before you complete this transfer, a Nigerian child would have died due to shortage of blood. Find blood drives near you. Donate today. Agency: BBDO West Africa, Lagos.
VIEW THE AD
Paint your life by getting away from pain with Novartis. Agency: Heartbeat Creative Lab, Taiwan.
VIEW THE BICYCLE AD
VIEW THE GUITAR AD
Anomaly, New York has illustrated this Johnnie Walker Black Label print campaign starring "Jane Walker," keep on walking America.
VIEW THE JANE AD
VIEW THE LABEL AD
VIEW THE EDITION AD
PROBLEM:
The illegal downloading of films is a crime that is hurting the Philippine film industry.
99% of Filipinos who have Wifi access in their homes have committed the crime of piracy by downloading, sharing, or streaming files obtained through illegal means.
IDEA:
Globe Telecom, the leading purveyor of digital entertainment in the country,
wanted to help stop it. Agency: Publicis JimenezBasic
VIEW THE AD
Office Of Baby, New York has released this outdoor "Find Your Place" campaign for streetEasy.
VIEW PREWAR OUTDOOR
VIEW COWORKERS OUTDOOR
VIEW MUM AND DAD OUTDOOR
VIEW DOG PARK OUTDOOR
VIEW BAGELS OUTDOOR
VIEW ROOSEVELT OUTDOOR
VIEW TRIBECA OUTDOOR
Get ready to be taken into a world you never knew existed, the world of mannequins! Fallsview Casino has a spectacular new billboard that needed the best mannequin talent from all over the world. Meet Quinn, Nigel and Natasha, the stars of Fun Magnet; our new billboard at Yonge & Dundas. Watch the stories of the three lead characters who were talented enough, or maybe just lucky enough, to land this once in a lifetime gig. Agency: Arrivals + Departures, Toronto.
VIEW OUTDOOR
Lucozade Energy is partnering with the new Tomb Raider film, released by Warner Brothers in March, for a bold campaign featuring action from the movie. Created by Grey London, the campaign introduces the agency's new "Energy Beats Everything" creative idea for the brand, highlighting that having the right energy can help you overcome any situation. The campaign reunites Lucozade Energy with the Tomb Raider franchise almost 20 years since the video game version of Lara Croft first starred in a 1999 commercial for the energy drink.
VIEW THE SPOT
Stop freezing and start chilling! Introducing Samsung's new 4-door FlexZone Refrigerator with a smart compartment that features 4 different cooling modes. Agency: Leo Burnett, Israel
VIEW THE SPOT
Australian musician Courtney Barnett covers INXS's "Never Tear Us Apart" in this Apple spot using real footage of same-sex weddings.
VIEW THE SPOT
Over the last year, the Middle East has been undergoing a huge cultural shift, with Saudi Arabia lifting a 35-year ban on cinemas, a 7-year ban on concerts, and allowing women to enter stadiums for the very first time. Coca-Cola has always been an integral part of enjoying sports and entertainment around the world, so we decided to reinforce that by showing people the indescribable feeling of being part of the crowd at these huge cultural gatherings. It's a feeling that some people may not have felt in a while, but one that is as familiar as the taste of Coca-Cola. The feeling of an ice cold Coke. Agency: Memac Ogilvy & Mather
VIEW FIRST OUTDOOR
VIEW SECOND OUTDOOR
VIEW THIRD OUTDOOR
Always know what's happening on the road with the "Life Saving Waze" app. Even if you know the way, Waze tells you instantly about traffic, construction, police, crashes, & more. If traffic is bad on your route, Waze will change it to save you time.
VIEW THE CONCEPT
There's an emoji for just about everything. But there's no emoji for interracial couples. Please join us in support of the Interracial Couple Emoji Project. With 20 billion matches to date, Tinder is the world's most popular app for meeting new people. Think of us as your most dependable wingman wherever you go, we'll be there. Don't be shy, swipe on over.
VIEW THE CONCEPT
Pastacup, not surprisingly, is takeaway pasta in a cup. But we used the Pastacup cups for something else. The Studio at SCA used them to make a radio campaign.
PLAY THE AUDIBLE SPOT
PLAY THE YOU'RE IN SPOT
PLAY THE SPEAK SPOT
Many Prosecco bottles were harmed in the creation of this spot for Colonial Brewing, promoting Ladies' Night at their Italian venue - Gazette. Agency: NOVA 93.7
PLAY THE SPOT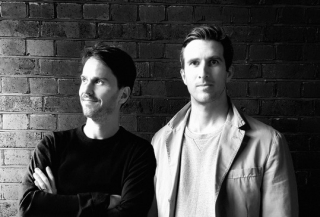 This week's guest judges are Simon Vicars (right) and Andre Sallowicz (left), creative directors at adam&eveDDB, London.
Winner:
Lotto NZ
. Lotto ads are easy and hard at the same time. Easy because you're not trying to sell tyres, but hard because it has to be great. Because there's no reason it shouldn't be great. A bangin' product with a bangin' budget. So credit to the DDB team who rose to the challenge and made a goodie. Really good performance, direction and script writing. Well done.
READ MORE
How much is a friendship worth? "Love Beats Money" is a social experiment in which ING investigates whether people value their friendship or family relationship more than money. ING always brings two people in the picture who used to have a close relationship, were friends or family, but because of a dispute about money they no longer have contact with each other. These two people were interviewed independently of each other about the situation, their mutual relationship and the money. After they have both viewed each other's interview, they get the choice: Is your friendship / family more important than money, then choose the heart or money is more important then choose the euro sign. Agency: JWT, Amsterdam
VIEW THE SPOT
While hundreds of thousands of rape kits languish untested on "Shelves," survivors wait for justice and rapists remain on the streets. Survivors deserve better. We all deserve better. The time is now. Agency: Invisible Man.
VIEW THE SPOT
Even a life lived to it's absolute fullest isn't immune to the stopping power of the all-new 2018 Audi RS 5 Coupe. Agency: Venables Bell & Partners, San Francisco.
VIEW THE SPOT
High absorbent and durable sponge cloth. Agency: J Walter Thompson, Nairobi
VIEW THE AD
The world feels smaller when things are delivered faster than usual. Agency: Cheil Kazakhstan
VIEW THE AD
KFC has issued this "FCK Apology" in this hilarious print ad via Mother, London saying a chicken restaurant without any chicken. It's not ideal. Huge apologies to our customers, especially those who traveled out of their way to find we were closed.
VIEW THE AD
Experience the world through the eyes of three different visually impaired Para alpine skiiers. As the Worldwide Official Mobility Partner of the International Olympic Committee and the International Paralympic Committee, we're committed to celebrating the achievements of these incredible athletes and sharing their stories with you. Put on your headphones for the full experience and hear their words in 360-degree sound. Agency: Saatchi & Saatchi, LA
VIEW THE CONCEPT
Know this moment when you are totally ready for sex but your partner is totally not into it yet? awkward. Lucky for you it's Valentine!
Meet R3's READY BEAR - the perfect valentine's present. The READY BEAR is a cute teddy bear, with a secret condom stashed inside it, waiting for that special moment when both of you are ready. Agency: GREAT
VIEW THE CONCEPT
Hollywood-based virtual reality (VR) studio Light Sail VR today announced the debut of its first original IP: an interactive VR horror experience "Speak of the Devil." The interactive VR narrative takes viewers on a terrifying camping trip they will never forget--if they survive. With live-action cinematic visuals and game engine-powered interactivity, "Speak of the Devil" brings a dark and sinister twist to the choose-your-own adventure tale in VR and explores a mesh narrative, when a viewer has agency over how they view and experience the story, but not agency over the storytelling itself.
VIEW THE CONCEPT
A new campaign for Genesis Women's Shelter & Support aims to eradicate the helplessness of abuse and provide a path to lead an independent and safe life. Founded in 1985, Genesis provides safety, shelter and support for women and children who have experienced domestic violence, and raises awareness regarding its cause, prevalence and impact. Directed and edited by Sai Selvarajan in a collaborative effort with Element Ad 2 (the public service agency of Ad 2 Dallas) the spots convey hope and healing where each of us can unfold our hearts and repair lives.
VIEW THE SPOT
David&Goliath, Los Angeles has created this spot for Universal Parks & Resorts.
VIEW THE SPOT
For Gucci Dans Les Rues the eclectic Gucci tribe are young dreamers transported to Paris in May 1968. The Gucci Pre-Fall 2018 campaign directed by Glen Luchford is inspired by the bold, experimental and iconoclastic French Nouvelle Vague filmmakers of the late 50s and 60s. Agency: Art Partner
VIEW THE SPOT
Memac Oglivy and SHE (Saudi Heroines Empowering a nation) collaborate with director Omar Hilal for an evocative film that challenges perceptions of Saudi, Arab, and Muslim women. Launched by SHE, an initiative highlighting Saudi heroines, 'How Well Do You Know Her?' seeks to challenge negative stereotypes by focusing on women's achievements, before subverting expectations with a surprising twist. Directed in a single-shot, talking head style, the film conveys a powerful message. In a subversion of preconceived assumptions, the camera scales back and the woman removes her hair, revealing it to be a wig, to show her wearing a hijab underneath. The film closes with the statement 'Before you judge us by the way we are covered, know us better.'
VIEW THE SPOT
Bonds have pushed further into the fashion space in their latest campaign via Leo Burnett Melbourne. It marks the launch of the new Bonds Originals underwear range.
Directed by Gracie Otto, the film tells of a small desert town where it's too hot for anyone to wear clothes, or do much at all. It was filmed in iconic Coober Pedy, where the only thing more incredible than the landscape are the locals - who also happen to make an appearance throughout the spot in their Bonds.
VIEW THE SPOT
Writing a text message, opening a popup, sharing one's feelings, making a call, drafting an email, or simply surfing the internet. All these activities have become daily rituals. In fact, Millennials reportedly spend on average two hours a day on their mobile phones. Cell-phones have become ubiquitous in our daily lives because they help reinforce our social links and enable us to connect us to the rest of the world, particularly to the ones we love. The safety of French drivers is a key societal issue that needs to be addressed by all telecom operators, hand in hand with France's Road Safety Authority. So Orange chose to do its bit via La Chose, Paris, echoing the public authority initiatives already underway.
VIEW THE SPOT
The&Partnership and Chico's announce the launch of #HowBoldAreYou, a campaign which emboldens women to embrace everything that is fun, fabulous and fearless about them, including their age. The&Partnership and their media company m/SIX, created #HowBoldAreYou as part of an overall refresh of the Chico's brand to refine its positioning, messaging, experience and products to help Chico's customers celebrate every moment of their lives with styles that encourage her to grow bolder as they grow older. Through the new campaign The&Partnership and Chico's are encouraging women to define their number instead of letting their number define them.
VIEW THE SPOT
« First « Previous
Next »
Last »
1 of 8
Gold
sponsors
Silver
sponsors
Search
blog
Members
Past guest
reviewers
Latest
news
Blog
categories
Blog
archives
RSS
feed

Visit Campaign Brief for Australian creative
advertising news