The second commercial off Optus's new platform - 'It starts with yes'. This commercial explores the good, and unexpected, things that can happen when you say 'yes'.
Agency: Special Group
VIEW THE SPOT
Chris Fowles directs the poignant spot 'Hesitation' for PrideInLondon. Pride In London described the spot as as "very powerful and beautifully created." The film was shot in one evening in South London, with a small crew and under Covid-19 rules. Against the backdrop of the London skyline, what at first seems like two friends discussing lockdown, turns out to be something very different. The project started as a personal project for the director Chris, about life after lockdown, exploring multiple characters and how life has changed.
VIEW THE SPOT
Fold7 has created a global TV, digital and print campaign for Kronenbourg 1664 Blanc. Breaking this week, it is part of the 'Good Taste with a Twist' campaign launched in June. It underlines the wit beer's premium positioning and French heritage, heroing its standout blue bottle and signature flavour with a hint of citrus. The 30-second film, directed by Stink's Wolfberg, introduces us to 'Le Bar Blanc', immersing us in a world of playful French elegance where surprising things happen.
VIEW THE SPOT
Come along on Photoshop's fantastic voyage thanks to the magic of imagination in this spot created via 72andSunny, Los Angeles.
VIEW THE SPOT
Deliveroo lets you track how far away your food delivery is. Which means you never have to face up to the existential dread of not knowing how long you have to wait for your food to arrive.
Agency: And Us
PLAY THE LONGEST HOUR SPOT
PLAY THE LOST CONTACT SPOT
PLAY THE SIGHTING SPOT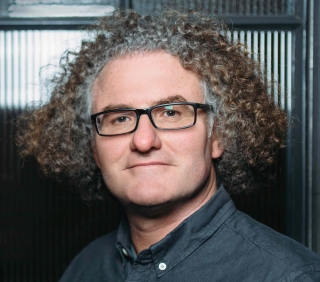 This week's guest judge is Wayne Deakin, executive creative director, HUGE EMEA.
Winner: Nike '
Better
'. Once again a memorable Nike ad. Love this spot with a super simple and powerful thought and a lovely crafted visual multicultural treatment. I chose this because in the arms race for attention today we don't see enough of ideas like these that just have effortless confidence and a simple unifying idea that could go anywhere. Loved the narrative, the music and the modern interplay of visual styles and casting. Congrats folks.
READ MORE
Tencent Medipedia is an online content platform, which provides scientific and reliable medical knowledge for Internet users. However, after going online, it can't attract consumers' attention at all. We found that the general public feel that the medical science knowledge has nothing to do with themselves. How to attrract their concern to make medical science knowledge be widely discussed and disseminated? This is our challenge.
View: http://vmore.cn/mprworks/me/
VIEW THE CONCEPT
The 2020 premiere of the Swedish football league became a anticlimax when it due to the pandemic had to be played in front of empty stands. Given how important the suport of the fans are for any team the question was how Örebro SK could engage their fans in the premier, even thou they could not attend. We decided to give fans the opportunity to cheer there team on, from home.
VIEW OUTDOOR
To honor the sacrifices that everyday people in Bahrain and around the world continue to make, Bahrain's leading telecommunications provider Batelco released a commemorative SnapChat lens to be used at home. The lens celebrates heroes at home by adorning them with medals of honor that recognize their struggle and allows them to see themselves as the brand sees them – at-home heroes of COVID-19.
VIEW THE FIRST AD
VIEW THE SECOND AD
VIEW THE THIRD AD
VIEW THE FOURTH AD
After all this time inside, our walls deserve a pick-me-up. Shop the online paint store or find your nearest Benjamin Moore retailer to give them a well-earned refresh.
VIEW THE SPOT
Emotion propels you to action in BETC Paris spot for Lacoste's Match Point fragrance. Breathe in the thrilling freshness of this new masculine Eau de Toilette by Lacoste, an explosive fusion of two contrasting accords. The green energy of basil and gentian bitterness combine in a breathtaking freshness. The thrilling black elegance of woody vetiver brings strength and intensity.
VIEW THE SPOT
VIEW THE VFX SPOT
NZ Post and a three-timing feline have the local neighbourhood covered in latest brand spot. No-one knows the comings and goings of a street like your local NZ Post courier. So FCB and NZ Post have created a brand spot that tells the tale of a philandering feline getting around multiple homes to maximise her mealtimes. Whilst making his daily deliveries, our courier discovers Trixie / Maggie / Lulu and her three-timing ways, culminating in a warm, fluffy, purring ending.
VIEW THE SPOT
Gym junkies and park flab busters alike are desperate for protein wherever they can get it. But not enough people know that turkey, the world's least Instagrammable superfood, is some of the best lean natural protein around. So, Steggles Turkey (a protein rich superfood) is reaching out to them at the moment they're most interested in getting results, through hilarious turkey-based workout songs on the top Spotify workout playlists. Playlists that are getting an absolute pumping as Aussies work to stay fit during COVID-19. The 'Ugly, but good for you' campaign is a collaboration between M&C Saatchi Australia and Spotify, incorporating subtly branded songs into workout playlists, and it's one of the first times Spotify has allowed long form spots on their platform.
VIEW THE TECHNO SPOT
VIEW THE POP SPOT
VIEW THE ROCKSPOT
VIEW THE HIP HOP SPOT
Special Detectives Sarge and Jac are back in Budget Direct's latest instalment created with 303 MullenLowe. The new spot titled "Bad Dog" features a badly-behaved dog, a high-powered laser-sword, a couple of confused police officers and a very unlucky neighbour. The action goes to show, that there are times when the damage to your home is so bad, you need temporary accommodation for up to year while it gets repaired.
VIEW THE SPOT
As the sun scorched the land, Palace Skateboards and adidas collaborate to scorch the streetwear landscape with a refreshing new drop titled, SunPal. In the new commercial, which was produced and post produced by MPC, Palace team rider Heitor Da Silva showcases the new collection as well his remarkable helmsmanship, as he sails the signature SunPal yacht singlehandedly from Brazil to Norway. Like the spirit of a legendary albatross, Heitor is sonically accompanied on his journey by Joy Orbison's 'Hyph Mngo' soundtrack.
VIEW THE SPOT
Ahead of the Spring selling season, Domain has reached 6.9M Australians in July, with audiences up 34% YoY. To connect further with this audience, Domain has launched its latest national campaign via RE Agency and M&C Saatchi, that speaks to the everyday moments that many Australians are currently experiencing. The new brand platform, 'See the possibilities', offers Australians a hand in helping them when it comes to thinking about their next move. The campaign showcases the lighthearted and relatable 'it's time' moments, when people know they need to move to somewhere that's a better fit for their current lifestyle.
VIEW THE MORE SPOT
VIEW THE BRIGHTER SPOT
VIEW THE THINK SPOT
VIEW THE PARK SPOT
In line with the gradually rising trend of returning to the office, ServiceNow is one of the first to address companies facing uncharted territory and has positioned themselves as a strategic partner; helping to ease C-Suite anxieties about returning to the workplace by providing critical tools to help prepare organisations for a safe and confident return. Produced with strategic agency partner BBDO San Francisco, ServiceNow's latest work positions the brand as a leader helping organisations return to the workplace confidently and safely in an appropriately humorous manner.
VIEW THE SPOT
As if the global pandemic isn't troubling enough, scam calls are on the rise and 91% of Canadians over the age of 55 believe they're more vulnerable to fraud. So, in an effort to help people recognize scam calls in real time, HomeEquity Bank has launched 'Catch The Scam', an online content series and masterclass teaching the finer points of how scams actually work. The series is hosted and taught by none other than Frank W. Abagnale, a former conman turned world-class security expert.Developed by Toronto-based agency, Zulu Alpha Kilo, 'Catch The Scam' will be available for free on Facebook and YouTube - the preferred social platforms for HomeEquity Bank's target audience of retirees.
VIEW THE ROMANCE SPOT
VIEW THE LOTTERY SPOT
VIEW THE GRANDPARENT SPOT
VIEW THE CRA SPOT
A spy themed campaign for Lava publishers and their book "Den Sakkunnige". The book, which is written under a pseudonym, is a tell all story about dirty Swedish political secrets not known to all. In order to raise awareness, the book has been locked up in a safe in an ad shell in front of the Swedish parliament. People worthy enough to solve the cipher written in the ad can open the safe and get a free copy of the book.
Agency: JMWGolin
VIEW OUTDOOR
Today, 43%* of French people (including 54% 18/24 years old) believe that being a maintenance and cleanliness freak is a quality. Indeed, by their perfectionism, the maniac takes care of others. The emergence of the "cool maniac" that is taking shape today in a post-covid world has been Starwax's reason for being since 1946. Through its highly specialised products, the brand is an expert in cleanliness and maintenance and wants to make maniacs proud. A well thought out and humorous campaign that highlights the effectiveness and the ultimate quality of Starwax's cleaning products.
Agency: Buzzman, Paris
VIEW THE SEPTIC AD
VIEW THE FRIEND AD
VIEW THE SHOES AD
VIEW THE SHOWERING AD
Ahead of the Spring selling season, Domain has reached 6.9M Australians in July, with audiences up 34% YoY. To connect further with this audience, Domain has launched its latest national campaign via RE Agency and M&C Saatchi, that speaks to the everyday moments that many Australians are currently experiencing. The new brand platform, 'See the possibilities', offers Australians a hand in helping them when it comes to thinking about their next move.
VIEW OUTDOOR
A dubbing strip on a billboard is used to indicate the direction or location of a local point of sale. It's pretty ugly and uninteresting. Except when it's hijacked to deliver a brand message. At a time when French attitudes towards consumption are changing, the traditional model of the mass retail sector is losing market share every year. It's within this context that ALDI has committed to a different model revealed in its brand platform last January: "The Place of the new consumer". A campaign by Ogilvy Paris.
VIEW FIRST OUTDOOR
VIEW SECOND OUTDOOR
VIEW THIRD OUTDOOR
Home can be an unsafe place for some. And with the need for physical distancing and self-isolation during the COVID-19 pandemic, South Australian women and children experiencing domestic violence are at an increased risk. Our job was to create a campaign that would encourage men to identify their own abusive behaviour and utilise a new, dedicated 24/7 men's domestic abuse website and hotline created by the State Government. The inspiration for this series of radio ads came from real, researched accounts of the different kinds of domestic abuse victims face every day.
Agency: Showpony Advertising
PLAY THE PHYSICAL SPOT
PLAY THE FINANCIAL SPOT
PLAY THE TECHNOLOGICAL SPOT
There are words no child should ever have to learn. Medulloblastoma, Opticus glioma pilomyxoid astrocytoma. In this radio spot for The Swedish Childhood Cancer Fund we let children try to pronounce their cancer diagnosis. Childhood and cancer don't belong together.
Agency: Garbergs
PLAY THE FIRST SPOT
PLAY THE SECOND SPOT
Ted Lasso might not know much about British football, but he does know Jose Mourinho's phone number somehow in Apple TV+ new series.
Agency: DAZN
VIEW THE SPOT
Skoda promotes its new sleep package to make car ride naps less awkward and more comfortable
Agency: Rosapark
VIEW THE FIRST AD
VIEW THE SECOND AD
VIEW THE THIRD AD
Unlike nuggets, KFC promotes the fact that no 2 of its tenders are alike
Agency: Sid Lee Paris
VIEW THE GIF SPOT
VIEW FIRST OUTDOOR
VIEW SECOND OUTDOOR
VIEW THIRD OUTDOOR
Oscar winning UK production company Passion Pictures and multi award-winning documentary filmmaker, Sasha Snow, have released the "The Troublemaker", a 2-year independent production about Extinction Rebellion. As a society, and as individuals, we have always been defined by how we react in the face of a crisis. This is the archetypal story played out on a global scale, presenting the opportunity for self-discovery if we are prepared to face up to the existential threat.
VIEW THE CONCEPT
The latest TV campaign for Kellogg's follows the adventurous story of a young boy's experience of lockdown with his father as he prepares to return to school. The campaign has been created by K1, a customised Power of One team from Publicis Groupe which brings together the best in creative and digital expertise from Leo Burnett and Digitas.
VIEW THE SPOT
Pizza Hut New Zealand has created a new brand platform to position Pizza Hut as the easiest and tastiest option for kiwis faced with mealtime hassle. The campaign is centred around an elite division of Pizza Hut. Two Special Agents who armed with a range of tasty pizzas and unnecessary gadgets are on constant stakeout ready and waiting to help.
Agency: Stanley St
VIEW THE SPOT
Emblematic of its time since its launch in 1990, the Renault Clio has been an international success for 30 years. Over time, it has evolved while still retaining its DNA. As the Renault Group pursues its drive to make electric mobility accessible to all, the Renault Clio now writes a new page in its history by offering a hybrid powertrain. To launch this new model, Renault and Publicis Conseil designed a delicate, emotionally charged campaign titled 'The New Chapter of a Great Story', directed by Sebastian Strasser.
VIEW THE SPOT
Launched today, Montblanc's new global campaign 'What Moves You, Makes You' inspires people to express their full potential on their own terms, and celebrates those who have found their own original path to rewriting the codes of success for the 21st century. With the help of three exceptional individuals who are redefining what success means today - writer and director Spike Lee, actor Taron Egerton and singer, actor and writer Chen Kun - the Luxury Maison is set to reintroduce itself to the world. Created together with Montblanc's global creative agency Wieden + Kennedy, Amsterdam, the campaign highlights authentic stories supporting the idea that following your passion defines you as a person.
VIEW THE SPIKE LEE SPOT
VIEW THE TARON EGERTON SPOT
VIEW THE CHEN KUN SPOT
Think you could put yourself in the saddle and keep up with Scottish trials cyclist Danny MacAskill? Now it's possible, with a new interactive virtual reality experience created by REWIND and Cut Media for the mountain bike brand Santa Cruz Bicycles. Danny MacAskill's VR Ride Out puts the user on Danny's bike for the first time for a radical, hair-raising trip that shows exactly why he is a street-trials phenomenon.
VIEW OUTDOOR
Over a third of bullying today takes place online, with the number rapidly increasing (UNESCO). As online learning and virtual classrooms are becoming the new norm, cyberbullying is a big issue for the youth. The Polite Type is a font that has been taught to recognise and rewrite hate speech. In practice, the font automatically blurs hateful words or replaces them with more inclusive ones. TietoEVRY, the company behind this initiative, wants to promote online equality and raise discussion about ways to stop cyberbullying. The creative partner behind the idea is TBWA Helsinki. The project was carried out together with The Children & Youth Foundation in Finland and the digital studio Great Apes.
VIEW THE CONCEPT
Johannes Leonardo has launched its campaign with Madden - Madden NFL 21 launched this morning with The Spokesplayer. Johannes Leonardo has been part of Madden's epic franchise launches for the past three seasons. What makes this one different is that it created a new character to usher in a new generation of NFL gamers and athletes - The Spokesplayer. The Spokesplayer takes on the familiar face of Keraun Harris, or King Keraun, an actor, comedian and Internet personality who has appeared on HBO's Insecure and ABC's Black-ish. Keraun was the perfect choice as Madden's Spokesplayer because he's an expert in his own right.
VIEW THE SPOT
Viewers will get a first-person taste of what it's like to run a Paralympic 100 metres final as a vision impaired sprinter in a new campaign looking ahead to the Tokyo 2020 Paralympic Games. Called 'Wait for the Greats', the film is the first campaign created by adam&eveDDB since its appointment by the International Paralympic Committee (IPC) in 2019. The IPC briefed adam&eveDDB to help continue its mission to showcase how Para sport is transforming the lives of persons with disabilities - work which is given a huge boost every four years when a global cumulative TV audience in excess of four billion people watches the Paralympics.
VIEW THE SPOT
A table full of delicious food and special people makes any meal even better. But how can we cherish that moment during the Covid-19 pandemic? In this film, Levo Alimentos shows that with creativity and a delicious recipe, it's possible to stay close to your neighbors, friends and family with all the care and safety. #FlavorBringsCloser
Agency: Capim.AG
VIEW THE SPOT
For the Marletto brand relaunch, the brand portrays it self as a world of ice cream, addressing the different kinds of ice cream from its range by the means of creating different landscapes, each one of them connected to the main feature of the product line, inviting the consumer to "Discover a new world of taste".
Agency: Duda, Poland
VIEW THE CANYON AD
VIEW THE BEACH AD
That thing KFC have been saying for 64 years, gets put on pause in this campaign asking customers not to 'Finger Lickin' Good.'
VIEW THE AD
Urban Underground is a Milwaukee-based community organization dedicated to providing young people with the support and opportunities they need to address the most pressing issues of our time. For the past 20 years, Urban Underground (www.urbanunderground.org) has partnered with local businesses and stakeholders to help promote the next generation of leaders committed to building safe and sustainable communities. This year, as part of its community outreach efforts, Urban Underground partnered with the local independent advertising agency, Hanson Dodge, on an experiential project carrying the inspirational message
"March with us. Invest in us."
VIEW WINDOW INSTALLATION OUTDOOR
VIEW MICROSITE OUTDOOR
« First « Previous
Next »
Last »
1 of 7
Gold
sponsors
Silver
sponsors
Search
blog
Members
Past guest
reviewers
Latest
news
Blog
categories
Blog
archives
RSS
feed

Visit Campaign Brief for Australian creative
advertising news