Roladin launch the 2021 Sufganiyot Collection with a new "Umbrellas" collection campaign.
Agency: New Tel Aviv
VIEW THE SPOT
BBDO Nordics has released these two films for Lenovo.
VIEW THE FIRST SPOT
VIEW THE SECOND SPOT
Launched on International Day for the Elimination of Violence against Women, DIBOOR, Tel Aviv has released this 'Listen To My Voice' campaign.
VIEW THE SPOT
Krafton, the South Korean video game developer of Battlegrounds Mobile India (BGMI), hopes to build a safe and healthy gaming culture through its new campaign via DDB Mudra India, titled 'Game Responsibly'. This humorous campaign addresses the issue of addictive and obsessive gaming and its impact on family and friends around you. Online gaming is meant to be fun and entertaining. Over the past year, it became a virtual social gathering and a collective activity that everyone could enjoy safely from their homes. However, it also has the potential to become an obsession.
VIEW THE SPOT
To celebrate the launch of the Samsung Galaxy Z Fold3, RAPP has created 'Curiosity Unfolded', a campaign that sees the Founders Forum tech entrepreneurs using the Samsung Galazy Z Fold3 to pitch their inventions to children - easily the world's most inquisitive and toughest critics. The campaign features a series of short films showing entrepreneurs using the phone's folding functionality to help bring their ideas to life for their audience. The children then put the experts through their paces by asking probing questions.
VIEW THE SPOT
GAY TIMES and Grey London have launched Amplifund campaign - Incomplete Without the T - at GAY TIMES Honours during Trans Awareness Week in response to increased transphobia and hate in the global media. 2021 has become the deadliest year for Trans people on record. The Trans community is being increasingly targeted, with transphobia and hate coming from both the media as well as from right-wing groups, both on and offline. More recently, the LGB Alliance have called for the T to be removed from LGBTQ+. To stand in solidarity and help to raise visibility and awareness around Trans issues, Amplifund have launched a powerful new campaign: Incomplete without the T. Created by Grey London, the idea of the campaign is to remove the letter 'T' from a range of different texts and communications - showing that when you erase a letter from any word, in any language, you remove both the comprehension and the unity behind it - and the same is true when you remove the T from LGBTQ+.
VIEW THE SPOT
Instead of a traditional supermarket multi-million-pound TV commercial, this Christmas, Co-op is shedding a light on the power of real communities and raising the issue of access to food. The centrepiece of the campaign, created by Lucky General was a two minute live ad starring TV personality, Dermot O'Leary and TV chef and rapper Big Zuu that ran during Coronation street on the 26th of November. The first time a grocer has ever run a live Christmas commercial. The campaign focuses on the Community Fridges project it has set up in partnership with Hubbub, a British charity committed to working with diverse communities, running campaigns and projects that tackle social as well as environmental issues.
VIEW OUTDOOR
With the most festive season of the year around the corner, it marks the time of seeing dangling ornaments and colourful, creative Christmas ideas everywhere in the city. Major retailers need to constantly think of refreshing celebrations to surprise its guests every year to acquire footfall, maximise exposures and drive revenue in this competitive period. Therefore, having distinct and creative decorations and activations are often the keys to earn virality and raise the reputation of the place. Every year, we see LANDMARK being a legendary shopping destination to constantly surprises its visitors with stunning decorations.
Agency: Isobar, Hong Kong
VIEW THE SPOT
Celeste Barber is many things - actor, author, comedian, social media extraordinaire - but could she add lingerie designer to that list? Challenge accepted! Launching today, Celeste Barber's collaboration with Bras N Things is bright, vibrant and fun. It's relaxed and comfortable but there is also plenty of drama and sass. Celeste worked closely with the Bras N Things team to bring her vision for the collection to life, so it is a true reflection of Celeste and everything people love about her.
Agency: FABRIC, Sydney
VIEW THE FIRST SPOT
VIEW THE SECOND SPOT
VIEW THE THIRD SPOT
VIEW THE MAKING OF SPOT
Ogilvy, Greece has launched this 4 minute film for Mondelez's chocolate brand, Lacta released on November 25th, International Day for the Elimination of Violence Against Women. Directed by Argyris Papadimitropoulos, the film titled 'Don't Ever Leave Me' shares one woman's story of abuse.
Agency: Ogilvy, Greece
VIEW THE SPOT
Aussie beer brand Furphy wanted to play its part in helping the local hospitality industry get back on its feet after Australia's long COVID lockdowns. To do this, the brand launched the nationwide campaign 'Vaxxed To The Pub' which shouted vaccinated Aussies their first beer back at the pub through a call to arms open letter to Australia.
Agency: Thinkerbell
VIEW THE AD
Mitch&Me (dog shampoo) decided to wish all dog owners a Merry Christmas and remind them of the importance of cleaning up after their pets. Unintentionally left dog poop can ruin any holiday.

Agency: Jekyll & Hyde agency
VIEW THE AD
Following a highly successful 2020 campaign, Nick Kyrgios has again joined forces with Old El Paso to bring back the #MessFreeChallenge. This time he's created a basketball Slam Dunk version of the viral challenge, to prove the Old El Paso Tortilla Pockets truly deliver on mess-free Mexican: with a Tortilla Pocket in one hand and basketball in the other, Kyrgios surprised his 2 million followers with a monstrous slam dunk to begin the Old El Paso Slam Dunk #MessFreeChallenge with a bang.
Agency: Thinkerbell
VIEW THE CONCEPT
Volkswagen are sending the 'first off the line' #0001 Amarok V6 W-Series from Walkinshaw Station to stud auction, raising funds for mental health research. The Amarok Auction, a digital interactive live auction experience, extends the story of Walkinshaw Station, which introduced these wild thoroughbred utes that were reared for the road at a magical and powerful place found nowhere else on earth. The auction was live for a week with the hammer falling on the live bidding at over $100,000, with all proceeds will go to Black Dog Institute - the only medical research organisation in Australia which investigates mental health across people's lifespans.
Agency: DDB, Sydney
VIEW THE CONCEPT
We all have our fears on the road. And pulling into a parallel park in front of onlookers has to be one of the worst. In a tongue-in-cheek way, for this spot, we heighten what it is like to be trapped in a world of parallel park paranoia and show that the Tiguans new park assist feature is the perfect way to quell those fears.
Agency: DDB, Sydney
PLAY THE SPOT
Children should be able to recognise their own mother from a distance, right? Unfortunately, 1 in 5 kids live with some type of eye condition. We decided to run a real experiment using real mums and their kids to put this to the test. What we discovered on the day could be life changing for some. Agency: The Rowdy Group
VIEW THE SPOT
Just off of Grafton Street on South Anne Street, Dublin's iconic shopping district, you will find Monaghan's Cashmere. Established 61 years ago by the now 96-year-old Tom Monaghan, the luxury knitwear and Cashmere specialist is one of Ireland's longest-serving retailers, with three generations of family having worked there. In its lifetime, the business has weathered three recessions and most recently, the Covid-19 crisis, which forced the store to close its doors for the very first time. Usually serving customers visiting Dublin from around the world, lockdowns and travel restrictions meant the long-standing establishment has faced unprecedented challenges through the past year and a half. Now, the retailer is launching it's first-ever Christmas campaign, produced by Banjoman Films, as it works to bounce back from this extremely tough period. Creatively devised and directed by Dermot Malone, the film moves away from the standard festive formula with a touching story inspired by Tom Monaghan himself. The film, which stars legendary Irish theatre actor Barry McGovern (Braveheart, The Tudors, Game of Thrones), follows an elderly man experiencing his first Christmas since his wife passed away. Living on a farm with just his beloved horse for company, he frequently has flashbacks to his late wife at various stages in their life. When his family arrives for Christmas, he struggles to share in their festive spirit, especially when his young granddaughter breaks a picture frame holding a photo of his wife, himself, and their horse. Unbeknownst to her Grandfather, however, the Granddaughter takes notice of the red cable jumper he was wearing in the picture, and when mischievously rifling through his belongings, finds it. Struggling with the emotions and past memories of his wife on Christmas Day, the protagonist goes to visit his horse in the stable - only to discover his granddaughter has left him a special gift in the horse box. Celebrated for their impactful, storyful Christmas films, Banjoman recently picked up Production Company of the Year at Kinsale Ireland - including three Gold and one Silver Shark for RTÉ's 2020 ad for the Late Late Toy Show, 'Let's Make Christmas'. This win was in fact a catalyst for the project with Monaghan's Cashmere. Director Dermot Malone wanted to find an Irish brand that had been hit hard by the lack of tourism and footfall in Dublin as a result of Coronavirus. Having been a big fan of Monaghan's Cashmere throughout his life, Dermot approached Suzanne about creating the spot in a bid to drive more footfall this Christmas.
VIEW THE SPOT
At a time when most healthcare providers' ads are generally filled with somber piano tones set to montages of diligent healthcare workers, grateful patients and families and dramatic voiceovers, one healthcare provider, Chicago-based Edward Elmhurst Health (EEH), is taking an approach: comedy. The new ad campaign, created by Denver-based Cactus, features improv comedy actors, including some from the famed Second City along with real EEH doctors and staff. The ads just started airing in the Chicago regional market late last week. There is also print and OOH elements as well.
VIEW THE STREET MEAT SPOT
VIEW THE MEGA GRANDE SPOT
VIEW THE POISON IVY SPOT
VIEW THE TRUE CRIME SPOT
YES Solar 30 Second TV Spot - Slippery Santa
Agency: PotatoGraphick
VIEW THE SPOT
This winter Gumtree is encouraging the UK to help our world by giving their unwanted electrical items a second life. Because every winter so many electrical appliances are sent to waste facilities in the UK that it's enough to go four times higher than the international space station.
Agency: Wieden Kennedy, London
VIEW THE SPOT
The walker's lost their son Jaiden in a blink of an eye. A gutless Coward Punch stole him from them forever. This is their story.
Agency: AT Creative
VIEW THE SPOT
GIGIL Philippines has created a typically weird and quirky new film for local chocolate brand Choco Mani. The brand brings together the best of peanuts and chocolate and is loved among Filipinos. The humorous film sees a mother and her son mould together their lost husband and father out of Choco Mani chocolate to once again create their happy family. Soon after the spot takes a turn when the mother and son begin to get chocolate cravings - and suddenly the husband/father becomes an object of desire.
VIEW THE SPOT
To launch an aggressive Black Friday offer, Meufit used different aggressively positioned black animals as its offer.
Agency: teiga, studio
VIEW THE CROW AD
VIEW THE PANTHER AD
VIEW THE DOG AD
Agency GIGIL have created this spot for CDO Foodsphere
VIEW THE CONCEPT
From shopping insight during the sale event, shoppers sometimes feel guilty for spending money if we realize that we already have 15 lipsticks or 8 shoes at home. But in the final quarter of 2021, the toughest year of the pandemic in Thailand, if the 16th lipstick or the 9th shoes could make you happy, allow yourself to own it. The idea behind the new campaign is 'Guilty Free Festival' allowing shoppers to shop guilt-freely by turning every single item in the store into something they never had before. The campaign renames all products on both Central stores (on-shelf & in-store signage) and e-commerce platforms (website & delivery package) into the creative options so that shoppers can shop more guiltlessly. For example: Solarglasses (Sunglasses) Kisstick (Lipstick) Feet Jacket (Shoes) Hair Organizer (Hair Brush).
VIEW THE SPOT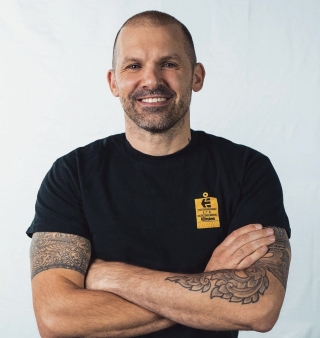 This week's guest judge is Adam Bodfish, executive creative director at McCann Birmingham, UK.
Winner: Amazon Prime Video '
An unlikely friendship
'. I've had many unlikely friendships in the past. Never with a hyena, mind. I imagine it's somewhat petrifying. However, this made me smile. And given the year we've all had, and the fact this ad is all about 'celebrating the power of a smile', I'd say that's a job well done.
READ MORE
Combine coffee with masks. Three print ads from Romania
VIEW THE RED AD
VIEW THE GREEN AD
VIEW THE YELLOW AD
Its time to emerge. new spot from Tech & Soul Brasil for Bienal
VIEW THE SPOT
Earth's vast oceans regulate our climate, make our planet livable, and have long been viewed as an infinite supply of food and a bottomless repository for our waste - but they have been pushed to the brink. Fortunately, it's not too late to clean up our act. It's time we #DoSomething. So, what would you do to protect Earth's oceans? Even while we are dreaming up the big ideas, let's do every little thing that makes a difference, on our own and together. Doing nothing is not an option.
Agency: TBWAChiatDay Los Angeles.
VIEW THE SPOT
To meet the constantly rising customer expectations, digital cloud platform NICE promotes its next generation customer experiences with a new innovative global campaign. To bring the spots to life NICE turned to McCann, who teamed up with Cosmo Street Editorial and creative studio Nice Shoes. Starring Emmy Award Winner Eugene Levy (co-creator and star of hit comedy series Schitt's Creek), the campaign promotes CXone as the only true next-gen cloud CX platform through a series of humorous ads.
VIEW THE HAMMER SPOT
VIEW THE NAVIGATION SPOT
VIEW THE VACUUM SPOT
VIEW THE BIRTHDAY SPOT
Abu Dhabi and UAE retail and leisure real estate developer, Miral, has tasked advertising media and music agency Truant London to create a visual feast of a campaign that promotes its new entertainment destination, Yas Bay Waterfront. Launched on 25 November 2021 across UAE digital, social, print and OOH, the central film applies a kaleidoscope to vibrant film snippets of the waterfront destination – from poolside to dancefloor – to create a carefully choreographed smorgasbord of bold and bright geometric scenes that burst with joy.
VIEW THE SPOT
Google Australia and 72andSunny, in collaboration with Essence and PHD, have launched a new campaign to introduce Australia to the first-ever all-Google Pixel phones: the Pixel 6 and Pixel 6 Pro. The core insight directing the campaign is that everyone is unique and multifaceted; understanding and responding to these nuances is at the heart of the Pixel 6 design. Powered by Google Tensor, a mobile system on a chip, Pixel 6 delivers an entirely new smartphone experience. From the camera with features like Magic Eraser, to Android 12 and Material You, your phone can now really be your phone.
VIEW THE FIRST SPOT
VIEW THE SECOND SPOT
For World Children's Day on Saturday November 20th, Media.Monks partnered with UNICEF's youngest Goodwill Ambassador, Millie Bobby Brown on a video that flips the script – encouraging adults to listen to children for a change. "We've listened to adults, but now it's time for them to listen to us," Millie Bobby Brown comments in the video. "It's time to remind them that big changes can start small and that only together can we change the world.
VIEW THE SPOT
Research from timeTo has found that half (49%) of all people in advertising think sexual harassment will be more of an issue now that people are returning to offices, and sadly, many are facing the slow and phased return to office life with dread. One of the few good things to come out of the pandemic was the fact that instances of sexual harassment in our industry have reduced significantly. Whilst it is hoped attitudes have changed, timeTo fears that the significant factor in this reduction is simply down to a lack of opportunity to harass. To raise awareness of this shocking level of fear and trepidation but also urge business leaders to sign up for the vital timeTo sexual harassment training, Lucky Generals has created a hard-hitting and intensely emotional film - demonstrating through real-life experiences - that sexual harassment is likely to start happening in their businesses again and on their watch.
VIEW THE SPOT
A thought-provoking, new advert from charity Women's Aid highlighting how signs of coercive control can be hard to spot is being launched on 25 November - International Day for the Elimination of Violence against Women. Styled as a bright and brash TV quiz show called 'Spot The Abuse' being held before a cheering studio audience, it features three smiling female contestants - Jade from Bournemouth, Aisha from London and Kate from Hertfordshire - being asked questions about relationships by a gameshow host.
Agency: Engine Creative
VIEW THE SPOT
The Danish Environmental Protection Agency needed an informational campaign on chemicals in fashion and clothing production, for 16-22 years olds - an age group notoriously hard to reach. This lead to advertising agency MBA (Mediacom Beyond Advertising) coming up with the idea of launching a special kind of t-shirt collection with the two Danish illustrators Anna Degnbol and Klara Graah.
VIEW THE SPOT
children fighting against the embodiment of all evil (conflicts, climate change...).
VIEW THE SPOT
Diet is not a punishment anymore! Set what you like from the food and enjoy a customized made diet upon your preferences, lifestyle, and your medical history. with our Online Diet Camp!
Agency: Big Teddy
VIEW THE FIRST AD
VIEW THE SECOND AD
VIEW THE THIRD AD
SOVA is the number one marketplace for quality beds in Sweden. To promote their Black Week prices the headline created an ambiguous message about both the brand and the week it was published.
Agency: Garbergs
VIEW THE AD
In honor of the International Day for the Elimination of Violence against Women (25.11) and to raise awareness among Israelis everywhere to domestic abuse, we collected 6 testimonial stories written by women staying at the "Bat Melech" shelter for abused women. We turned those testimonial into E-books and published them on israel's leading online E-book platform and app "E-vrit" and put them up for sale.
Agency: Publicis Gilkman Netler Samsonov Israel
VIEW THE AD
« First « Previous
Next »
Last »
1 of 9
Gold
sponsors
Silver
sponsors
Search
blog
Members
Past guest
reviewers
Latest
news
Blog
categories
Blog
archives
RSS
feed

Visit Campaign Brief for Australian creative
advertising news