From visionary director Giorgio Bruni comes fashion giant Adidas's new pro-recycling campaign. Aptly titled "Infinite Play", the 80-second spot revolves around the message 'pass it on', encouraging consumers to give away their Adidas clothes rather than bin them. Packed with action, diversity and pace, the provocative commercial couldn't come at a better time, fashion waste is predicted to cost the UK economy 4.48bn pounds per year by 2030. Edited by Marshall Street Editors' Govert Janse - the man behind campaigns for brands such as Nike, Uber and Jaguar, as well as a plethora of other Adidas jobs - this one will surely leave you entertained. Come for the film, stay for the message.
VIEW THE SPOT
There is enough food in the world to feed everyone, yet 1 in 9 people go to bed hungry every night. ​At the same time, one-third of all the food we produce goes to waste. We must stop this! Join the World Food Programme and #StopTheWaste.
VIEW THE CONCEPT
New creative by Havas Lynx Group is helping raise awareness and provoke discussion on a rare proximal muscle disease that could affect up to 5000 people across Europe. The healthcare communications agency was appointed by Sanofi Genzyme to come up with a thought-provoking campaign that would highlight Pompe and its symptoms, whilst also providing the tools and information to achieve earlier diagnosis for what is predicted to affect 3500 'missing patients'.
VIEW THE FIRST AD
VIEW THE SECOND AD
VIEW THE THIRD AD
Volkswagen has kicked off its Europe-wide campaign for the T-Cross with a dynamic collaboration with supermodel and actress Cara Delevingne. The spot showcases the T-Cross' adaptability by showing Cara in a range of characters and scenarios as she travels across the city.
VIEW THE SPOT
Foot Locker Europe launched new #sneakersfansdontwait campaign with its agency BBDO Paris
VIEW THE BOAT SPOT
VIEW THE CRUSH SPOT
VIEW THE FOOT SPOT
A visual hyperbole from Miami Ad School of the result of viewing Samsung's latest wide screen TV.
VIEW THE FIRST AD
VIEW THE SECOND AD
VIEW THE THIRD AD
Showcase how automatic braking can stop disasters we don't foresee, using conversation from everyday life. Work from Miami Ad School Europe
VIEW THE PREGNANT AD
VIEW THE FAT AD
VIEW THE EXERCISE AD
Visa Europe will launch its latest communications campaign by Saatchi & Saatchi London in 19 European countries from the 1stJune, with focus markets including the UK, France, Poland, Spain, Italy and Germany.
VIEW THE SPOT
The all-new Nissan Almera. The super "Innovation That Excites" from TBWAG1 and TBWAMoscow, directed by the Salto Brothers of BRW USA
VIEW THE SPOT
Wonder World Fur made from 100% imaginary animals, show the imaginary origins of the garments they've made as part of their fashion line.
VIEW THE BAMBOSEAL SPOT
VIEW THE DOLYPHAN SPOT
'Urban Thrill Rides' reinvents daily urban journeys into a new extreme sports experience, while targeting a younger male audience. The campaign includes TV, print, outdoor and will be supported in retail and digital, and will run in more than 20 European countries starting in April.
VIEW THE SPOT
VIEW THE PRINT AD
VIEW THE PRINT AD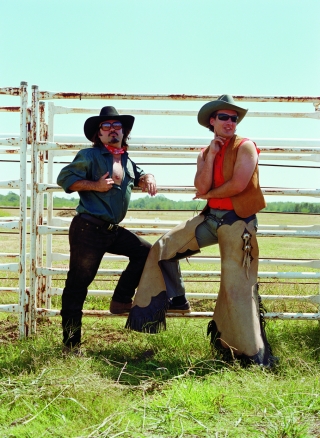 This week's guest judges are Matt Smith and Derek Green, who are based out of both the Saatchi & Saatchi Paris and Geneva offices. They are joint-regional Creative Directors for Central Eastern Europe, Middle East and Africa on P&G. They roam this region meeting weird and wonderful people while trying to beat what the Saatchi NY office achieved last year at Cannes.
BEST TV
Like our photo, The
Ode to Axe
had the best intentions of being funny and macho but turned out to be quite frankly, gay. So our thumbs up must go to the
Carling
commercial. Nice insight. Great use of beards.
BEST PRINT
We have to reach for the abstain button on this one, as it's our team that produced the
Head & Shoulders
1961 campaign. So we can't say that it's the greatest H&S ad we have ever seen. Nor can we say that Nick, Jorg, Daniela and Arturo are all legends. So coming in 2nd place, sorry 1st, is the Wall Campaign for the
Audio Products Group
.
BEST OUTDOOR
When it comes to outdoor we thought the
Bayantel DSL
'Problem Downloading' billboard was a good use of the medium but for us the real standout was the
Mitsubishi
campaign from Brazil. It's a beautifully crafted campaign and should do well during the festival season.
A beautifully produced series of print ads for the Volvo XC 90 via Fuel, Portugal.
VIEW THE CAMPAIGN
"The All Blacks' Haka has often been misunderstood and for this year's World Cup we felt it was time to explain its true meaning," says Sean Thompson, Creative Director 180 Amsterdam, "The Haka, performed at the start of every game, is a ritualistic performance, which summons up the spirits of the ancestors to help the team climb step by step to the sun and glory. Summing up the Impossible is Nothing campaign, the film delves deeply into the Maori traditions using genuine Maori artists to help the team tell their story. We hope that by explaining its true meaning, other nations will show the Haka the respect it deserves."
VIEW THE SPOT
This ad encourages people to be more tolerant and open with Holebi's at work.
Link
------------------------------------
Click here to view this ad
Brought to you by Nature
Link
------------------------------------
Click here to view this ad
Superior cycling wear, even in the most puishing conditions.
Link
------------------------------------
Click here to view this ad
As from now, saddle pain is a choice.
Link
------------------------------------
Click here to view this ad
Lamp ... or vase?
Link
------------------------------------
Click here to view this ad
Great work from German agency Nordpol + Hamburg. Did very well at Cannes, so now that it's turned up at bestads (at last!) we can finally put it online.
Link
------------------------------------
Click here to view this spot
Description
------------------------------------
Andrew Howe, a long jumper and hard-rock drummer, runs to the beat of his own drums.... FAST!
Link
------------------------------------
Click here to view this spot
As the logo states, heart is the symbol of the whole campaign. The meaning is clear: "design has a heart too" (…and it beats for the research). Then a simple thought that came with a question: what represent design better than a line?
Link
------------------------------------
Click here to view this ad
A few words from Sascha Hanke, CD Jung von Matt:
The Hamburg production company "Sehsucht", famed for its extraordinary and innovative visual creations, was a key player in the film's execution. The collaboration resulted in the development of an entirely new filmmaking approach: actual artificial blood was filmed in enormous water tanks and combined with digital graphics.
The music is the work of Fazil Say, a Turkish artist exclusively contracted to the Dortmund Concert Hall. The piano virtuoso was recently hailed in the French press as one of the greatest musical talents of the twenty-first century (Le Figaro).
Check also our film for the previous concert-season 2006/2007: http://www.typofonie.de/
Link
------------------------------------
Click here to view this spot
Sensodyne, protects
Link
------------------------------------
Click here to view this ad
A series of ads that promote the begining of a new football season on Kanal D, the TV channel that always broadcasts the most disputed matches.
Link
------------------------------------
Click here to view this ad
One of three new spots for Old Spice - from W+K Amsterdam.
Description
------------------------------------
Old Spice is the name sponsor of a unique endurance event in Africa, an expedition from Cape Town to Alexandria by various athletic activities such as hiking, running, trekking, mountain biking and canoeing. The event takes place from March to August 2007 over 150 days and stretching 11.340 km. The aim of this sponsorship is to replace the 'Fresh' product series with the launch of a new series of Old Spice products under the name 'Kilimanjaro'.
Click here to view this spot
Guest comments from Poppe van Pelt, Founding Creative Partner of independent Amsterdam-based ad agency SELMORE:
For the viral campaign we were looking for a shooting location that oozed depression and really underlined the concept of the campaign that NationalJobBank.nl can rescue people from their dead-end jobs. We wanted this former Eastern European style of a gloomy office look and feel. And guess what? Instead of having to travel to Kiev or Albania, we found the perfect location in our own country. In this sad business park in Wormerveer, The Netherlands. Goes to show that boring office environments are a universal phenomenon that is not limited to a particular country or region. As the icing on the cake we found Polish director Miron Bilsky, whose interpretation best fitted with what we had in mind, while his totalitarian working approach got us 47 (!) shots in one day!
But the crucial element that really got this viral campaign going was the fact that you could send it to friends and colleagues with a personalized company name in a neon sign on top of the building in the opening shot; without any Eastern European censorship, by the way - so people could send funny or silly company names to each other, again underlining the fact that they needed to switch jobs."
Go to the best TV page or Click here to view this spot
... and the other spots are equally good!
Click here to view Help is on the way
Click here to view Office plant
Stichting LaLuz recruits young professionals for ideal organizations. Their knowledge and experience can help ideal organizations and the good causes they fight for. The campaign aims at specific groups of professionals: computer experts, pr-specialists, lawyers and financial experts.
Link
------------------------------------
Click here to view this ad
Description
------------------------------------
Use the train, save energy....Yes, Heroes really was the track used!
Click here to view this spot
Description
------------------------------------
OLW know that to make the best crisps you need the best potatoes. Wherever they are, wherever they hide, the Potato hunters will stop at nothing to find the finest potatoes on the planet.
Click here to view this spot
Click here to view this spot
Description
------------------------------------
Amazing all you can do today.
Click here to view this spot
Description
------------------------------------
Paula Radcliffe returns from her first hiatus from running, with a slightly new outlook on the sport.
Click here to view this spot
Description
------------------------------------
Wieden+Kennedy Amsterdam has made the five-minute long animated New World of Coca-Cola documentary.
W+K Amsterdam came up with the idea of taking the visitors into a behind-the-scenes animated 'documentary' about the Happiness Factory, where a film crew interviews the workers going about their business. For this film, real people working at Coca-Cola were interviewed and their responses placed in the mouth of the animated characters of the Happiness Factory.
The World of Coca-Cola is the number 1 indoor attraction in Atlanta and the number 2 corporate attraction in the world. Opened in 1990, World of Coca-Cola has averaged around 800,000 visitors per year since its conception. Aiming at going one step further and keeping up with the new generation of corporate attractions, the New World of Coca-Cola opened to visitors in April 2007. For this launch, Coke asked W+K Amsterdam to develop an opening film that would encapsulate the essence of the Coca-Cola Company and the Coke Side of Life: the New World of Coca-Cola documentary
Click here to view this spot
A few words from Sam Stewart, Strategy Director at John Doe:
It was a very interesting and adventurous film to make. Because we flew around the world to make the rocket cross every continent, and we also worked with Tom and George in their self-made rocket. They are energetic, they want to fulfil their dream and change direction in their lives.
and from Hein Mevissen, Director:
Next time we'll build a house on the moon.
Go to the best TV page or Click here to view this spot
Creative Commentary
------------------------------------
...Until one day, when I found this place, where I can be whoever I want.
Click here to view this spot
Description
------------------------------------
Red martians on a yellow sky. New Nacho Gayán's advert for Golf shows how weird the world can be.
Creative Commentary
------------------------------------
The DDB agency uses daltonism as an excuse to communicate a concept full of emotion. More than to rely on other people's opinion, the most important thing is how we choose to look around us.
The photography of the spot produced by Agosto uses bizarre color shifts to insert us in a strange universe of green blood, red martians and blue sunflowers. Everyday objects take this way a new aspect and we realize that even the most evident things can become relative.
Director Nacho Gayán uses surrealistic and conceptual humor to celebrate the triumph of passionate will against perception.
Click here to view this spot
Description
------------------------------------
Portrait of an obsession. Hugo Menduiña signs this advert for Mercedes where obsession disguises itself as paranoia.
Creative Commentary
------------------------------------
A black car chasing the protagonist and alarming encounters in a parking create an atmosphere full of distress and paranoia. Only at the end the voice in off from an unknown character allows us to solve the puzzle...
and no, this time the butler is not guilty.
The production company Agosto presents us a thrilling story with an amazing plot twist... Who's chasing who?
Click here to view this spot
Marcel Republique, France, have sent in loads of good work recently. Here's a sample:
Click here to view France 24 - Little Boy
Click here to view France 24 -Little Girl
Click here to view Fish
Click here to view Kid's Drawing
New Citroen work from Scher Lafarge & Same Production.
Click here to view this spot
Description
------------------------------------
New megane GT turns road hazards into something enjoyable.
Creative Commentary
------------------------------------
Great acting from RICHARD CLAYDERMAN
Click here to view this spot
« First « Previous
Next »
Last »
1 of 10
Gold
sponsors
Silver
sponsors
Search
blog
Members
Past guest
reviewers
Latest
news
Blog
categories
Blog
archives
RSS
feed

Visit Campaign Brief for Australian creative
advertising news