BEST TV
Choosing a winner from this week's TV category was easy. My vote goes to Rainforest Alliance's
Follow the Frog
. Although the style is familiar, the script is hilarious and the direction is tight. Any good film should be watchable many times over and the gags in this one keep it fresh. A disillusioned conservationist accidentally starting a forest fire and wiping out an entire species is priceless. Web films are usually long and dull but I wish I had this one on my reel.
Tied for the second spot are
Heineken
and
Midttrafik
. The former is a good part two to what was done last year and the latter puts a smile on your face. All in all, a nice collection this week.
BEST PRINT
The winner in Press goes to
Bubble Wrap
. A simple idea, neatly executed. Kudos to the art director and photographer for not over cooking it. The rest of the work is quite ordinary. But if I have to pick a runner-up it's
Volkswagen
- at least it stands out by being funny.
BEST OUTDOOR
Casa do Zezinho
is a worthy winner in the Outdoor category. Let's face it, it's tough getting people to part with their money these days, even if it's for a worthy cause. This idea makes you feel guilty, but in the right way. No pictures of starving children but a disarming plea that cuts through. What's perfect is how easy they made it for someone to actually contribute without having to scan codes and fill in forms online. Well done team!
The runner-up goes to
Harley Davidson
for its art direction and the fact that I have a weakness for Harleys.
BEST INTERACTIVE
Judging Interactive is probably the hardest thing to do these days. There's just so much out there that's great. But since I'm judging based on how interactive the idea is, the winner this week is
Sony Xperia
for turning Tweets into songs. It's easy to experience and it's a bit of silly fun, which means it will get passed around.
My pick for second best is
Heineken Passport
. A strong idea with a lot of viral potential. I wish they had shown me more of how this dude got from Mongolia to Shanghai dishing out beer. It's a bit too abrupt at the moment.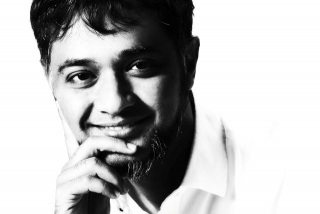 This week's guest judge is Ali Shabaz, chief creative officer at Grey Group, Singapore, Thailand and Indonesia.
As chief creative officer for Grey Group, Shabaz is the creative force behind numerous award winning campaigns across Asia. He has extensive regional experience, having worked in India and the Middle East over the last seventeen years for various big brands. These include Pizza Hut, Visa, KFC, FedEx and ICI Paints. His work on these brands has earned him accolades at world-renowned creative awards such as Cannes Lions, D&AD, One Show and Clio as well as recognition at all Asian award shows from Adfest to Spikes. His campaign for Pizza Hut was the eighth most awarded print campaign in the world according to the Gunn Report. Under Ali's leadership, Grey Singapore has won eight awards in 2011 alone and earned itself a spot in the top five of Campaign Brief Asia's national creative rankings.
Prior to joining Grey Group in 2009, Ali was executive creative director at JWT Singapore. During his six-year tenure there, JWT emerged as the third most awarded office within the WPP network and the most awarded JWT office in the world in 2002. Thereafter, the company was named the sixth most creative agency in Asia in 2008. At an earlier stint at BBDO Singapore, Ali's creative directorship was instrumental in placing the company as the second most creative agency in Asia.
Ali has been recognized as one of the top 10 most creative people in Asia by Campaign Brief for two consecutive years. He has also been awarded the title of 'Advertising Professional of the Year' by Institute of Advertising Singapore (IAS) in 2006 and named as one of 'The Most Influential Creative Directors' in Singapore by IAS since 2007.
Ali regularly lectures at the IAS and the Award School. He also contributes his views on creativity and advertising in the industry's leading publications. Ali's two most favorite pastimes however are named Iman and Zayd, aged 6 and 3 respectively.