BEST TV
Usually around this time of the year, agencies pull out the big guns on the film front. It is 'Cannes Season' after all. But to be perfectly honest, the standard here overall isn't fantastic, but there's one jewel here that will no doubt fight it out with Canal+ 'The Bear' for the Film Grand Prix.
That is
The Guardian 'Three Little pigs'
spot. It's I-wish-I-had-done-that-bloody-amazing. I could go on about it forever, but I won't. The idea, the craft, the twists in the proverbial tail and the use of television to talk about social media are all genius. Best Ad judges don't always have the opportunity to judge something so good. Lucky me.
My runner up is the
BGH Air-conditioner
spot. In fact out of everything this week it comes runner-up. It's a lovely observation and super-cringe-worthy. I know a Dad who paraded around like this once in front of his children's friends. Thankfully no one got hurt, embarrassed but not hurt.
BEST PRINT
On the print front,
Spit 'Gorilla'
, despite its seemingly small potential audience, gets my vote. Sure it seems kind of scammy, but it is simple, direct and visually arresting. There, I found something good to say. But no runner up here I'm afraid.
BEST OUTDOOR
Hmmm....
BEST INTERACTIVE
Back indoors and on to interactive. For me it's
Dunkin Donuts Angus Steak And Egg Sandwich 'Resume Maker'
. God it's stupid, but it's bloody funny. And blokes will love it. I'm not quite sure what a steak and egg sandwich has to do with being the boss, but I've seen more tenuous leaps from brief to execution win awards. It gets my vote for almost the music alone.
The runner-up? The
Metlife 'Schroeder's Piano Banner'
is great. It's fun, interactive, grown-up and informative, even though I had to research what Metlife did to completely understand.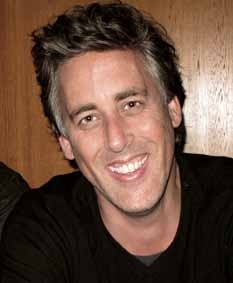 This week's guest judge is Grant Rutherford, executive creative director at DDB Melbourne.
Grant graduated from the much-lauded Swinburne Institute of Technology in 1989 with a Degree in Graphic Design.
He spent his first few years 'designing' ads until a mentor beat the practice out of him.
His twenty-plus-year career has seen him work across many creative Australian agencies including Y&R, George Patterson Y&R and most recently, Clemenger BBDO.
He joined DDB Group Melbourne in 2008 as Executive Creative Director.
Grant's work has been acknowledged with over 150 international and national awards, including 7 Cannes Lions, Golds at One Show, New York Festivals, Clio, London Internationals, Mobius, AdFest, AXIS and AWARD and Silver nominations at D&AD.
His work includes Carlton Draught's 'Made from Beer' campaign including 'Big Ad', which has been one of the most awarded campaigns in Australian advertising history, narrowly missing out on the Grand Prix in Cannes in 2006.
More important to Grant than individual awards, his work has been included in the permanent collection at the MoMA in New York and the Powerhouse Museum in Sydney.
Currently he is on the DDB regional and world-wide creative councils, a founding board member of the newly established blood cancer organization, The Snowdome Foundation and until recently a board member of The Communications Council.