BEST TV
My selection goes to BETC for
Lacoste
. Truly, a beautiful film... As I'm ECD for
Monoprix
, I obviously can't vote for it, but I do like the Lacoste film, it's very strong. It summarizes everything we love, is an emotionally powerful story, with spectacular special effects and an epic soundtrack. Perfect in every way. Hurray!
BEST PRINT
My selection goes to
MYBACIN
, a visual with a quirky and distinct way of showing the way bacteria travels. It's in the purest tradition of Thai ads, a little strange. They dare to create images that others don't. Sometimes it works, sometimes it doesn't, but here it's successful. Runner-up:
Condor
.
BEST OUTDOOR
My selection goes to
Paddy Power
. It's smart to play off a social matter in an ad campaign. It's funny, and cleverly executed. I can only imagine what a good laugh rugby fans had when they saw the posters. A beautiful, popular campaign that everyone can see, that feels nice! Runner-up:
Tyrolit
.
BEST INTERACTIVE
Winner:
Samsung's Back 2 Life
. It seems that we're using virtual more and more to interact with the real world, it's a transformation of basic uses. Here, we use a video game to learn how to save lives. It touches a population that doesn't really look at other media, a very clever approach. Of course, it's a bit contradictory to use a fighting game as we should be teaching people not to use violence to solve problems. Runner-up:
Lacoste
.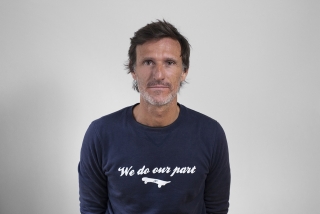 This week's guest judge is Gilles Fichteberg, co-founder and chief creative officer at Rosapark, Paris.
Former vice-president in charge of creation at BBDO Paris, Fichteberg was voted the 5th most awarded creative director in the world by the Gunn Report in 2009.
Gilles Fichteberg started his career with Jean-Francois Sacco at Saatchi & Saatchi in 1995. In 2002, they joined Young & Rubicam and one year later they joined CLM/BBDO as creative directors where they spent 8 years working on international accounts such as Pepsi (worldwide, outside US), HP Printers, Mars, Mercedes... Together, they brought in a host of well-known brands such as Tag-Heuer worldwide, EDF International (voted best French TV campaign in 2012). Their campaigns for Alka Seltzer, Mars, and HP Printers, among others, have received a multitude of awards over the years (Cannes Lions, D&AD, Clios, Eurobest, Epica among many).
In 2012, Gilles created Rosapark, part of the Havas Group, with Jean-Francois Sacco and Jean-Patrick Chiquiar. Today the agency employs over 100 people and works with more than 20 clients.
Rosapark won a lot of awards since its creation, and more recently he has won a Gold Lion for Monoprix in the Entertainment category in Cannes 2017.