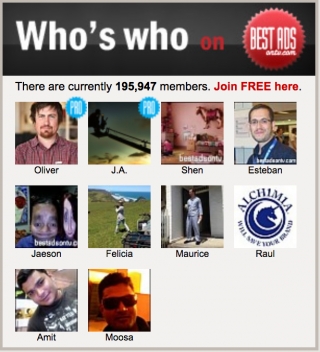 Bestads PRO Membership is only US$30 per year:
* Membership lets you access ARCHIVE videos, otherwise they are unavailable
* Membership lets you download any video or image file (instead of paying US$5 per spot - so if you do 6 or more downloads a year, it makes sense to go BestadsPRO)
More reasons to become a BestAds PRO member:
* Full access to all of the bestads archives - going back to 2003.
* Full access to the complete bestads Rankings (by Agency, Country, Creative Director, Creative, Director, Production Company etc) - going back to 2003.
* Your own expanded Your Space page with an extra 500meg of space to upload your best work and CV, with optional links to your Facebook and Twitter pages.
* Full access to the bestads Members Directory - you can now view the pages of Bestads members throughout the world, and contact them directly via their email address. Great for contacting long lost colleagues!
* Be a part of the global creative advertising community.
BECOME A BESTADS PRO MEMBER