BEST TV
Winner: Apple '
The Whole Working From Home Thing
'. Great work usually reaches you long before you're asked to weigh in on it. What a delight this Apple ad is. Some of my favourite ad characters from recent times hawking some of my favourite products. The panicky but passionate old man, the pushy but likeable project manager, the goofy but generous designer. It's a product video wrapped in an informercial wrapped in a commercial wrapped in a slice of my life. Everything about the ad, like it's prequel The Underdogs, from casting to comic timing, is perfect. Thank you, Apple.
Runner-up: The Royal Navy '
The Most Secret job in the World
'. This is a distant runner up. But if I put myself in the shoes of a 20-something year old, I can just about hear that now-distant call of adventure. I did the think the brief was a bit too obvious, but then I'm just a cantankerous old ad guy.
BEST PRINT
Winner: ClaroVideo '
Terminator Interrupted
'. Ads interrupting movies is annoying. Brand names interrupting well-known movie quotes is hilarious. ClaroVideo, take my money.
Runner-up: Samsung QLED TV '
Horror
'. Take a real problem like the lights in your house ruining your enjoyment of TV programmes. Draw attention to it with exaggeration and humour. This campaign makes the point. And hopefully, sales too.
BEST OUTDOOR
Winner: McDonald's '
Happy Meal Senior
'. I couldn't find a winner here. Most of the work treads very well-trodden territory. But a runner up would be McDonald's Happy Meal Senior. My head says it's trite, the heart says it's sweet. Grandparents and grandkids are sappy, so it sort of works. But when contrasted with Burger King's brash output lately, the work seems to shuffle around somewhat absent-mindedly in its PJs.
BEST INTERACTIVE
Winner: PornHub '
Big Package for Small Businesses
'. PornHub, what's not to love! Apart from their quality content, they were one of the first brands to lend a hand during Covid-19. And they're now helping stimulate small businesses by offering them ad space on their site.
Runner-up: Belgian Music Fund '
Songs Without Music
'. No musicians, no music industry. No music, no songs. Simple, powerful work that strips the music out of popular songs to create awareness for out of work musicians during Covid-19. It does look like something made for awards, but I do hope I'm wrong.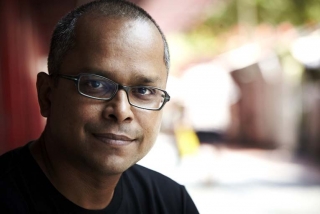 This week's guest judge is Joji Jacob, the co-founder of independent agency BLKJ. The three-year old agency counts StarHub, Scoot, Great Eastern, the Economic Development Board of Singapore, and the Ministry of Communications and Information amongst its 19 clients. The 80-strong agency was declared Creative Agency of the Year at both the Singapore Creative Circle Awards and the Hall of Fame Awards in 2018.
Before founding BLKJ, Joji was the group executive creative director of DDB and oversaw an integrated creative department of 140 creative directors, copywriters, art directors, digital designers, and technologists. Under his watch, DDB Group Singapore became the most awarded Singaporean agency at almost every award show including Cannes. DDB Group was also Agency of the Year at the Marketing Awards, the Singapore Hall of Fame Awards and by Campaign Magazine.
Joji himself has been named Singapore's Most Influential Creative Director by the Institute of Advertising Singapore and South East Asia's Creative Person of the Year by Campaign two years in a row. He was the Chairman of Award School in 2012 and chaired the Singapore Creative Circle Awards in 2013. He was also the Cannes Jury President for Print and Publishing in 2016.