BEST TV
Winner: Ikea '
Silence the Critics
'. I loooved this super unusual Holiday spot! It was so unlike those touching stories will all the feels that comes out during this time of the year. This is funny and delightful to watch. The whole narrative was built around this music--so cool and unpredictable. The edit, animation and the lyrics were all brilliantly done. It was a "problem solution" format done in the most refreshing way.
Runner up: SaferkidsPH '
You have not seen any pictures, so you think the problem does not exist
'. This is a real problem in our country. What's so disturbing is the fact that the parents themselves sell their kids online. I liked the use of stuff toys to dramatize the sensitive visualization of online sexual abuse.
BEST PRINT
Winner: Unesco '
Keep Truth Alive
'. I liked the message. I've never thought of this truth regarding journalists before. How I wish the art direction was just a little better.
No runner up.
BEST OUTDOOR
Winner: Menulog/KFC '
Halloween Trick or Treat
'. Nothing big or elaborate. It's just pure fun.
Runner up: Adidas '
Infinite Play
'. It's not exactly outdoor. But with this, recycling has never been cooler.
BEST INTERACTIVE
Winner: Recording Academy '
Behind the Record - Thank You
'. The idea of thanking everyone, giving credit to the great people who have tirelessly helped in producing songs, records is amazing. The video may not show the "interactive" part of the campaign but reading through the description, brings the idea to life. Loved the fact that artists can create Credit Covers for a single or album, and all covers will live in a gallery on the site for music fans to view and discover the roles of the creative minds behind some of their favorite records.
Runner up: Santoor '
the beauty spot
'. The idea of using beauty influencers to promote voting to women is brilliant. However, the indelible ink on the finger should have been explained so it's relevance to the campaign is clearer to more people.
BEST RADIO
Winner: South Australian Police '
There's a lot riding on it
'. The insight of the spot is very powerful: Every time someone rides a motorcycle, it definitely affects not him, but everyone in his life. I liked how simple they've dramatized this.
Runner up: CD Dodd '
Scrap Metal Jingle - Growl in the Morning
'. Wakes you up. Better than caffeine.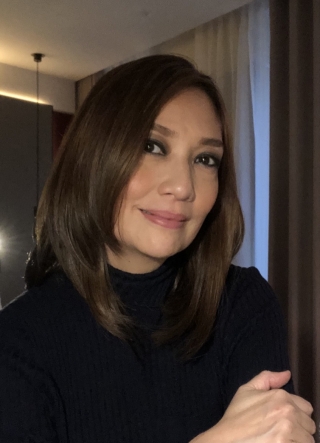 This week's guest judge is Merlee Cruz-Jayme, chairmom and chief creative officer at Dentsu Jayme Syfu in the Philippines.
The 2019 Drum Global Ranking announced the top 100 Chief Creative Officers in the world, and there were only 8 women in the list. One of them is Merlee Jayme.
Merlee is the first Filipino to be awarded: The Creative of the Year for Southeast Asia in the Campaign Asia Pacific Agency of the Year.
She is "chairmom" and chief creative officer of Dentsu Jayme Syfu and the only woman in the 20 top creative directors in ASIA as reported by Campaign brief Asia.
Under her leadership, Dentsu Jayme Syfu has already been named the 2016 Creative Agency of the Year Philippines by Campaign Asia and the inaugural Spikes Asia Country Agency of the Year 2017 and recently, The 4As Agency of the Year Best in Creative 2018.
Her works push Insights and innovation.  She has won major awards that include a Cannes Lion Grand Prix for Mobile, Grand CLIO, NYF Grand Awards, D&AD yellow and wood pencils and just last year, a Gold and Silver Lion, a gold CLIO, LIAA and Effies for Green Peace "Dead Whale". Aside from awards, 2018 has been good for business. She led her agency to win key accounts: The total sparkling portfolio of Coca-Cola, Nestle, Shell fuels and Wyeth.
Merlee is a sought-after international speaker and an opinion leader when it comes to topics close to her heart: From Working Mothers to Harnessing Creativity. Last year, she gave a talk about "Meeting the Momillennials" in Tokyo for Adweek Asia 2018 and has also mentored clients at the Young Marketers Academy in Cannes.
A seasoned judge in award shows, her jury duties this year include the Cannes Glass Lion, Clio Print and OOH (Jury Head), and the LIAA.
She is CEO of MamaLab- a network of moms from Singapore, Thailand, Taiwan, Indonesia and Japan, to create great ideas that truly understand moms.
One of CNN's Leading Women, she initiated the #sistergood project in the office to inspire women leadership.
A creative at heart, she wrote and illustrated an inspiring handbook to discover everybody's creative side "Everyone Can Be Creative".
Merlee is also a mom to 4 beautiful girls, and an inspiration in breaking the glass ceiling in this mad men's world.