BEST TV
Winner: iPhone 11 Pro '
Snowbrawl
'. I love the way Apple is starting to introduce a bit more humanity and soul into its advertising whilst at the same time never straying away from what it does best: placing the product and what the product can do at the heart of the story. Some might say it looks easy but trust me nothing is as hard to pull off as simple.
Runner-up: McDonald's '
The Gift
'. Choosing a winner was easy. Choosing a runner-up was not. This was the best of the rest. A story as sickly sweet as a McDonald's milkshake with extra caramel. Still, sugar overdose aside it was nicely crafted if a little long.
BEST PRINT
Winner: Amnesty International '
Electric Slaves
'. I'll be honest none of these print ads are doing it for me. This one is the best of the bunch. It is, albeit somewhat crudely, at least trying to provoke me into action. Though what action I'm not entirely sure.
Runner-up: Delete Institute '
Digital Addiction
'. This photographic essay was doing the rounds a while back. Now it's found its way into some ads. It's a cool image and a timely reminder.
BEST OUTDOOR
Winner: Burger King '
Another Whopper on The Side of a Bus
'. We take our politics seriously in the UK. It can be a dangerous thing for a brand to try and exploit these moments for their own gain. It requires you to get the tone just right. Whopper does that. It makes me chuckle on the outside whilst at the same time silently weep on the inside. Because, I guess, it's true.
Runner-up: Portuguese League Against Cancer '
2 Out of the Game
'. There's a lot of these kind of stunts. Most, I fear, leave the audience confused or even worse bored. This one manages to be intriguing enough to make me actually notice and therefore actually give a shit.
BEST INTERACTIVE
Winner: St Jude's '
St Jude Hall of Heroes
'. I was fortunate to judge Film at this year's Cannes Lions. The quality in every category was amazing. Save for one: VR. That's understandable: it's a nascent medium that is discovering its own grammar and how to tell stories. St Jude's 'Hall of Heroes' is a piece of work that shows the way: it's inspirational and moving and informative.
Runner-up:
Harlan Coben
. I read a lot. A book a week. And the reason I love to do so is that I journey inside my head. I don't actually want or need anything else to enhance that experience. So, the idea of a soundtrack to a book repels me but I am also open to the idea that my way of reading is not everyone's way of reading. Also, if a new way attracts new people to books then Amen to that.
BEST RADIO
Winner: Carlton Dry '
It's The Most Wonderful Time For A Beer
'. If you're going to commit to a radio ad that is 2 and half minutes long it better be funny. This one is. Just.
Runner-up: Auckland Transport '
Bike Bike Bike
'. Can you really expect a radio ad to turn the sound of an indicator into an aide memoir for bikes? I hope so because it's smart and simple. And as a keen cyclist anything that can help keep me safe and seen is all good.
That's me done. Happy Xmas, all.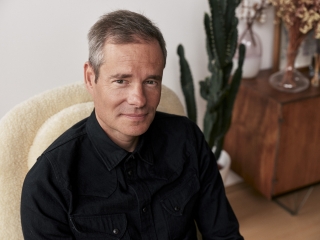 This week's guest judge is Alex Grieve, chief creative officer, AMV BBDO, London.
Alex Grieve started his career at Saatchi & Saatchi under Paul Arden, before leaving to join BBH where he remained for 14 years and created award winning work for Levi's, Audi, Barnardo's and British Airways to name a few.
After a year at digital agency Glue, he joined AMV BBDO in 2011.
He created award winning work for Guinness, Think! and Eurostar, as well as the Sainsbury's Christmas ad, "Mog".
He has won awards across all the major shows including multiple Cannes Gold's and multiple D&AD Yellow pencils.
In 2013 he was appointed as only the 4th generation of ECD in AMV's history.
Since then AMV has been Agency of the Year at D&AD (twice), British Arrows (twice), Creative Circle (four times), Big Awards (twice) and won multiple Lions at Cannes including back to back Glass Lions & Titanium Lions (2018 & 2019), being the 2nd most awarded agency in the World in 2018 and winning Cannes Lions UK AOTY & UK AOTY FOR GOOD in 2019.
In 2018 Alex was voted the Top Creative Director in the World and followed it up in 2019 by being voted the third best in the World.
In 2019 he was appointed as chief creative officer.