BEST TV
Winner: McDonald's '
Superhero
'. McDonald's does it again! This is one of those spots that hits it right, and straight to the heart. As a son, a dad and now as a grandfather, I can truly relate to this story. A great emotional connection with the brand. Well done!
Runner-up: The Laura Hyde Foundation '
The Feelings
'. A totally unexpected angle to the impact of mental health issues on NHS workers. To take such a difficult subject and make it into an animated musical film is really outstanding.
BEST PRINT
Winner: Relate '
Onion
'. Have to say that this idea really stood out from the rest. Here we have a great insight as inspiration to a very unique and relevant execution that goes beyond your typical print campaign. To bring the subject of sexual health in later life to a gardening centre and design the whole campaign around it's a very clever way to reach this target.
Runner-up: Guinness '
Surfboard
'. It's always refreshing to see how Guinness has been able to keep it's iconic pints alive forever! Living in one of the world's best surfing locations, this one brought a smile.
BEST OUTDOOR
Winner: Puma '
The UnLevel Playing Field
'. This one really makes a statement. It literally took the issue of the differences in financial contributions and incentives between men's and women's football in Brazil, and it brought it to life in an original way. A great outdoor execution.
Runner-up: March for our Lives '
Thoughts and Prayers
'. We've seen many ideas about gun control through the years. However, this execution stands out for speaking directly to law makers in their own "backyard" (the National Mall in Washington D.C.).
BEST INTERACTIVE
Winner: Raca Magazine '
#BlackCharacters
'. Brilliant! Best use of technology in Twitter so far. Just when you though you had seen everything in this platform, we're introduced to this concept. It's dynamic, effective and one of the best interactive executions for social media I've seen in a while.
Runner-up: Reporters Without Borders/Pressbyran '
People in Power, 1
'. A great use of Instagram to make a statement about free press. You'll never look at the Sensitive Content warning the same way again, ever. That's the greatness in this idea. Impressive.
BEST RADIO
Winner: Disney+ Hotstar '
Subtitle 1
'. There's no question about it. Subtitles have to be the most annoying thing when watching a film. This spot speaks my language.
Runner-up: Subway '
Fresh Prince
'. It seems that the Will Smith "incident" will never go away. It was entertaining to have him back in this spot. A "Fresh" approach indeed.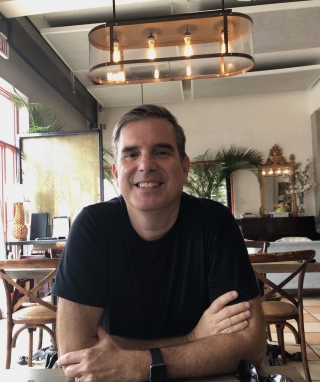 This week's guest judge is Ricky Soler-Armstrong, partner/chief creative officer at OneightyFCB, Puerto Rico.
Ricky started his career in Puerto Rico as a copywriter at JWT in Puerto Rico. He then continued his upward move as associate creative director at Young & Rubicam. When Y&R established new offices in Miami, Ricky was named VP/creative director making the agency one of the most awarded in the network. A few years later he was named ECD at Zubi Advertising in Miami, one of the largest Hispanic agencies in the U.S., working with Ford Motor Company, American Airlines and SC Johnson. In his first year, he won the first ever CLIO for the agency, among many other international awards. That year he was named by Advertising Age as one of the top 5 creative directors in the U.S Hispanic Market.
After 7 years in the U.S. market, Ricky returned home to Puerto Rico as VP, executive creative director at FCB. During this time, Ricky was the driving force behind successful campaigns for MillerCoors, Kraft, Mondelez, Coca-Cola, Honda and Sprint, among others.
In 2014, Ricky in partnership with the ECD of BBDO Puerto Rico, founded his own agency, Oneighty Agency. Two years later FCB approached them to make an alliance in Puerto Rico, becoming OneightyFCB and working with the FCB Global network.
Last year, they opened CientOchenta, a new independent multicultural agency in the U.S.
During his career, Ricky's work has won top honors at prestigious international award shows such as Clio, New York Festival, FIAP, the One Show and Cannes Lions.
He has been married to his first art director for 34 years, has two incredible daughters, one working as a digital creative in a local agency and the other as a client for a major agency in the U.S., and two amazing granddaughters. Yes, a true advertising family!