Strange Beast is delighted to announce that PepperMelon, the Argentinian directing collective has been signed for representation in Europe and North America with immediate effect. PepperMelon was formerly represented by Stink.
READ MORE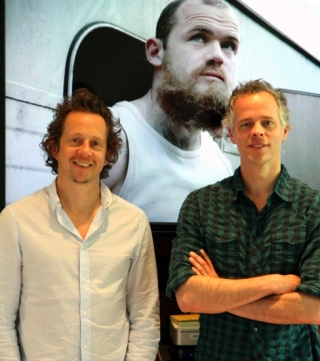 Exclusive - Bestads can reveal that Wieden + Kennedy Amsterdam creative directors Eric Quennoy (left) and Mark Bernath (right) have been elevated to the joint ECD gig following the departure of ECD Jeff Kling, who is leaving to pursue other opportunities.
Quennoy has been at W+K Amsterdam since April 2006 after working in New York for 8 years, his last post working with David Droga at Publicis, where his work was recognized at Cannes, Clio, and D&AD.
READ MORE
Gabrielle Lott, former PR manager of JWT, New York and editor of The Reel joins the team at HLA as their new director's rep. Gabrielle will represent all of HLA's directors; Simon Ratigan, John Hardwick, Danny Cohen, Simon Taylor and Kjetil Njoten within the UK and Europe, she will also be responsible for all PR for the company and its roster.
Says Gabrielle: "During my time at The Reel, I came across of lot of great directors, some very gifted people... HLA's roster is incredible. The directors here are some of the most talented in the world, to represent them is exciting and hugely inspiring and HLA is renowned for the work that they create, I couldn't turn this opportunity down."
Gabrielle has recently returned from 18 months in New York where she worked as PR manager at JWT and head of PR at StrawberryFrog. Prior to her jump across the pond, Gabrielle acted as marketing manager for the animation house The Ebeling Group and helped to open their European office.
Mainly known within the UK market as the editor of The Reel, Gabrielle relaunched the magazine in 2005 and oversaw editorship for the next two years. In 2004, Gabrielle helped to launch Contagious Magazine with editor Paul Kemp Robertson.
Says HLA's managing director and executive producer Mike Wells: "It's great to have Gabrielle on the team. She brings an enormous amount of experience and an understanding of the agency world, which will be invaluable to us. Her enthusiasm and energy make her an immediate fit."
Gabrielle begins her role this week and can be contacted on 0207 299 1000 or gabrielle@hla.net
Leo Burnett Dubai has released a campaign for All Bran that demonstrates that you have better things to do...
VIEW THE FIRST AD
VIEW THE SECOND AD
I made a video and posted it on YouTube, in it I asked random strangers from all over the world to appeal to my bosses to give me a raise. They responded. I have had 28 responses to in less than 48 hours. To view the video and the responses click on this link:
http://www.youtube.com/watch?v=10ZQmOgjVRE
To view all 28 responses to my plea click on the following link: http://www.youtube.com/video_response_view_all?v=10ZQmOgjVRE
Wieden+Kennedy Amsterdam Hires Interactive Hotshot
02 November 2006, Amsterdam - Wieden+Kennedy Amsterdam has hired celebrated interactive hotshot Joakim Borgström to the new position of Interactive Creative Director, with effect from 06 November.
Joakim Borgström leaves his role of Partner at Barcelona's interactive agency Double You, where he began as the first employee ten years ago. During this time the Swedish-Argentinian creative has developed award-winning interactive campaigns for global clients, including Diesel, Audi, Heineken, Mitsubishi, Nike, SEAT, Diageo, Electrolux and Coca-Cola.
Wieden+Kennedy Amsterdam's executive creative director, Al Moseley, says: "Joakim's stellar reputation in interactive creativity preceeds him. This is a significant hire and a bit of a coup for us – everyone wants a piece of him, he's a superstar. You don't get the opportunity to hire specialists of this calibre often."
Co-executive creative director, John Norman, continues: "We're stoked that he's joining the team. Joakim's outstanding expertise will have substantial influence on our integrated work for clients across the board."
Borgström says of his move to Wieden+Kennedy Amsterdam: "Double You produces outstanding work but after ten great years it's time to move on. I'm excited about combining interactive alongside all forms of communication and working with creative concepts from the beginning. The challenge is to integrate this thinking through a client's whole business. At Wieden+Kennedy Amsterdam I'm going to be helping clients think truly 360 and that's something I want to be part of."
Swedish-Argentinian by birth, Borgström fits right into W+K Amsterdam's cultural mix of 24 nationalities in a creative agency of 140 people.
We've had a few self promo things turn up at bestads. Lte's have a look:1. Director DAVID JAGODA has set up his own shop.
Click here to view this spot
2. Ideas Woman Olivia Pierson
Click here to view this ad
3. "Blank"
Click here to view this ad
Eight Partnership takes on Patrick Tom, Executive Creative Director and Adeline Chu, Director of Client Services
Hong Kong, September 18, 2006
Eight Partnership recently beefed up its senior team with two strong additions, Patrick Tom as Executive Creative Director and Adeline Chu as Director of Client Services. Together, they bring with them decades of industry experience, unparalleled savvy and a fresh, positive and energetic outlook.
Patrick brings with him over 16 years of creative experience in the United States and Asia. Most recently, Patrick served as Creative Director partnered with ECD Shaun Branagan at Publicis Worldwide and Saatchi & Saatchi Hong Kong. Patrick has held senior creative posts at agencies Bozell Worldwide and FCB Worldwide in the U.S., before moving to Hong Kong and joining agencies such as FCB Worldwide and McCann-Erickson Worldwide. He has picked up awards from One Show, Media Spikes, New York Festivals and HK4A's. He has created and overseen groundbreaking creative work for a multitude of clients small and large, from the United Nations World Food Programme to the Animals Asia Foundation, Coca-Cola to Tempo tissues.
Prior to her appointment at Eight, Adeline accumulated over 16 years of marketing and advertising experience in Hong Kong and Canada. She has managed marketing for the Hong Kong Tourism Board and The Peninsula Hotel, where she set up the Marketing Services department, and has also worked with agencies Grey, BBDO and Euro RSCG.
Ryan Lietaer Leaves JWT London to Head Up Coca-Cola Global Team for Wieden+Kennedy/Amsterdam

Wieden+Kennedy/Amsterdam has appointed Ryan Lietaer as Group Account Director for the Coca-Cola Global account. He joins the agency after a ten year stint with JWT in Toronto, New York and most recently, London.

At JWT New York, Canadian-born Lietaer was Global Account Director on Diageo's Smirnoff portfolio - Smirnoff, Smirnoff Ice and Smirnoff Twist. He led the development of a global campaign for Smirnoff Ice with work coming out of five JWT offices. This took Smirnoff Ice from one market to over 40 in less than 3 years, making it the world's number one selling RTD.

In London most recently, Lietaer was Managing Partner for JWT, where he formed a partnership with Nick Bell to win Allied Bakeries' pitch against DLKW, HHCL and Publicis. He was responsible for Diageo overall - one of JWT's most significant clients - and also established a new relationship with MTV Europe Foundation.

Along the way, at JWT New York Lietaer managed a Cannes winning campaign for Kellogg's. At JWT London he led Smirnoff's development of a new campaign which picked up a silver at Cannes (their first international award on the Smirnoff business), and the development of a 360 degree brand communications programme.

Ryan Lietaer says:
"Wieden+Kennedy is an agency I've always admired. The depth and range of talent is amazing and the work they do for their clients is second to none. It wasn't exactly a tough decision: Wieden+Kennedy + global Coca-Cola = a no brainer. The team has been developing some great work; the most exciting is yet to come."

Managing Director Tim O'Kennedy says:
"Ryan comes to us with ringing endorsements from his former colleagues and clients - I can't remember hearing as much about a guy in a long time. He's been loved wherever he's gone. So we're very excited about Ryan, and think he'll be a hugely positive addition to an already strong team."

We don't often run employment ads, but this one's interesting.
To view ....
HERE
make sure you click on "Click here for the campaign file" when you get there - the single page jpeg is too small to read.
Paul Gray has joined Revolution Music Sydney as composer / CD
With composer / record producer Vince Pizzinga leaving Sydney to head up the Revolution Music LA office, Paul Gray has stepped up to join Brendan St Ledger as the senior composers & creative directors.
"We now have two of the most accomplished musicians in the country working under the one roof" says Tara Thorne, Revolution's producer. "There are plenty of guys out there who can program well & look ... groovy ... but Brendan & Paul are the genuine item. They can write, arrange, & program, but both play sessions & perform live at the highest levels. I'd be happy to go on & on ... but nobody ever reads on the net."
Contact:
E: tara@revolutionmusic.com.au
tel: 612 99296629
Silverscreen Productions secures Di Rowan as a Director
From Silverscreen NZ:
Press release
24 February 2006
Di is New Zealand's most celebrated Casting Director. Di is credited as discovering Oscar winner Anna Paquin in The Piano, Keisha Castle-Hughes in Whale Rider, Kerry Fox in An Angel At My Table, Cliff Curtis, Lucy Lawless and Temuera Morrsion, to name just a few.
Di graduated from drama school in England and then directed several TV Documentaries and short films before winning critical acclaim as a Casting Director, working alongside Directors; Niki Caro, Roger Donaldson, Vincent Ward, Christine Jeffs, Steven Speilberg, Jane Campion and Gregor Nicholas.
After many years of casting feature films, TV commercials and drama series we are delighted to represent Di Rowan through Silverscreen Productions as a Director.
Di will focus on delivering strong performance based stories and will be based in Auckland.
Toronto ˆ February 1, 2006.
Blink Pictures Inc. is pleased to announce the addition of Christian Charles to their roster for representation in Canada. Charles states that his love for comedy and filmmaking dictates his projects, which include humorous campaigns for The History, Discovery and WE Channels, as well as Tilex, Sheetz and McDonald's. His career began as a writer/art director at Ogilvy London/New York with clients such as Pepsi, Lucas Films and American Express for whom he co-created the Jerry Seinfeld campaign. His efforts have been rewarded with multiple Cleos, Cannes Bronze, Silver, and Gold Lions. But asked his highest compliment: "Clerks at Kim's Video have 'SOUND BOOTH' (COMEDIAN's movie trailer) on replay ... and actually laugh."
OLIVIER ALTMANN TAKES ON NEW INTERNATIONAL ROLE
PRESS RELEASE
Paris, 8th December 2005 - Following the departure of David Droga, the former Worldwide Chief Creative Officer of the Publicis network and with the recent acclamation of Publicis Conseil, Paris taking second place in the European Agency of the Year rankings at the Eurobest Awards 2005, Olivier Altmann takes a step up.
Olivier Altmann, Co-President and Executive Creative Director of Publicis Conseil, the central French agency has been promoted to Chairman of the Worldwide Creative Board of the Publicis network.
Based at Maurice Levy's (Chairman & Chief Executive Officer of the Publicis Groupe) flagship headquarters, Altmann's role will be to continue building a strong commitment to creativity throughout the network. Alongside his existing position, he will act as a central Creative Director for key clients, helping the network to implement a new holistic approach to creativity.
Olivier Altmann comments on the challenge ahead:
"I'm very honoured that Maurice Levy's nomination was supported by David Droga and approved by the rest of the board. Having their confidence in me means a great deal. David did such a great job at not only inspiring us, but equally at providing a strong management and creative structure that's committed to creativity.
My position will be to continue on the well-established path, using our belief 'Fortune Favours the Brave', helping everyone deliver their best, as best I can."
After being CEO at his own agency, BDDP & Fils, Altmann joined the Publicis Groupe in March 2004 as a member of the Worldwide Creative Board. Working alongside his partner, Christophe Lambert (President of Publicis Conseil), the transformation of the French agency has been apparent. Scooping up the Outdoor Grand Prix and Print Gold for the Wonderbra campaign last week at Eurobest 2005, along with silver and bronze awards in both TV and print campaigns for Club Med and Renault. Epica 2005 also awarded the Wonderbra campaign as the best in its category.
Cannes Lions 2005 awarded Bronze Lions to Club Med and the much acclaimed spot 'Tokyo' for Sagem, that saw success at the Clios, D&AD, Epica 2004, New York Festivals and the LIAA. Cresta 2005 named Publicis Conseil the Tops in its shortlists, with 13 finalists in TV and Print, finally winning 2 TV awards for Renault and SFR.
The Gunn Report 2005 have also spotted Altmann's agency, commenting:
"Publicis Conseil, Paris (with 3 selections on The Showreel of The Year 2005) is undergoing a renaissance as a true creative flagship office."
Olivier Altmann commented:
"The really great thing about this Creative Board is simply that every Creative Director is on the same mission, supporting one another as opposed to competing for business. Most of them are now friends so when it comes to judging work, there's no politics between us. One of our next challenges will not only be about raising the creative bar but being able to re-invent the way we work with our clients in order to deliver more than just big ads, but big ideas."
Art director's demise
click ....
HERE
Glue spreads further
SYDNEY: The Glue Society has boosted its numbers to nine writers/directors working in both Sydney and New York as it sets its sights on global expansion.
The latest member to join the creative collective is James Dive, a 26-year-old Australian creative who has been working at Grey London, under Dave Alberts, for two years. During that time, he has produced campaigns for Twix, Mars Delight and a high-profile campaign for Mothers Against Guns.
The Glue Society will also be taking on a pair of AWARD students who worked during the recent Yahoo! Think Tank project.
One of the collective's co-founders, Gary Freedman, relocated to New York in May this year and along with partner Jonathan Kneebone has been working on Canal+ for BETC Euro, Paris and writing and directing an upcoming 60-minute mini-feature through @radical.media New York.
Story supplied by Australian Creative Magazine
VISUAL EFFECTS ARTIST DAVE KIDDIE
JOINS LEADING VFX TEAM AT RUSHES
Rushes Postproduction Ltd is delighted to announce the appointment of highly experienced and talented visual effects artist, Dave Kiddie. (that's him there there)
Dave has built up an astonishing list of credits over the last seven years gaining extensive experience on high-end commercials for the likes of Coca-Cola and Barclays as well as working on music videos for some of the world's biggest artists including Kylie's 'Can't get you out of my Head' and The Streets 'Blinded by the Lights'. He has also worked on slick and stylised feature films such as Mean Machine and broadcast work for the BBC amongst others.
Samira Ansari & Amy Hollier send regards from Saatchis Paris
If you've gotta work on laundry commercials, might as well do nice ones ... and in quite a nice place! From the creatives ....
'An idea in a laundry commercial? Vou etes joking! A 30 second ad informing the French that by washing in cold water, they'll have more money in their pockets.'
'Paris is everything it's cracked up to be and more. Liberte, egalite, and "do you speak English?".'
Title: Entrepreneur
Client: Procter & Gamble
Product: Ariel
Agency: Saatchi & Saatchi Paris
Creative team: Samira Ansari & Amy Hollier
Creative Director: Sarah Barclay
Director: Sebastien Grousset
Production company: i-screen
Producer: Michel Israel
Agency Producer: Christine Muller
Creative duo, French and Rossiter, join Euro RSCG Fuel Worldwide
Euro RSCG Fuel Worldwide are pleased to announce the recent hiring of senior creative partnership, Mick French and Henry Rossiter.
French and Rossiter, who were previously Creative Directors and Board Directors at WCRS, will be working on high-profile Euro RSCG Fuel accounts, Jaguar and Reckitt Benckiser, based in London.
Henry Rossiter ... "We originally came here for a weekend and just ended up staying. The moment we walked through the door, we knew this was our kind of agency. There is a real buzz about the place and the opportunities here are really exciting."
SYDNEY: Tim Castree is the latest senior George Patterson figure to leave the merged agency of George Patterson Y&R.
Castree was Sydney managing director of Patts at the time of WPP's takeover of The Communications Group in August. His departure follows that of TCG heavyweights Ian Smith, John Fawcett, Mark Bayliss and Jane Neale, and the more recent exit of creatives Mark Dove and Andy Flemming.
It is estimated that up to 30 Patts staff have left the agency since the merger.
Story courtesy of Australian CREATIVE magazine.
Scott Walker joins Caravan
New director Scott Walker has teamed up with producer Sarah Nichols
and joined Sydney's Caravan Pictures. A former agency creative
partner to Clemenger BBDO's Danny Searle, Scott's background gives
him a wealth of experience and an understanding of comedic timing
within a 30 second time frame. Having already completed campaigns
for Rogaine, Mitsubishi and HBA Insurance, Scott's work shows huge
potential, clarity and talent. Caravan is very excited to have Scott
& Sarah as part of the team.
bestads:
We've got a pic of Scott & another from a recent spot that he directed. You can figure out which is which though.
Patts creatives out the door
SYDNEY: The creative director of George Patterson Sydney, Mark Dove, and his partner, senior writer Andy Flemming, have left the merged agency of George Patterson Y&R, and it is believed only one Patts creative remains at the new entity.
The agency confirmed Dove is gone but would not reveal what changes have been made to the creative department ahead of a planned announcement, possibly next week.
Publicis Mojo creative director Mike Stanford will replace Dove.
At the time of WPP's takeover of The Communications Group and the merger of the two agencies in August, CEO Hamish McLennan claimed there would not be many staff redundancies as a result. "Both organisations are quite lean," he said.
Story supplied by Australian CREATIVE magazine.
The Sweet Shop is delighted to announce the addition of award-winning directors Andy Lambert and Michael Wong to The Sweet Shop's ranks.
The Sweet Shop will represent English director Andy Lambert in the States, Australasia and Europe, excluding London. The Sweet Shop will represent Michael Wong globally.
Andy Lambert will continue to be represented by Blink in London and Michael Wong by Bistro Films in Prague.
Design and brand visionary Andy Walker leaves central role at Nike Portland to join W+K/Amsterdam
Wieden+Kennedy/Amsterdam announced the hiring of Nike's Andy Walker to the creative team. Walker leaves his leadership position of Art Director, Advanced Concepts Group, Global Brand Design at Nike HQ in Portland to become Creative Director at W+K/Amsterdam, working across all clients under the leadership of Executive Creative Directors Al Moseley and John Norman.
"This is a major coup for Wieden+Kennedy/Amsterdam and we're delighted to welcome Andy on board", said John Norman. "Andy's creative reputation at Nike is already legendary. He's been central to developing a present and future vision for the global Nike brand. We're stoked that he's joining us."
Al Moseley continued, "With a background in design rather than advertising, he's got a fresh perspective on where the ad industry is going, both creatively and conceptually. He's going to have a major impact on the work we produce. Not just for Nike but all our clients are going to benefit from his appointment."
Design award-winning Andy Walker, originally from the UK, has spent the last five years at Nike Portland where he set visual direction of Nike brand communications to consumers worldwide. Projects have included design strategy and execution on high profile global initiatives such as World Cup '06, 2004 Olympics, designing the Nike corporate jet, and conception of the Nike iD retail Space in New York, a first of its kind customization studio for footwear.
"I started out in fashion, moved into sport, then brand design", said Andy Walker, "so moving into advertising seemed like the logical next step for me. I've shied away from it for a while but the bug caught up with me. Once I seriously thought about it, Wieden+Kennedy was a natural fit, in terms of creative excellence, ambition, and caliber of clients. My background is design not advertising, so I'm bringing a fresh approach to the Amsterdam team, extending the offering."
Publicis & Hal Riney Continues to Strengthen Integrated Capability
with the Addition of Two Award-Winning Creatives
Ken Cook and Dominic Goldman to Further Heighten
Creative Focus on Integration and Interactivity
San Francisco, CA – October 3, 2005 – Publicis & Hal Riney today announced the appointments of two award-winning, senior creatives. Former head of the Microsoft team and all integration efforts at MRM Partners of McCann Worldgroup, Ken Cook joins the agency as Senior Vice President, Worldwide Creative Director–Brand Integration. Dominic Goldman joins from Goodby, Silverstein and Partners as VP Creative Director Interactive. Both are new positions created to provide clients with a heightened level of focus on integration and interactivity, enhancing their ability to compete in today's evolving marketing environment. The hiring of Cook and Goldman closely follows the addition of brand integration specialists Jim Consolantis and Jamie King and further enhances the agency's integrated capabilities.
"Both Ken and Dominic are award-winning creatives who make a habit of staying two steps ahead of industry trends," said Jae Goodman, Co-Executive Creative Director. "Their addition to the team shows our commitment to putting integration and interactivity at the center of the creative process. We will continue to add talent that pushes our entire team to deliver a creative product that meets our clients' very aggressive business goals by reaching customers in new and powerful ways. Ken and Dom will help us create consistent, effective messaging across all media – from traditional to the most cutting-edge."
Cook, an 18-year industry veteran, has been continually recognized for his accomplishments across various disciplines, including marketing and communications design, packaging and corporate identity. He will report to Senior Vice President, Worldwide Creative Director, James Consolantis, and will be responsible for various disciplines as well as outside agencies and suppliers to achieve seamless integration for all Publicis & Hal Riney clients. Cook's experience developing new brands and marketing ideas that are extendable through the line will be an invaluable addition to the team.
Goldman will report to Executive Creative Directors, Jae Goodman and Jon Soto, and will leverage more than 10 years of international experience to drive client marketing and branding strategies centered around interactivity. His belief that interactive should be equally deserving of big ideas as any other component will help revamp the creative process, and he will be responsible for driving that thinking throughout the organization, as well as connecting with other Publicis agencies.
"Advertising today isn't about taking existing ideas and tweaking them for new media; this is a fundamental shift in the creative process," said Jon Soto. "Ken and Dominic will be involved at every level of the process—from strategy through execution—to make sure we're always pushing ourselves and our clients to use new media in effective ways and to rethink core ideas when necessary."
Ken Cook
Prior to joining Riney, Cook was Executive Vice President and Executive Creative Director of MRM on the Microsoft business, where he was integral in building the team that grew and supported that account. He was responsible for the technology giant's customer relationship management and direct and interactive efforts as well as ensuring complete integration with other agencies. When Cook founded his own design, branding and design firm, Brandtank, he leveraged research and a strategic planning focus, more typical of an agency model, and combined it with new media and the latest technology to produce strategy-based, innovative and award-winning solutions for clients. Previously, Cook was Senior Vice President, Brand Design Group Head at McCann, where he spearheaded a brand redesign for the Oakland A's and created the first "Brand in Advertising" tools designed to guide the Microsoft work globally. He's also served as Vice President, Creative Director of Brand and Advertising at Bank of America, founded and managed his own design firm, and held various creative positions at Siegel & Gale and Bright & Associates of TBWA/Chiat/Day.
Cook's work has been honored by national and international design, advertising and communications competitions such as Communication Arts, the LA Art Directors Club, One Show, The New York Art Directors Club, Society of Publication Designers and the San Francisco Show. His work has also been featured in many books and industry publications such as The Annual of the Type Directors Club, American Corporate Identity, Graphic Design USA (annual of the AIGA), The AIGA Book Show Annual, Graphis and a number of print regional design annuals. Cook's work resides in the permanent collections of the Library of Congress in Washington, D.C., and the communications archives at Columbia University, New York City.
Dominic Goldman
Goldman joins Riney from Goodby, Silverstein and Partners where he was Group Creative Director for a broad spectrum of businesses, including Adobe, Hewlett-Packard, Subway, Milk and Specialized. Prior to his time at Goodby, Goldman held several positions at Ogilvy & Mather's Singapore office, culminating in Creative Director and head of the interactive group. Although he delivered exceptional work for Nokia, Volvo, Levis, The Economist, DHL, SPCA, Guinness and HOG, Goldman is best known for his part in elevating OgilvyOne to the number one creative position in the worldwide network.
To date, Goldman has achieved recognition for his work at numerous international awards shows, including The Clios, One Show, New York Festivals, Cannes, D&AD and Communication Arts. He has also served as a judge for many international award shows, including The One Show and The Clios.
Gold
sponsors
Silver
sponsors
Search
blog
Members
Past guest
reviewers
Latest
news
Blog
categories
Blog
archives
RSS
feed

Visit Campaign Brief for Australian creative
advertising news