AT&T's latest iteration of its It Can Wait campaign is making sure that everyone hears the message loud and clear during Distracted Driving Awareness Month "The Face of Distracted Driving," was created by BBDO New York.
VIEW THE CALEB SPOT
VIEW THE BEHIND THE SCENES SPOT
A commercial for saving water.
VIEW THE SPOT
Speight's gives a modern twist on how far mates will go for each other. Agency: DDB New Zealand
VIEW THE SPOT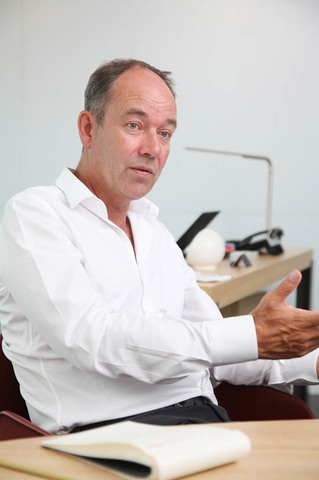 This week's guest judge is Jeremy Craigen, global chief creative officer of Innocean Worldwide.
Winner:
Ikea Ghosts
. There's a little bit of moneysupermarket.com in this new spot for Ikea. I've never been a massive fan of that campaign but a big one of this advertiser and this execution. Reviewing this ad was the first time I'd seen it and I wondered where it was going. The end gag is expertly delivered and the whole ad is very watchable time and time again.
READ MORE
LobbyProductions have created this spot for Criam
VIEW THE SPOT
Since February 1st, 2018, it has been illegal to use your phone whilst driving in Sweden. Despite that, there seems to be no change in the number of accidents on Swedish roads since the new law became effective. To remind people of the danger of using your phone whilst driving, Volkswagen have created a phone case, made by crumpled metal from crashed cars. The campaign is made by the creative agency NORD DDB.
VIEW THE SPOT
Audi know that for some, driving isn't just a means of transportation. It's an irreplaceable feeling. It's the kind of lifelong love affair, that no matter where you go, or what you do, you'll just never shake. Agency: Venables Bell & Partners, San Francisco.
VIEW THE SPOT
NORD DDB's latest campaign for McDonald's shows a struggling father of two who finds refuge from society's judging gazes in "Sweden's most family friendly restaurant". The campaign is based on extensive research that shows that Sweden's parents regard McDonald's as the country's most family friendly restaurant. The main reasons being the relaxed atmosphere and playing areas, but also the fact that there's something on the menu for everyone in the family.
VIEW THE SPOT
From staying in and saying 'nup', to putting on your house pants, there's a bright side to the colder months when your home's got natural gas. These three spots for Australian Gas Networks created by CHE Proximity, encourage Aussies to love winter.
VIEW THE NUP SPOT
VIEW THE HOUSE PANTS SPOT
VIEW THE COOKING WITH GAS SPOT
"A key White House post remains unfilled: first pet.", reported The Economist, along with various other media outlets. Donald Trump is in fact the first U.S. president without a companion animal in 130 years. The last was Andrew Johnson, who was impeached.
In a new campaign created by cross-cultural agency the community, PETA urges President Trump, in a nod to his infamous words, to "grab a puppy" before it's too late. PETA's "Grab a Puppy Before It's Too Late" campaign will launch in time for "National Adopt a Shelter Pet Day" taking place on April 30, as well as on social media with the hashtag #GrabAPuppy.
VIEW THE TOO LATE AD
VIEW THE TIME IS NOW AD
VIEW THE RIGHT THING AD
VIEW THE GOOD FOR EVERYONE AD
'If you teach a boy, you educate an individual; teach a girl and you educate the entire community.' Nowhere is it truer that in India, where women have traditionally played a very active role in families. So when you help them learn, they spread it to their families, the community, and succeeding generations. Agency: J Walter Thompson, India
VIEW THE FIRST AD
VIEW THE SECOND AD
VIEW THE THIRD AD
Campaign, Press and Posters for the BMW M series via Bates, Portugal/Y&R group
VIEW THE NEARLY THERE AD
VIEW THE ON MY WAY AD
VIEW THE THERE IN A JIFFY AD
VIEW THE SEE YOU SHORTLY AD
VIEW THE WITH YOU IN TWO TICKS AD
Vanguard Properties, a real estate investment group, is one of the main sponsors of Estoril Open 2018, the biggest Portuguese tennis tournament. Our challenge was to announce this official sponsorship through a concept that could be communicated in a print ad. The concept would have to mix tennis and real estate. At Estoril Open, Portuguese tennis players have home advantage. Vanguard Properties acts in real estate, for this reason it understands the "home" market. The "We play at home" concept was born. The graphic exercise was to adapt tennis courts to houseplants, promoting our concept almost automatically and with great impact. Agency: Interactive Brands
VIEW THE FIRST AD
VIEW THE SECOND AD
VIEW THE THIRD AD
As Alzheimer's progresses, facial recognition and memories fade, diminishing relationships and leaving many Alzheimer's patients isolated and lonely. To bring this feeling closer to the general public BBDO, Dusseldorf GmbH, created a series of unrecognizable family portraits. Through the eyes of an Alzheimer's patient, cherished relationships become an unsolvable puzzle made up of shuffled memories that fade away piece by piece.
VIEW THE MIGUEL AD
VIEW THE ANN KATRIN AD
VIEW THE FAHRAD AD
VIEW THE SARAH AD
Toronto Crime Stoppers powerful new public service campaign cleverly conveys air transport as a common vehicle for traffickers. Developed pro bono by DDB Canada Toronto, the campaign creative shows arresting photos of young women gagged with airline baggage tags, with copy urging those to "Speak Out For Those Who Can't." Campaign creative drives users to StopHumanTraffic.ca to learn about the signs of human trafficking.
"Knowing the majority of Canadian sex trafficking victims are domestic, and are moved across the country several times a week, we decided to draw attention to where these girls can be spotted and prompt the public to do what they cannot: speak out," says Craig Ferguson, creative director, DDB Canada Toronto.
VIEW ALEX OUTDOOR
VIEW ANASTASIA OUTDOOR
VIEW VIVIAN OUTDOOR
This World Cup, there is a special occasion. Due to the time difference between Mexico and Russia, the games will be played in the morning, the perfect time for Milk consumption. That's why Lala, leading Mexican milk and dairy products company, and Circus bring a new proposal to have on the table of the tournament: enjoy the games drinking milk, cold milk.
VIEW THE SPOT
The Marie Keating Foundation briefed us to increase awareness among men and women aged 60 – 69, in specific areas where uptake of the free bowel cancer screening is low. Bowel cancer is one of the three most common cancers among Irish men and women but early detection improves chances of survival for five years after diagnosis by 90%. With uptake of the free screening only 40.2%, despite previous national campaigns, we knew the job to do was more than just raising awareness. We found that, while we've come a long way when it comes to discussing health issues, bowel cancer is one disease Irish people are still not comfortable talking about. Mainly because of the nature of the screening process.
VIEW OUTDOOR
See what happened when SPIES Travels took there "Home Weather Machine" and simulated the weather from back home to unsuspecting holiday-makers on a sunny beach abroad. Agency: Robert/Boisen & Like-minded, Denmark.
VIEW OUTDOOR
There is really nothing better that eating pizza on your couch while watching a movie. Winter is rolling in hard and fast in South Africa and we took advantage of this hibernation weather by creating a pizza-and-movie campaign for Col'Cacchio (SA's favourite gourmet pizza chain), allowing readers to work out which classic movie we have combined with pizza.
VIEW THE JAWS AD
VIEW THE TITANIC AD
VIEW THE DRACULA AD
VIEW THE INDEPENDENCE AD
VIEW THE MUMMY AD
Originally born out of the iconic restaurant, it was Frank Pellegrino's vision to share his family's sauces far and wide, and not just those who were lucky enough to dine with them. In this BSSP campaign for Rao's Homemade pasta sauce, opera singer, Michael Amante, sings in Italian the best and most genuine reviews found circulating on the internet. Using these fun, lively online fan reviews, the campaign highlights the sauce's cult following and an undying love for the brand.
VIEW THE GOALS SPOT
VIEW THE WELL SPOT
VIEW THE JAR SPOT
VIEW THE JUNK SPOT
You can't beat real, can you? Real photos, real face time and definitely real food. That's why Kettle Chips only use 100% real food ingredients in their crisps. Really. Agency: Joint London
VIEW THE SPOT
Facebook are committed to doing more to keep you safe and protect your privacy. So that they can all get back to what made Facebook good in the first place: friends. Because when this place does what it was built for, we all get a little closer.
VIEW THE SPOT
Sometimes when you own a home you can find yourself in an ugly situation where you need to sell it fast and move on with your life. In the first spot for HomeVestors, we see a family living in a home with obvious foundation problems. They are in their kitchen having dessert. The husband asks his wife to pass the pudding. When she sets the dish in front of him it slides off the table. The voiceover says, "When things get ugly call the We Buy Ugly Houses People." The spot is resolved with a HomeVestors employee showing the couple how he can help them by buying their house. The second spot involves an errant husband. Agency: Calise Partners
Kiran, of The Cavalry Productions, directed these comedic spots (part of a 3-spot campaign) for the HomeVestors brand.
VIEW THE TILTED SPOT
VIEW THE DIVORCE SPOT
To introduce the All-New 2019 Jetta, Volkswagen Canada has launched a surprising, new campaign to highlight the refined features of the completely redesigned sedan, while also capturing how much fun it is to drive. The All-New Jetta has the quality, style, and refined features you admire in luxury vehicles. But more importantly, it delivers what the brand is truly about: pure desire to be behind the wheel. Agency: DDB, Canada
VIEW THE SPOT
This is a metaphor of a Man who goes for a cold beer to quench his thirst.
Agency: McCann, Abidjan
VIEW THE SPOT
In 2017, Colombian athlete Sofia Gomez, established a new apnea world record spending 2 minutes and 45 seconds under water. BBVA wanted to share this accomplishment around Colombia by launching this "2:45 Without Breathing" campaign. Agency: DDB Colombia.
VIEW THE SPOT
In America, children in underprivileged urban areas face poverty, murder and drugs as part of everyday life. The issues are clear, but most people ignore them. To get potential donors' attention, we tapped into their childhood by creating a friendly puppet show. But the show's educational songs teach the horrific life lessons urban core kids have to learn every day. Each song is inspired by a real lesson taught to us by a real Youth Ambassador. Youth Ambassadors who grow up in violent neighborhoods write, draw and paint as part of the healing process. Each song was adapted from these creative works, creating a circle of healing that starts and ends with the kids. Agency: VML Kansas City.
VIEW THE SPOT
A third of the world population lives in states in which the death penalty is still in force. Today, executions are as real and present as they were 2000 years ago.
The only thing that has changed are the methods. Now, things like lethal injections are most common. But when you look at the cots the prisoners are strapped on, they bear an uncanny resemblance to a very popular ancient Roman execution device:
The cross. A resemblance that conveys a powerful message:
Even two millennials later, nothing has changed.
Now it's finally time to end the era of the death penalty. Agency: Ogilvy & Mather, Dusseldorf
VIEW THE AD
Easter generally brings milk chocolate eggs, for Kowhai Creamery it's scoops of the new Chocolate Milk Gelato. Agency: Adam Barton Creative
VIEW THE AD
You are killing yourself. One bullet at a time.
VIEW THE AD
Ingenia Peru has illustrated this print spot for The North Face Mountain Film Festival.
VIEW THE AD
Leo Burnett London has created these "Weather Reactive Billboard" for McDonald's.
VIEW FIRST OUTDOOR
VIEW SECOND OUTDOOR
VIEW THIRD OUTDOOR
The Ocean Plastic Book: How Jung von Matt turns harmful ocean plastic into children's books. We've all seen it. And again and again we're all shocked: Footage of enormous numbers of plastics floating through our oceans. More than eight tons of plastic end up in the oceans every year. By 2050 there will be more pieces of plastic in our oceans than fish. A lot of it coming from our everyday behavior. The effects on our environment are chilling. And those most affected will be the ones that are most precious to us: Kids. The NGO Waste Free Oceans and Jung von Matt are now set to change that. "The Ocean Plastic Book" is made from recycled ocean plastic.
VIEW THE CONCEPT
MADD (Mothers Against Drink Driving) need your help raising awareness about the devastating impact of drunk driving. Share your #MyDrunkDrivingStory to Twitter or Instagram by posting a video or photo with the hashtag #MyDrunkDrivingStory and your story will be featured here on our social wall.
VIEW THE CONCEPT
A Japanese restaurant in Antwerp offers people free tattoos. And they are actually tasteful. At first sight the tattoos look like any other Japanese tattoo but there is one big difference. The tattoos don't translate as 'hope', 'courage' or 'love'. Instead they have a meaning that is really worth something such as Crispy Duck Salad, Sashimi of Sea Bass or another dish of the menu. Because apart from the ink, those who have the name of a dish immortalized on their skin also get their meal for free at Dim Dining. Wunderman, Antwerp, turned 19 dishes, including starters, main courses and desserts, into Japanese tattoos. People who want a tattoo can register on the website of Dim Dining. Dimitri will then select the winners who will get inked at Glorybound, a renowned tattoo shop in Antwerp. Afterwards, they are welcome at Dim Dining to enjoy the meaning of their tattoo.
VIEW THE SPOT
Iconic Australian soft drink brand SOLO has launched its first brand campaign in two years. The campaign developed by TBWAMelbourne and Carat, showcases how modern men get their thirst. The much-loved Australian brand became famous for its 70s and 80s advertising where the now iconic SOLO Man tackled extreme activities in order to work up a sweat. Today's work, 'A Thirst Worthy Effort', offers a new take on what it means to be a SOLO Man in 2018 with men doing things like arc-welding costumes for a school play and constructing Swedish furniture.
VIEW THE SPOT
Saving is an art. Millenar knowledge that makes savers true Wisemen. And, as an homage to these everyday Wisemen, Mcdonald's Portugal presents its newest campaign via FullSIX, for the Eurosaver range. With humour, the films show young saving-types that get an impromptu transformation into real Wisemen. After all, picking an Eurosaver product is the beginning of many "Wise decisions".
VIEW THE SPOT
'The Save Water Challenge' spend less time cleaning up and be rewarded with a weekly premium membership to Redtube! An app for those that don't mind getting their hands dirty.
Agency: Raya, Santiago
VIEW THE CONCEPT
As an extension of Universal Love, a collection of reimagined wedding songs for the LGBTQ community produced by MGM Resorts, McCann NY and GRAMMY-nominated duo She & Him are releasing their first new original music in five years. Inspired by Universal Love, She & Him, a longtime collaboration between Zooey Deschanel and M. Ward, penned an original song that will be released in two versions, that will simultaneously allow listeners to choose the gender perspective that speaks to them. The single, titled "He Gives His Love to Me", and its counterpart "She Gives Her Love To Me," is the first original composition inspired by the project. The songs on the Universal Love album feature pronouns changed to reflect the world of LGBTQ relationships. Artists involved include Bob Dylan, Kesha, and St. Vincent, Benjamin Gibbard, Valerie June and Kele O'Kereke.
VIEW THE HE GIVES CONCEPT
VIEW THE SHE GIVES CONCEPT
The flagship Lexus LS is a work of art, crafted by Japanese Takumi craftsmen to create an experience like no other. To bring this experience to life, Saatchi & Saatchi Singapore have commissioned four of Asia's leading artists to create bespoke pieces inspired by the iconic features of the Lexus LS. The campaign 'Through the eyes of art' launched on 16th April in online formats, across social, in print and through event experiences at key Lexus showrooms across ASEAN & India.
VIEW THE CONCEPT
« First « Previous
Next »
Last »
1 of 7
Gold
sponsors
Silver
sponsors
Search
blog
Members
Past guest
reviewers
Latest
news
Blog
categories
Blog
archives
RSS
feed

Visit Campaign Brief for Australian creative
advertising news