BEST TV
Fave:
VW Park Distance Control 'Too Close'
As metaphorical product feature ads go this is pretty lovely. Great performances, beautifully directed. It gripped me until the end. It's good to see this kind of intelligent, witty work getting made. I hope it sells cars.
Runner-up:
Axe 'Coffee Shop'
It's tribute to how well this ad is put together that I can't see a single wasted shot. The pacing is super clever, the music builds the drama, it's visceral and funny and sexy and other-wordly all at the same time. I love the intense yearning in the girl's face about 30 seconds in, like she can't believe a love so deep could exist. Feels like this campaign could run and run.
BEST PRINT
Fave:
Nivea Solar ad charger
Does this thing actually work? If it does I am most definitely impressed. I hope it does work. Because there would be nothing worse than running out of phone battery on Leblon Beach, when you can't find the girl you are meeting, seeing this ad which claims to charge your phone, having a moment of euphoria, then finding out the hard way the ad doesn't actually charge your phone very well. In England it wouldn't work, because the sun never shines. In Brazil it should. Great idea for a brand that claims to improve your relationship with the sun.
Runner-Up:
Mylanta 'Bubbles'
It's 11pm London time and I've had a long day. This ad is like a beacon of childish joy at the end of my Tuesday journey. I know wind is kind of easy comedy subject matter, but the look on the kid's face as he turns wind into fuel for play. It's original and funny and well shot. I hope this is part of a campaign. If it is, can the makers send me the other executions next time I'm working late?
BEST OUTDOOR
Fave:
Philips ultimate blender
A little bit of joy spread through the medium of fruit. It's not often you can say that. I love the amount of effort they've gone to here, working with a molecular food specialist. Too often experiential stunts are horribly cheap and don't contain the necessary craft, but this feels different. It demonstrates what the product can do in a really clever and memorable way. It makes me thirsty, like I want to mix up some fruit. It must have been pretty powerful for the folks on that market.
Runner-up:
Corona 'The Corona Calendar'
I like the idea of having a different coaster to put my beer on every day of the year. A different scribble. A different illustration. A different thought. Beer mats are such a wasted opportunity. They are a great canvas because they catch us when we are happy, with our best friends, when we are drunk. You know that annoying thing people do on Instagram? A photo a day. It's rubbish. A beer-mat a day is much better.
BEST INTERACTIVE
Fave:
Baby back home
Working in the ad industry is mostly about making ads but occasionally it can be something much more than that. This project helped to reunite two kids stolen from their parents. How crazy is that? AR has spawned a hundred useless experiments for every one that's worked. This project has clearly raised awareness of a big problem and done a heap of good, so well done them.
Runner-up:
Super Sync Sport - Chrome
I played this ages ago, so not sure why it's being reviewed now, but anyhow I loved messing around with it then and I still love it now. There's only been a few successful device synching games you can play easily at your desk and this is probably the best I've seen. It's Google Chrome Experiments doing what Google Chrome Experiments do best - experimenting with Google Chrome. I don't mean this facetiously. There are many things that don't do what they say on the tin. These guys deliver consistent quality, pushing the boundaries every time. I'm looking forward to seeing where this series goes next.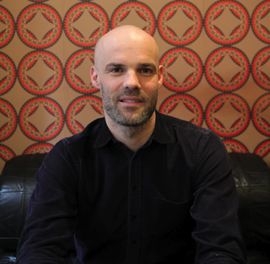 This week's guest judge is Andy Fowler, executive creative director and founder of Brothers & Sisters in London, UK.
One of the UK's fastest growing creative agencies, Brothers and Sisters are a group of talented people from a range of different backgrounds who have come together to produce groundbreaking and award winning work across all sorts of media. Clients include Sky, Center Parcs, Channel 4, Abbey Road Studios, Cafe Direct, Capcom, Disney, Bacardi, Museum of London and Impulse.
Andy has not only overseen the transformation of Sky's creative output in recent years, he's created the world's most awarded app in Streetmuseum, provoked over 100,000 graffiti artworks for Channel 4 and developed the most progressive creative department in London. His award cabinet includes all the industry's most coveted prizes: D&AD pencils, Cannes lions, Webbys, Campaign Big Awards. He launched the agency in 2006.