Tiger Beer's Air-Ink made from air pollution, decorates city streets via Graviky Labs + Marcel Sydney
VIEW THE SPOT
A wake-up call to energy waste. A TV Spot from Agencia3 that was actually an alarm clock to wake up people that were sleeping watching TV.
VIEW THE SPOT
From Badillo Saatchi & Saatchi Pueto Rico a spot for Toyota
VIEW THE SPOT
Watch Amir Khan make Lahore his next training ground in this Pepsi spot via BBDO and Proximity Pakistan.
VIEW THE SPOT
We are Valenstein & Fatt. You may know us as Grey London. It's a small name change, but a big deal. We were founded in 1917. Born into a world of division and discrimination. Our founders unable to put their own names above their office door. Fast forward to 2017. Everything has changed, and yet nothing has changed. Too much in this world is still ugly. We know that the more diverse we are, the more powerful our ideas will be. So we will continue to celebrate difference. To break down barriers to progress and opportunity. We believe that everyone has the right to put their name above their door.
VIEW THE SPOT
Following the success of the Cycle of Life campaign, Nationale-Nederlanden traveled through Europe again and asked people across Europe "What Makes You Happy."Agency: Khanna Reidinga, Netherlands
VIEW THE SPOT
The "Autocorrect" creative showcases a texting conversation between two college-age individuals. It uses the autocorrect feature on smartphones to highlight the difference between what we say and what we mean when we talk about rape. It's now a partner of the Biden Foundation, a nonprofit dedicated to public service. Joe Biden also tweeted the campaign today.Agency: Mekanism, San Francisco
VIEW THE SPOT
Every World Sleep Day, hundreds of brands preach the importance of a good night's sleep. Every year this information falls flat when people binge watch their favourite shows or refresh their timelines for the 100th time late in the night, only to be sleepy throughout the next day. To make sure the message wasn't lost this year, Happy mcgarrybowen, the creative agency from Dentsu Aegis Network,
VIEW THE SPOT
The link between urban populations and nature is fading considerably. To raise awareness of this, Crosscall the creator of the outdoor mobile technology market is opening a window into the world of two ambassadors of nature, Botei and Kuja. Their platform? A place where millions of people connect daily: Instagram. Botei, a Mongolian falconer, and Kuja, a member of an Amazonian community, are taking it upon themselves to help people rediscover the beauty of nature and the wild via Instagram.Agency: Leo Burnett, Paris
VIEW THE SPOT
Three cities make the cut in these print spots from Agencia3,Brasil
VIEW THE PARIS AD
VIEW THE NEW YORK AD
VIEW THE LONDON AD
The planet is manifesting itself, what happens in Peru happened in other countries. It is clear that nature is giving us a message to take action on our impact on it.This graphic campaign invites you to reflect on this big problem.
VIEW THE HELP AD
VIEW THE SOS AD
Charity campaign from Delantero, Brasil that alerts us to the care we should take with street people.
VIEW THE DRY AD
VIEW THE PROTECTION AD
VIEW THE FRAGILE AD
Situation Sthlm is a street magazine sold by homeless people. It's the only magazine focusing only on Stockholm and everyone living there. It's a diverse portrait of Stockholm, showing more sides of the city than most other platforms. However, they need to reach out to new readers all the time which proves difficult with no media budget. Fotografiska Museum of Photography on the other hand is a famous landmark with resources to advertise. And when they do, they must print extra editions of their posters, because people steal them and bring them home.Agency: Volt
VIEW OUTDOOR
To promote the Red Nose Day, Comic Relief and Sainsbury approached Artem SFX, the award-winning special effects company, with a brief to turn one of the noses Snuffles the Dragon into a charismatic animatronic character which feature in a series of short videos that were shared on social media, as well as a TV advert. Artem created the animatronic puppet by laser-scanning a Snuffles nose and manipulating the image on FreeForm, design software that allows human hands to 'sculpt' digital clay. The model was then 3D-printed, some parts were duplicated in soft silicone rubber and then assembled by hand. Snuffles was fitted with animatronic mechanisms that could be controlled by radio, allowing technicians to move his mouth and eyes behind-the-scenes as Rylan Clark entertained members of the public. Artem technicians were on set for the shoot to oversee the installation and operation.Agency: Havas
VIEW OUTDOOR
The New Zealand Health Promotion Agency wanted to remind a 50+ male audience to check their skin regularly for early signs of melanoma.To turn a very visual subject into an idea that's engaging on radio, we altered The Knack's famous hit single 'My Sharona' to progressively degrade until our audience noticed the change. Exactly what they need to do with their skin.
This spot was aired as part of a typical radio station music playlist.Agency: Y&R New Zealand
PLAY THE SPOT
Grey London and Comic Relief are turning the filthy words that come out of your mouth into cash for charity with this "Swear Jar" app.
VIEW THE CONCEPT
A couple of weeks ago, Dan Lasko, a 33-year-old Afghanistan war veteran from PA, entered the pool at Long Island's Eisenhower Park for a first test of The Fin a first of its kind custom-fitted 3D-printed prosthetic leg that permits an amputee to go straight from land into the water and back. For Dan, who only wanted to swim again with his kids, this remarkable 3D engineering is literally a life changer. Northwell Health and JWT NY looked at the human needs beyond the health needs and achieved innovation at a different level: a human breakthrough. We believe this is an innovation for the future of all parents, athletes, amputees.
VIEW THE CONCEPT
du Tuesday is a 'buy 1 movie ticket and get 1 free' promotion that is exclusively available to cinema goers in UAE who are on/use the du telecom network. For three consecutive years, Leo Burnett Dubai have produced award-winning campaigns for the 'du Tuesday product' historically. However, this year required a different approach to further increase redemptions on Tuesdays and reduce churn (in a duopolistic market) of the customers. Leo Burnett Dubai and the director duo tackled this insight through a film that has been crafted to depict the dark side of movie goers
VIEW THE SPOT
It's not everyday that you happen upon a real customer review that's so good, you have no choice but to make it your new company tagline. Unless you just keep going back to the same exact review everyday and then yeah, I guess it would be an everyday thing. But it just seems like a waste of time when you could make it your tagline and see it next to your company's name everyday for the rest of your life. Agency: Barton F. Graf 9000, New York.
VIEW THE NIGHTS SPOT
VIEW THE SPICIER SPOT
VIEW THE TASTY SPOT
VIEW THE HUNTRESS SPOT
VIEW THE TRENDSETTER SPOT
VIEW THE HUSBAND SPOT
VIEW THE GOSPEL SPOT
VIEW THE THREE SPOT
VIEW THE DILL SPOT
VIEW THE OH SPOT
VIEW THE FATHERS SPOT
VIEW THE TRUE SPOT
To launch the Nutro 'Feed Clean' philosophy, the brand introduced new advertising creative across digital and television. The creative, developed by BBDO San Francisco and titled, "This is Clean," reinforces the brand's pledge to craft clean recipes that give dogs the energy they need to be active and playful.
VIEW THE SPOT
Agency, Vertigo extolls the virtues of physical training in a spot for Internet Stores
VIEW THE SPOT
Magnum Opus spot for Spirit Telecom
VIEW THE SPOT
Clemenger BBDO, Melbourne is asking people to participate in an 'experiment' of looking at the last 5 photos on their camera roll. By doing this, NAB wants to remind people about what they value more than money his could be anything moments with family, enjoying a hobby or time with a pet.
VIEW THE TATTOO SPOT
VIEW THE WATCH SPOT
J. Walter Thompson London has launched the second chapter in HSBC's "Onwards" campaign with another story of human progress enabled by HSBC UK, this time featuring a devoted dad and his daughter.
VIEW THE SPOT
To celebrate its third year of supporting Australian Football , Woolworths is launching a new integrated sponsorship campaign,'Feeding your hunger for Footy' via M&C Saatchi, Sydney. The spot was aired during the first round of the 2017 season and will also be seen this weekend across the women's grand final.
VIEW THE SPOT
Petros Papahdjopolous of The Famous Group recently directed this spot introducing Morton Salt for pools, deploying synchronized swimmers to bring a concept from Ogilvy Chicago to life.The idea to take the Morton Salt Girl out of the rain and into the sun
VIEW THE SPOT
FCB New Zealand has launched a technology first in partnership with the New Zealand Fire Service. Escape My House is an immersive and gripping interactive experience that takes place inside a real house fire. New Zealanders are being given the chance to experience an actual house fire, and challenged to escape. Through interactive 360 video, with a virtual reality (VR) option
VIEW THE CONCEPT
Greenpeace UK has introduced its first-ever Virtual Reality (VR) app 'Virtual Explorer giving supporters the chance to experience amazing places like the Amazon and Arctic first-hand, and take action to defend them. Conceived and created by design consultancy, AllofUs, the app launched this month and enables audiences to see for themselves some of the areas where Greenpeace is campaigning.
VIEW THE CONCEPT
Powerball has given F1 fans a taste of what it's like to live in the lap of luxury in an adrenaline-fuelled outdoor stunt by GPY&R Brisbane.
VIEW OUTDOOR
Iris Indonesia created a series of print ads showcasing on how various IKEA Furnitures can replace your personal problem people have been having daily, in an interesting and insightful way.Most Indonesians see furniture as something that just fills the house, but not necesarilly as a solution to their problems.
VIEW THE BOYFRIEND AD
VIEW THE DAD AD
VIEW THE MOM AD
Master, Brasil created an original series called Survivors a documentary series about our fears.
VIEW THE TSUNAMI SPOT
VIEW THE WAR SPOT
Energy straight from Brazil: the best dancers, skateboarders, and locals from in the favelas of RIO. Capoeira, Copacabana, Ipanema, and fat beats. Fashion Film in a music video style for the biggest streetwear brand from Poland, Cropp.
VIEW THE SPOT
Making snacks. Packing snacks. Taking pictures of snacks. Does healthy living sometimes come at the cost of, you know, living? Let's snack more and make snacks less, people.Agency: Carmichael Lynch
VIEW THE SNACKFESTO SPOT
VIEW THE BUTTER SPOT
VIEW THE ENERGY SPOT
VIEW THE ALMONDS SPOT
Preacher has created this campaign for Tommy John starring Kevin Hart.
VIEW THE FLY SPOT
VIEW THE MANGERIE SPOT
VIEW THE TRUFFLES SPOT
VIEW THE QUESTIONS SPOT
VIEW THE SWAMP SPOT
VIEW THE POWER SPOT
FCB Chicago and Illinois Council Against Handgun Violence have created this product which aims to shine a light on the nonsensical lack of gun regulations, and ultimately put pressure on Congress for common sense gun laws.
VIEW THE SPOT
The world is running out of sand. Sand is used in everything from construction to pharmaceuticals, and as a result two thirds of the world's beaches are retreating. So we built a fleet of machines that turn empty bottles of DB Export into a sand substitute. DB Export Beer Bottle Sand is then supplied to construction companies, manufacturers and anyone else who needs it, reducing the country's dependence on beach-derived sand. Now, to save their beaches, New Zealanders just have to empty a bottle of DB Export. Drink DB Export. Save the entire world. Agency: Colenso BBDO, Auckland.
VIEW THE SPOT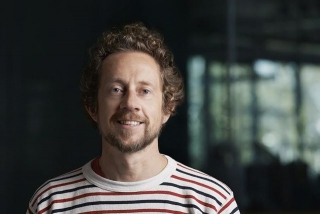 This week's guest judge is Eric Quennoy, executive creative director, Wieden&Kennedy, Amsterdam.
Winner:
Hornbach: Regret Nothing
. Hats off to the crew who keep making work that's completely bananas for this hardware mega-store in Germany. I would love to work on one of these briefs. What I particularly like about this spot is that it doesn't go half way. You could easily see the client asking for the humour to be sweeter, softer, but the kid looks genuinely distressed and the man's face looks seriously banged up.
READ MORE
Looks like the surfs up in Germany. Spot from Scholtz, Germany
VIEW THE SPOT
Have you ever been hungry? So hungry that you mistook your friend for Toronto Raptors point guard Cory Joseph? To kick off the Toronto Raptors heading into the playoffs, Snickers partnered with Cory and BBDO, Toronto to prove to basketball fans that You're Not You When You're Hungry!
VIEW THE SPOT
Bad things happen when people skip breakfast. This McDonald's campaign shows what happens when people skip breakfast and why they should start their morning with Mickey D's instead.
VIEW THE SPOT
« First « Previous
Next »
Last »
1 of 8
Gold
sponsors
Silver
sponsors
Search
blog
Members
Past guest
reviewers
Latest
news
Blog
categories
Blog
archives
RSS
feed

Visit Campaign Brief for Australian creative
advertising news